Selected Works, which opens at Public Functionary this Friday, is not your typical group show. Instead of picking a theme and building an exhibition around it, Tricia Heuring has focused on the process of curation itself. She gave herself seven days to conduct 22 studio visits with local artists, piecing a show together on the fly and making snap judgments about what work spoke to her the loudest. Here she explains the method to this madness and reflects on curation, the importance of taking risks, and the need to shake up business as usual in the art world.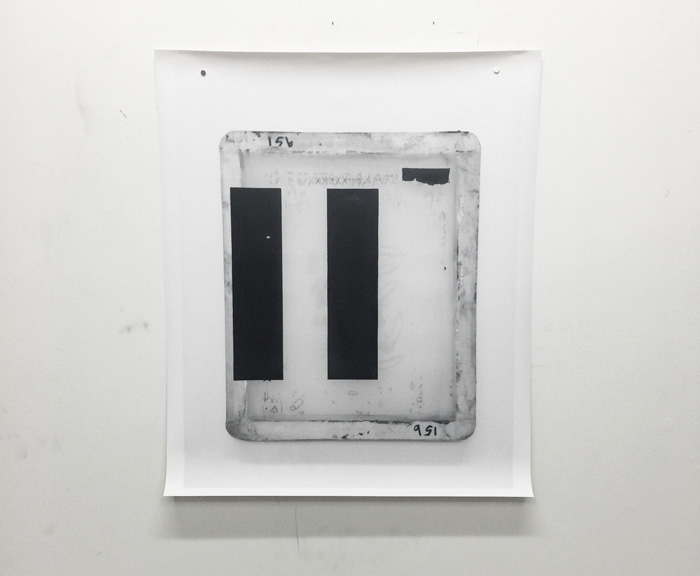 Lindsay Splichal, I I B A R S, phase II, inkjet on canvas & magnets, 2016
RW: This past summer you spent three weeks at a curatorial residency in Colorado. Most people are familiar with artist residencies, but curatorial ones are probably less well known. How did you spend your time there and what lessons did you learn that have informed how you approached Selected Works?
TH: It's true, curatorial residencies are much less common! But they are much like an artist residency, generally time away from regular work and life to focus on building your practice. This residency was in the private luxury home of an art collector in Beaver Creek, Colorado (basically a beautiful, meditational mountain environment). I was given 3 weeks of time to isolate in self-care and study the owner's collection, which is an extensive study platform of abstract, contemporary works on paper. The experience was transformative to me, as I am rarely afforded the time to just stop and focus inwardly and build my perspective as a curator.
During the residency I focused on building trust in myself in terms of how I see art and the connections that I make. The work I took on during the residency was a challenge for me (abstract works on paper are not my area of expertise), and yet taking on that challenge led to some amazing discoveries. This exhibit, in a sense, is an extension of that risk-taking approach to deepening my practice and learning more about myself as a curator. Studying the collection also influenced the way I look at medium, composition, and materiality, and I think that comes through in my selection of work.
RW: What does it mean to you to be a "curator"?
TH: To me, being a curator is to be a conduit between the artist and the audience. To elevate and understand the value and message of artists, and find ways to bring audiences closer to that value and message. I am also particularly interested in challenging previous or limited notions of what it means to be a curator. I reject the role of curator as a gatekeeper, because gatekeepers tend to cling tightly to the dominant culture influenced by outdated ideas of contemporary art, culture, and aesthetic expression. I believe a gatekeeper mentality only perpetuates barriers in building diverse audiences and inequitable systems within the art world, limiting who gains recognition as an artist. As a curator, I'm positioned to influence new trends and create platforms for new forms of expression. In pursuit of this possibility, I prefer to see myself as a mentor, collaborator, and contributor.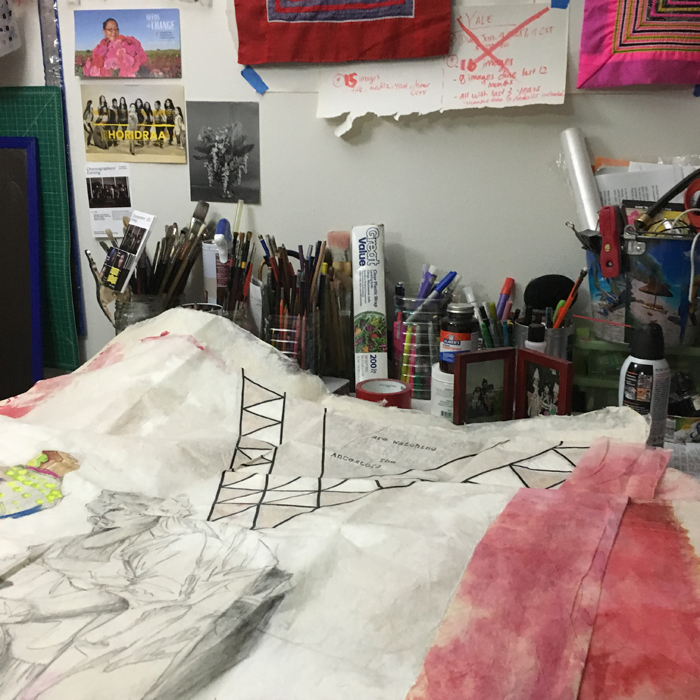 Studio of Koua Mai Yang
RW: It sounds like putting this exhibition together has been a quick and intensive process for you, by design. You've described the three guiding principles as intuition, practice, and urgency, which seems to directly reference the curator (your intuition), the artist (their practice), and the world to which you both are responding (with urgency). Can you expand on what parameters you set for yourself and for this show? Did the curatorial process have more to do with reacting quickly to current events or simply forcing yourself to make quick decisions?
TH: Yes, you're exactly right about my reference of combining intuition (the curator) and the artist (their practice). I hoped it could challenge a standard approach to curating a show, where generally the curator pulls from research and/or historical or contemporary context. In this case, I'm relying on what I feel and what I connect to in this moment, essentially trusting my intuition. The idea was to take a risk, approach a show without a pre-determined narrative and see what emerges. Urgency was necessary to create an environment of necessity and less opportunity for me to start doubting or challenging my decisions. I do think that urgency is a relevant concept right now, given our situation in America. Artists, activists, and creatives are all feeling the need to act, make change and build space where we can challenge all systems, in the here and now – which sometimes needs to be absolutely immediate. I'm certainly feeling that pull. While selecting a piece for the exhibit was definitely necessary, for me the exhibit is less about the work and more about the process of connecting with artists and creating a collection based on that experience. I think it's important that we concentrate on who artists are, what they are making and why, rather than looking at art-making as a outcome or product-driven endeavor. This exhibit poses a lot of questions. It actually even questions the overall concept of a "group" show. I'm not even sure that all of this can be articulated to the audience, but at least, energetically, it's all there.
RW: During all of those studio visits (22 in seven days!), did you try to pick a piece from each artist right then and there? If so, what did you learn from having to make all those snap decisions?
TH: Yes! I challenged myself with choosing a work based on what they had available in their studios or archives. A couple of the artists only had a few options for me to chose from, but even in that case, I had to get back to them within the week with a choice. I noticed that the process got easier as I made my way through the visits; the first couple of choices were made in a way that felt really blind, but it definitely got easier as the collection of works started to accumulate in my head. But then, I had to rely on memory and self-trust. The process of that many visits (sometimes 4-5 in one day), so many stories and artworks in such a short period of time was demanding, but also so enlightening.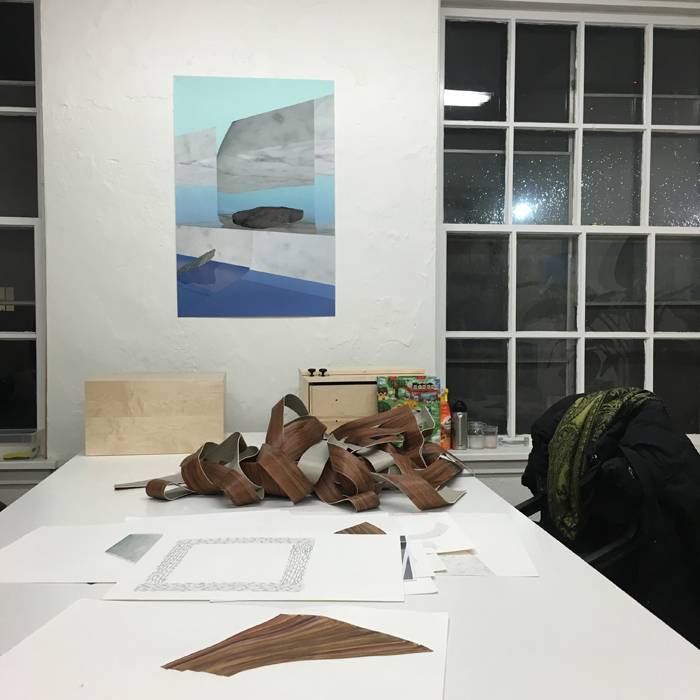 Studio of Sarah Faye McPherson
RW: I notice that all of the participating artists are female, but interestingly there is no mention of that distinction in the press release. In the process of planning your studio visits, were you consciously seeking out female voices? Do you see female identity as a unifying factor for the work in the show, a shared perspective despite the great diversity of artists and media?
TH: This is actually a really important part of this exhibit — the deliberate removal of gender as a discussion or a platform upon which to market and promote the show. However, yes the choice to include all female artists was intentional and personal. But beyond that, I'd like to leave it up to the audience to draw their own conclusions about what it means and why. As I mentioned, this exhibit poses a lot of questions. In fact, I think from a curatorial perspective, I would prefer if the audience finds more questions than answers as they explore the selection of work. I think it's time to start questioning the art world more deeply.
RW: Is looking for a "unifying factor" the wrong way to think about this show? Should we approach it more like a survey of contemporary local art, the way you might approach vastly different works at, say, a high-end art fair?
TH: Definitely, I think that the need for a unifying factor is actually a barrier to the inclusivity of ideas and perspectives. It is absolutely a survey, or even better – a pulse.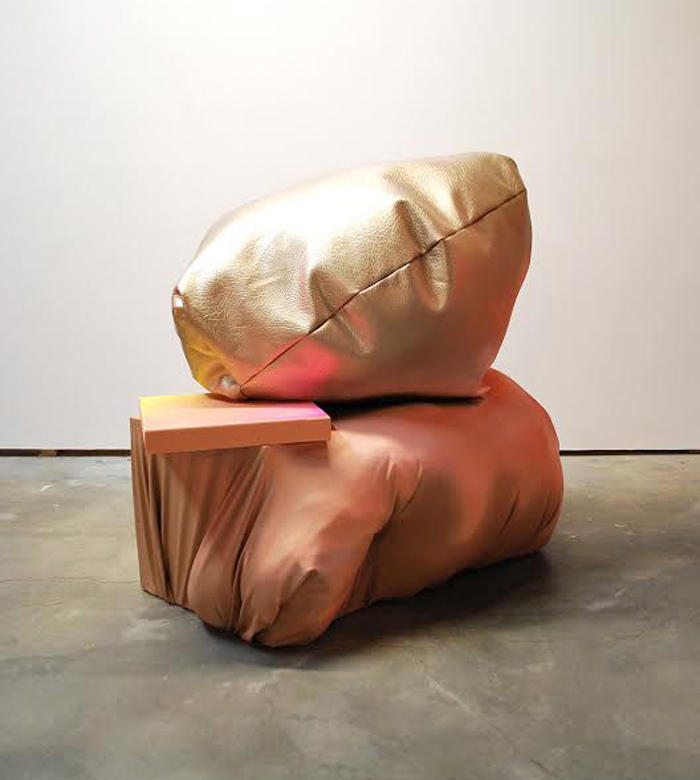 Kelly O'Brien; Standards; vinyl, pine, canvas, spandex and airbrush, oil, and spray paint; 2016
RW: Now that you are hanging the show, does the intuitive process slow down or stay nimble during this last part of the process, trying to figure out what goes where and facilitate a conversation between the pieces themselves?
TH: As much as I feel like it seems so lofty to qualify the role of intuition in curating a group show, it's all throughout this process. This exhibit is personal to me because I selected the artists based on what I am personally drawn to. Going back to my residency, I studied the collection of a long time art collector whose entire collection is based on what she is personally drawn to. She doesn't let trends or the art market influence her choices. She told me at one point: "my entire life is in this collection," meaning that all of the work she acquired reflects where she was at different points in her life and what resonates with her. And her collection is incredible and significant. There is true energy within it. And even from that basis of her highly personal collection, I was able to find my own individual discoveries within it; I was drawn to pieces she perhaps found less significant and some of her favorites were less so for me. Inspired by that, the group of artists presented here are all creating in a way that I connect to, right now, at this moment in my life. So I have no doubt that there is a conversation between all these pieces, but it's going to be up to the audience to connect in their own way. Regardless, the idea of curating in a way that is truly unapologetic seems really exciting to me – but it's also a little bit scary because it is so personal.
RW: Finally, what do you think should be the relationship between art and activism in the age of Trump?
TH: I don't think that art and activism are separate things. Personally, they have become more and more intertwined. I want to curate radically and in a way that challenges standard art world practice, because that norm doesn't and hasn't ever represented me – and I don't think it represents diverse expressions of art or artists. In terms of surviving the era of Trump, the art community is and always has been full of innovators, and now is the time for finding new, bold ways to express ourselves and stand up. We need to challenge every system, dismantle hierarchies and build new models that are diverse and inclusive. In times like this, when we can't trust anything we hear, read, or see… perhaps it is more important than ever for art to remind us what the world, and those who run it, are truly made of.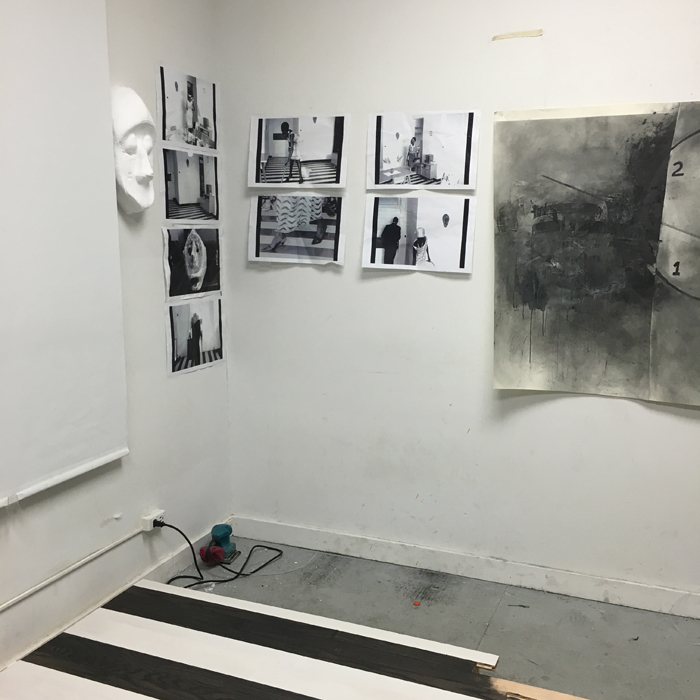 Studio of Tia Simone Gardner
Selected Works opens Friday, December 9, at Public Functionary and is on view through December 30 . Tuesdays, Wednesdays, Fridays: 12pm-7pm; Saturday: 12pm-5pm *Closed Dec 24
Special hours for Bestow: Holiday Market - Dec 17th 12pm - 6pm (more info)
Banner image: Greta Kotz, Finale (detail), watercolor & ink on yupo paper, 2016



Love what we do? Help support great articles like this by leaving a tip.