Tarot cards, game nights, witchy workshops — these might not be your typical words associated with an art gallery, but the events calendar and arts programming at Light Grey Art Lab contains them all. Revolving around the experimental side of art appreciation, the art space is illustration-heavy and definitely holds a space in its heart for gamers, providing a regularly scheduled, community-focused game night. No wonder they've been featured in the console generation's bible, Nintendo Magazine. From mystically-themed workshops where attendees can design their own crystal pendants and talismans, to an entire exhibition which invited 100 international artists to contribute a symbolic depiction of one of the constellations or nearby astral bodies to create a tarot and oracle deck, Light Grey brings to life an amalgamation of art and fantasy.
Founded by artist Lindsay Nohl and located in Minneapolis's Whittier neighborhood, the gallery and collaborative arts space brings together creatives from around the world to exhibit work, collaborate on projects, and oftentimes share in epic world sojourns via their international travel residency program. On top of her gallery work, Nohl has published a number of projects including Girls: Fact + Fiction, an eighty-page celebration of real-life and fictional heroines, and has contributed to Rolemodels: The Battle for Vyk' Tornaahl, an artist deck and RPG fantasy card game. She also teaches at MCAD in the Illustration Department.
This weekend, Nohl lends her curatorial expertise to Gamut Gallery's annual "call for works" exhibition, C4W, where she has selected artwork from twenty-four artists out of a diverse pool of submissions to create a cohesive group show focused on the elements of intention and communication. I caught up with Lindsay to chat about the history of Light Grey Art Lab, her approach to curation, and what we can expect from LGAL in future months to come.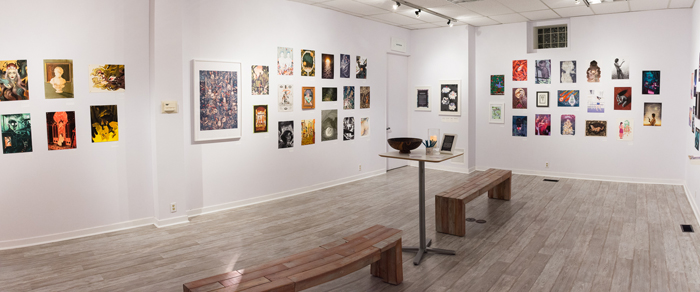 Light Grey Art Lab
JE: How did Light Grey Art Lab come about and why did you decide opening a gallery/artspace was something you wanted to do?
Lindsay Nohl: Light Grey Art Lab was my way of answering a couple big challenges with the creative life. As a commercial artist, I often found myself unable to share my work (as most of my work was under non-disclosure agreements until nearly a year after I made it), and I knew that others, particularly illustrators, designers, animators, and people in the games industries all might have the same challenge. We were all being creative but with no immediate way to celebrate the work we were making. The turn-around for many of our exhibitions at Light Grey are short, usually within a month of the call for work, so when someone makes a piece of work, we share the process — everything from the sketches someone posts on social media to small crops of the work as we lead up to the show. Finally, when the opening comes around, the full piece is revealed, and we try our best to make it as visible as possible.
Beyond that, I had heard many times from my other creative friends, my past students, or my colleagues that making work in your studio, particularly if you are a freelance artist, or at a company where there isn't a big art team, was often a lonely job! Many of us crave creative conversation, ways to make work together, and to be challenged and to find a way to be inspired by others in our field and beyond. These days, we host everything from artist lectures to group workshops led by creatives to residency programs and travel trips for others that would like to travel abroad and adventure with others. The easiest way for people to participate and join the conversation is through the group exhibitions, where the conversation can start online and hopefully begin new friendships.
The final thing was that there isn't always room to experiment or see your work in new formats when you have tight deadlines or are working commercially. We try to switch up the format of our exhibitions, from experiential exhibitions like Dream Arcade, where we created a 27 level platformer game in which artists could create their own worlds, to the COSMOS exhibition, where each of 100 artists researched and reinterpreted the constellations and astral bodies of the night sky. Inside the gallery, artists saw their work transformed into a planetarium — we built prints loaded with fiber-optics so visitors and artists alike could appreciate the stars inside. A couple years ago we did an art show for Halloween called Skate or Die, where we helped artists realize a skateboard showcasing their work. It's a fun creative challenge to think about how your work can transform, and how different formats can challenge your view of how many things you're capable of making.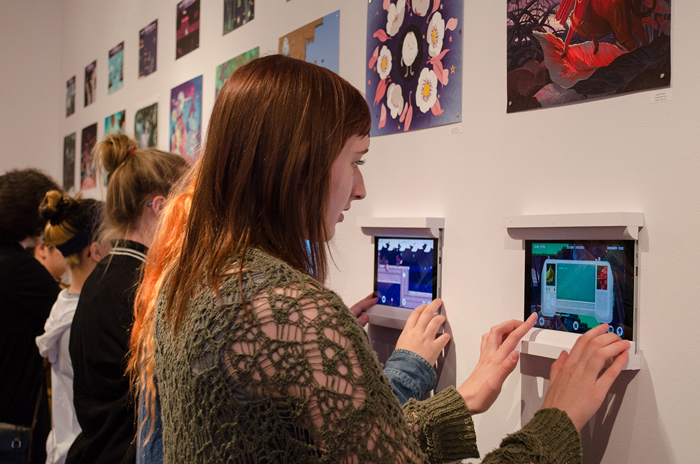 Dream Arcade opening reception. Photo courtesy Light Grey Art Lab.
Juleana Enright: You've been an illustration instructor at MCAD for over a decade. What would you say are the most interesting differences between the roles of teacher and curator?
LN: Teaching is incredible. I enjoy listening to individual artists' obsessions, ambitions, and try to help as much as I can with any creative challenges they may be working through. Curating lives in a similar world for me, and due to the nature of our shows, it's actually quite a similar process. Since our exhibitions are thematic, I give a 'prompt' to the creative community, just as I would in class, and then artists from all areas respond. Each piece of work contributed is a reflection of the artist's interests, perspective, and focus on the theme, and it's as much a self-portrait as it is an answer to the creative challenge I've provided.
The funny thing about our projects at Light Grey is that they also share the 'surprise' facet of receiving artwork on the deadline date! We do not choose artwork from already-created works by the artists. Every piece in our exhibitions has been created specifically for the show. In that way, curating for Light Grey is just like teaching, where work at the college is presented on critique day and revealed to the rest of the class for a response!
JE: Tell us a little about your published projects, Girls: Fact + Fiction and In Place: Wish You Were Here.
LN: The published projects are meant to be seen as a body of work but with many different contributors. We always have thematic exhibitions, and the published projects allow viewers to look at the broader conversation around a theme. In the case of Girls: Fact + Fiction, we wanted to create a 'short' list of all of the women that have inspired us as creatives. Each artist contributed their pick, and explained a bit about why they were highlighting that person. We had entries from all eras and backgrounds, and it is wonderful seeing all of the stories in one book so viewers can appreciate the individual artist's highlighted person, and their personal stories of why the woman they chose has changed their lives.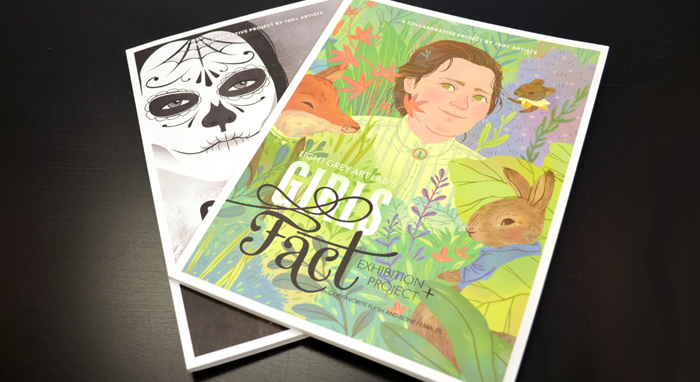 Photo courtesy Light Grey Art Lab.
JE: Would do you think is the most challenging part of owning and operating a gallery?
LN: Time management. I have this problem with "Feature Creep" -- which is when you keep wanting to make something cooler and, in turn, making it more complex. I'm lucky to work with three super rational creative people, so they keep me grounded, but I'm all about trying hard to make an experience really cool, so it's hard to say no to adding things and adjusting things the whole way through. I'm also juggling my other jobs (as owner of a product design studio, Paper Bicycle, where I design graphics and objects for home, stationery, apparel and gift products) and as an adjunct faculty member at MCAD, where I am constantly inspired by the students and their infinite creativity. I tend to stay late, work into the night, and need a lot of coffee.
Someday I'd love to find a way to get some work-life balance, but I think that's a problem for a lot of creative folks that both make work for a living and do it for fun.
JE: What exhibitions or events does LGAL have coming up that you are most excited to showcase?
LN: I'm super excited about the new year — we have some really incredible shows coming up. Fortune is our end-of-year exhibition that will last through January, that showcases gilded artwork! The whole show is metallic, with rose gold and gold, and we're super excited to see it shine! We have a trip to Japan scheduled for the spring, where we'll be bringing groups of artists from all around the world to experience Japanese food, hike through misty mountaintops, learn more about the culture and the artwork, and make work abroad with other creatives. This program is just one of the travel programs we're getting ready for for the travel season over the summer and can't wait to adventure with everyone!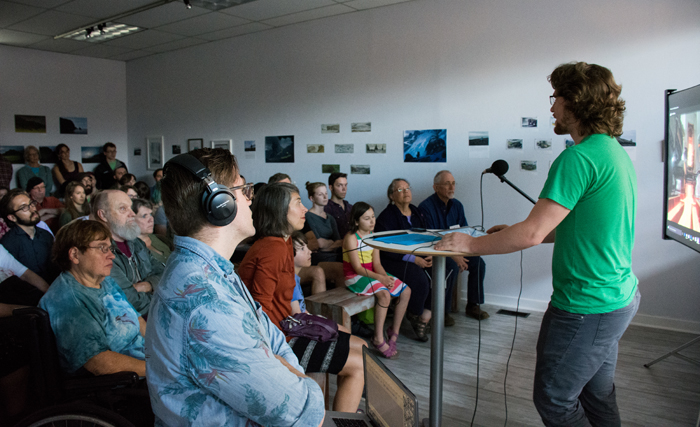 Iceland Residency Program artist talk. Photo courtesy Light Grey Art Lab.
Beyond that, we are getting ready for our 4th year running our Iceland Residency Program. It's an academic program led in the wild outdoors in Iceland, where artists learn from one another, explore the extreme landscape, and get to participate in 12 creative workshops contributed by the artists-in-residence. It's always something we look forward to. Iceland is incredible, but traveling there with other creative folks is the best.
JE: You were recently a guest curator for Gamut Gallery's annual Call For Works group exhibit, which opens this weekend. Can you talk a bit about how you selected the artists and pieces for this specific show?
LN: The artists selected for the show were all very confident creators whose artistic voices were strong, vibrant, and intentional in the way they handled their media, how they put together their submissions, and within the craftsmanship of the final works themselves. When curating, I look for people that are consistent in their creative voice, regardless of media used or subject matter portrayed. There's always something very revealing about a personal body of work -- it's a self portrait without being a self portrait. Each work speaks volumes of the creator's intentions and their thoughtfulness in the execution of their themes. This body of work is a mix of very representational works amongst stylized illustrative work and abstract pieces with collage and photography. I believe the works chosen are both strong pieces alone and within the context of the group exhibition.
Intention and communication are the words I'd use to describe the body of work. I think all pieces selected did a great job of communicating their individual themes and it was a pleasure looking at how clever people have been about representing emotions, stories, and moments within their chosen media. They are all very clearly communicative.
The process for curating the C4W show was really fun. I really enjoyed looking at the themes that each artist brought to the table, and learning more about them through the work they've submitted. When putting together the assortment, I didn't compare artists to one another, but looked for the individual intention in each piece (much was inferred by the title) and then how artists were clever about their interpretation of the theme. Work that communicated well was my top priority -- I suppose that has a lot to do with being from the illustration and design field.
Readability and response is paramount when communicating ideas to viewers. If an artist communicates a concept well (through their choices in medium, approach to making, and the final visual), it's likely the work has a lot of strength. If it's clever, it's an even stronger piece of work. You can not separate the choices an artist made in their approach to a piece, from the final itself. It's all part of the work.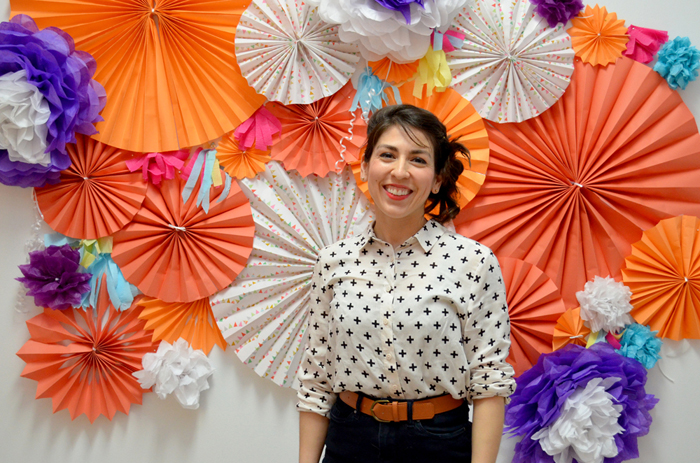 Lindsay Nohl. Photo courtesy MCAD.
-- Juleana Enright
C4W: 2016 Annual Open Call for Work Show opens at Gamut Gallery this Friday, November 4th 7-11pm
$5 admission with a live synth set from Modwell
For more info, check out our event listing and be sure to RSVP on Facebook