With "Folklore Remix," a three-person show at Gamut Gallery opening on Saturday, local artist and designer Luis Fitch brings his Day of the Dead sensibilities out of the street and into the gallery.
Chances are you may never get a one-of-a-kind Luis Fitch piece. It's much more likely you'll see his artwork as a sticker on the street than in a gallery, and Fitch would prefer it that way. Incorporating his guerrilla marketing and branding experience into his fine art practice, the locally-based artist has the unique approach of strategizing how to put his images into the community in such a way that they become instantly recognizable and widely accessible.
Raised in Tijuana, Mexico, Fitch moved to San Diego in 1985 to pursue formal training in graphic design and fine art before settling in Minneapolis, where he founded the cross-cultural design agency UNO. Through his company, Fitch works closely with retailers to develop products designed with the Hispanic community in mind. From the branded commercial imagery he creates to the hand-pulled, jumbo-sized art prints he produces, his work is an exploration of the dichotomy of life within these two worlds — the "south" (Mexico) and the "north" (the United States).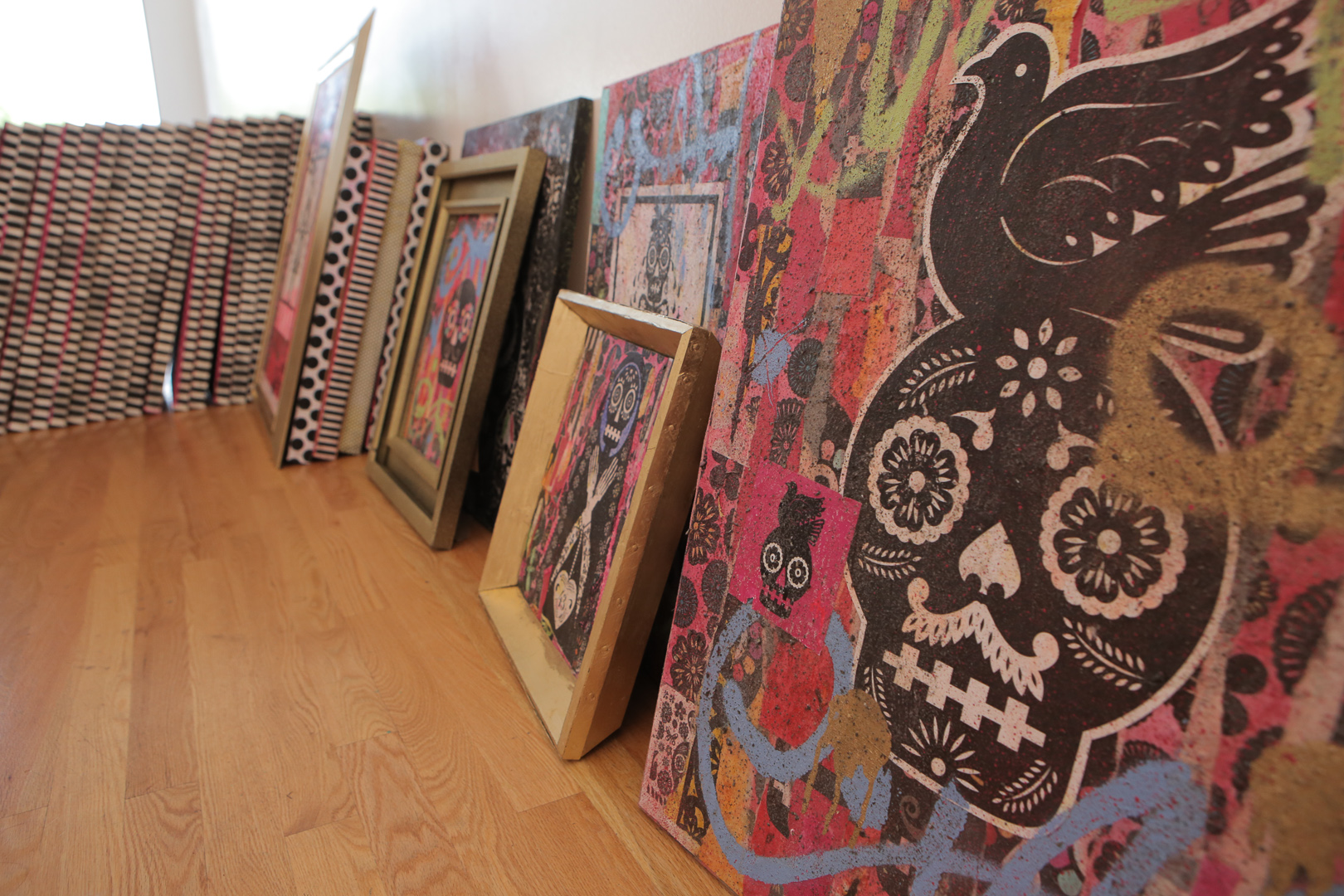 Luis Fitch pieces ready to hang for Folklore Remix at Gamut Gallery

His three upcoming shows, Folklore Remix at Gamut Gallery, one at the Mexican Institute of Culture in D.C., and another at the Museum of Mexican Art in Chicago, center around how the Mexican holiday Día de Muertos (Day of the Dead) has been commercialized and capitalized upon in the U.S. Using discarded images from work his company does for their corporate clients, Fitch repurposes them to bring awareness to Mexican culture and to the violence in Mexico, particularly along the border where he grew up.
"Textile manufactures will hire us to do a line of textiles to be used in patterns," he explains, "and whatever they didn't like, or the recycled material, I can grab and put it into a different context, and it becomes a different message."
With symbolic imagery and a graphic design aesthetic, he is able to tackle intense, real-life stories from Mexican headlines. 5 Heads, for instance, is based on the true story of a Mexican drug cartel leaving five decapitated heads outside an elementary school in Acapulco this past April. Instead of showcasing the bloody gore of such an event, Fitch uses simplified images that can be assimilated and digested by the general public, yet still capture their attention and curiosity to probe further.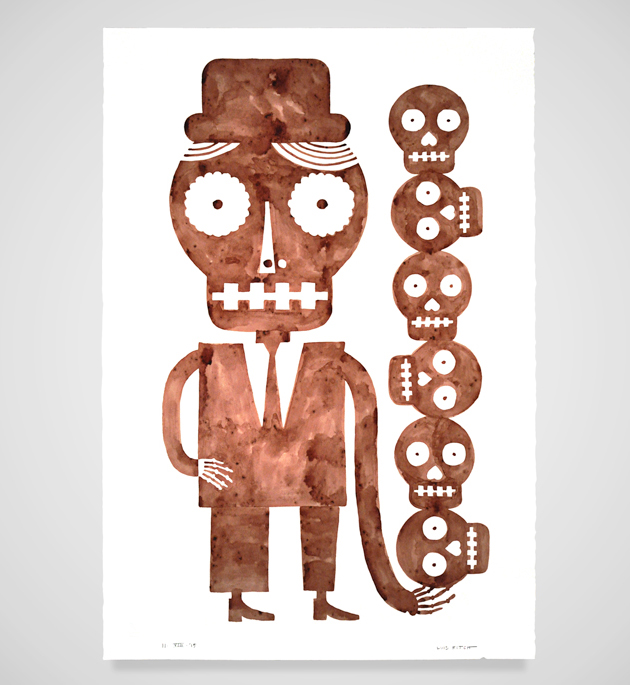 Print by Luis Fitch

Last year he began a project which earned him a McKnight Fellowship award devoted to calling attention to the 43 Mexican students that disappeared mysteriously in 2014. Working on recycled corrugated boxes, one symbolizing each missing student, Fitch scattered the artwork in a variety of places throughout Latino neighborhoods, each with a corresponding tweet regarding its whereabouts and the hashtag #FreeArt in both Spanish and English. Through this storytelling project, Fitch created a body of work that united urban residents, raised awareness about the tragic disappearances, and also made artwork easily accessible and consumable to a community often overlooked in the art world.
For Fitch, his work is about starting a dialogue that doesn't have to happen within the confines of a gallery. It's an experiment that relies on a century's worth of "branding," beginning with the iconic image of La Calavera Catrina, first etched and made popular at the turn of the 20th century by Mexican printmaker and illustrator José Guadalupe Posada.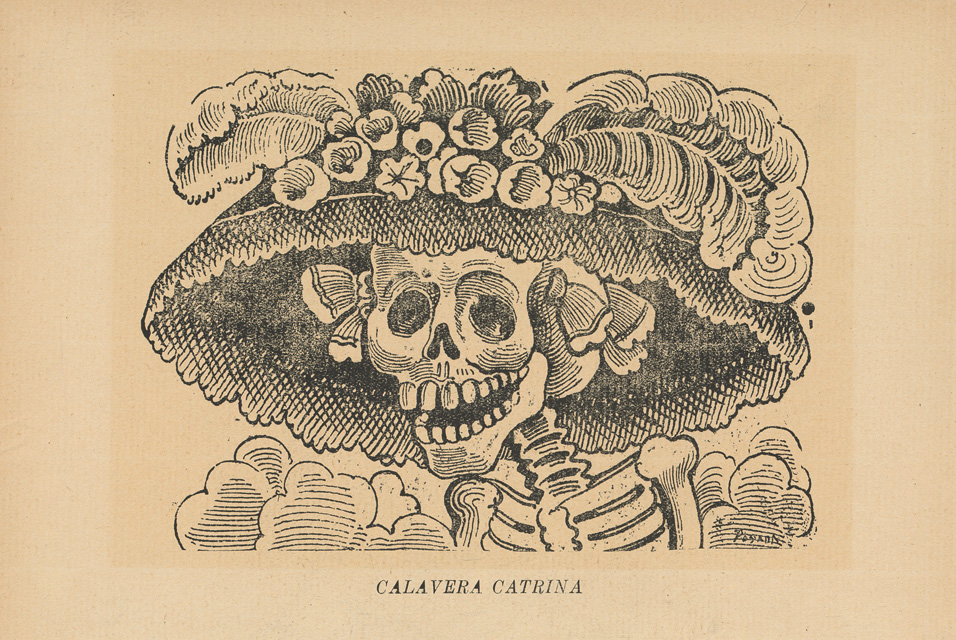 Catrina by José Guadalupe Posada​

The Catrina, itself a satire about European influences on Mexican culture, captures the famous calavera (skull) and has become a ubiquitous image associated with Día de Muertos. Fitch's artwork takes an image like the Catrina that is already iconoclastic and revamps it using graphic design techniques to become a more contemporary visual piece.
While stores like Walmart and Target have used traditional Día de Muertos images in their Halloween costumes and marketing, Fitch sets out to expand on this idea, heightening the awareness of Mexican culture. "Now you see kids having tattoos, wearing t-shirts with this imagery, you see it on skateboards and surfboards; it's a crossover that most people don't even know what it stands for. The way I'm using it is more of a language. I relate to it and it becomes a vocabulary. It's a tool for me to use to communicate."
"I look at it more from a graphic design standpoint than a, 'oh, I'm Mexican so I have to use it.' I like the idea that I can do a pillow one day, and then the next day I can do a sticker that goes out into the street and then do a museum-quality piece or an art print that might go into a gallery that you can buy for $20. By doing inexpensive reproductions and silkscreens, I make it accessible for everyone, the Hispanic and Mexican community specifically who are afraid to go to museums because they think it's just for the white people. Instead of the art residing inside of a building, now the art is in the street, sometimes in their yards."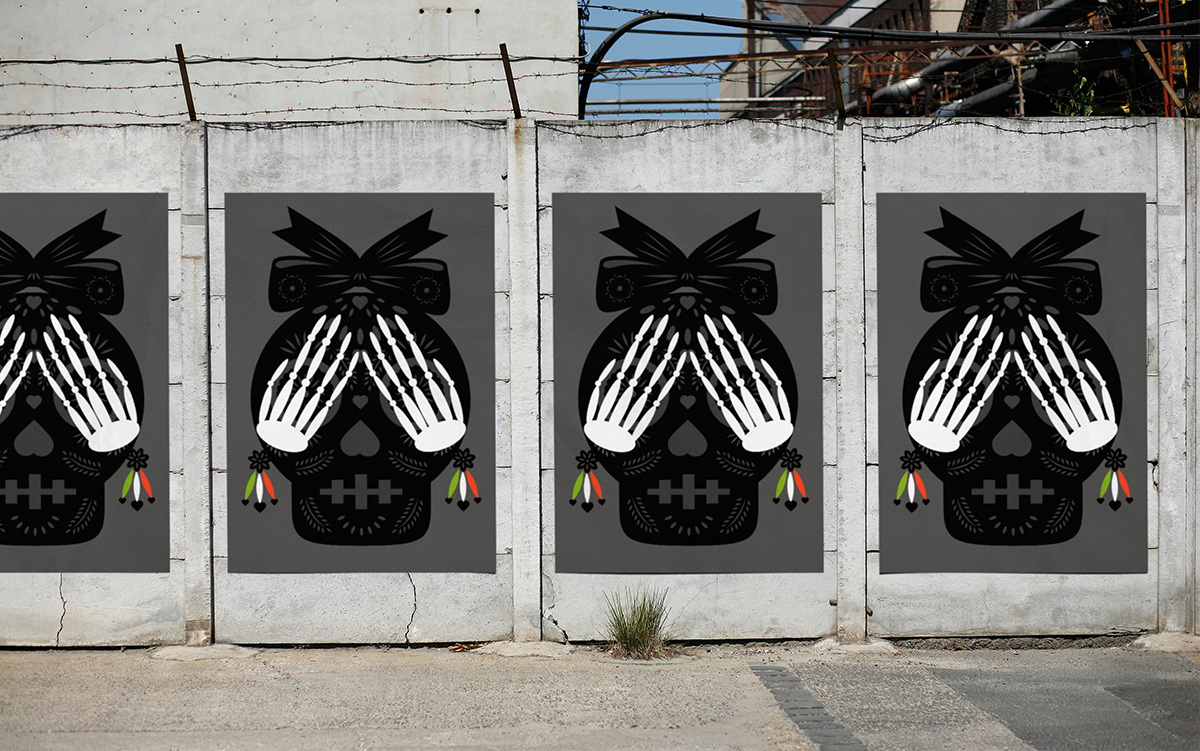 Prints by Luis Fitch

And though his upcoming shows are in gallery settings, Fitch still considers what he is showing as accessible, offering posters, jumbo-sized silkscreens, and other bodies of artwork for under $50. "It's kind of like the Ikea of art. And now it's just one more place that the art can be seen."
"When you do guerrilla marketing with fine art, it's an even bigger interest. When you see a Nike logo, you immediately dismiss it because it's so ingrained, but when someone sees a poster in the street and they don't understand what it's for, they have a bigger drive to discover what it's all about."
Mixing his marketing and branding background with fine art, Fitch sets out to challenge what is conceptual art and how imprinting public spaces with art strategically unites all sections of society. "Can a piece of art be a sticker in a bathroom at the back of a restaurant? Is that art? Can a poster be pasted outside of the Walker? Is that art? For me, it's a fun experiment to see how fast it's picked up and how fast it's recognized because of the consistency of the image, the colors, the patterns, the technique. It's repetition of something that implores you to find out more."
Engaging with Twitter and social media outlets, Fitch has garnered a national following. The curator of the National Institute of Mexican Art saw his work on Facebook and sought him out to be part of the Institute's 30th annual celebration of the Day of the Dead. For this exhibit, which sees over 88,000 in attendance, Fitch will produce a large-format wheatpaste mural. The show will feature traditional Día de Muertos oferendas juxtaposed with modern-day artwork that speaks to the capitalist and consumerist aspects of recreating this style of art. At the end of the exhibit, just before the doors to the gift shop, will be Fitch's piece entitled Sold Out.
"It will be so obvious that it's almost like a retail window shopping of Day of the Dead. It's exactly the kind of work that I'm questioning on one end, and on the other end it's my way of letting people (mainly the Mexican community) know the problems that we still have in Mexico, specifically with the violence and drugs, but in a symbolic way."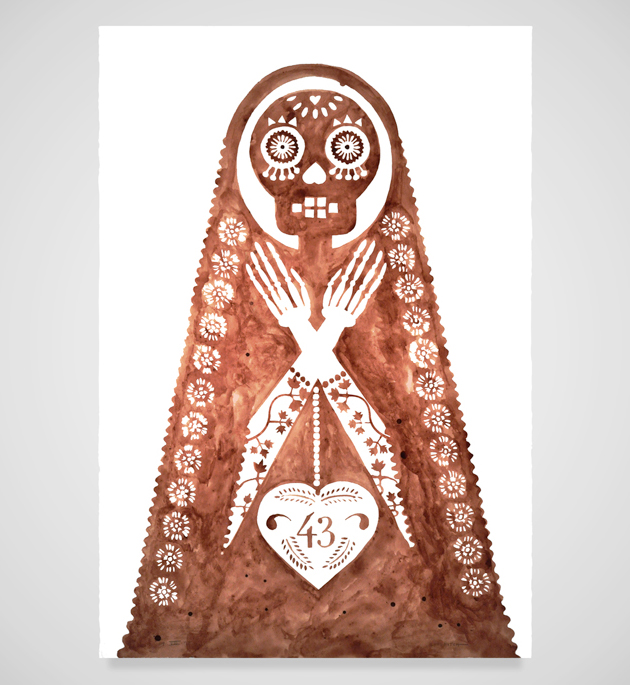 Luis Fitch
-- Juleana Enright
Catch Folklore Remix at Gamut Gallery July 9th through the 30th. The exhibition focuses on remixing mythology with street art sensibility & showcasing original work by Rodrigo Oñate, Luis Fitch, & Repo.
The opening reception for Folklore Remix is Saturday, July 9th 7PM-11PM with a soundtrack provided by DJ Fresko612. For more information, visit http://www.mplsart.com/events/folklore-remix.