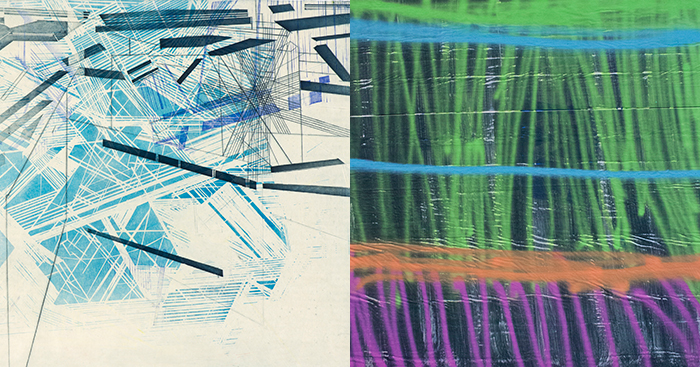 Review: Interspace Unbuilt @ Space 369
Posted April 20th, 2016 by Cynde Randall
Cynde Randall takes an in-depth look at the latest exhibition of John-Mark Schlink & Gregory Fitz's new abstract works at Space 369
For millennia, humans have revered nature, drawn images and created things with their hands. Today, not so much. It is shocking that these deep seated inclinations have been driven into dormancy over such a short period of time. Recent and contemporary technologies have plundered the Earth, wrought unspeakable damage to eco-systems and essentially separated human beings from the physical world that they occupy. Today life is experienced by millions in a trending sea of floating data—fed and consumed in glowing bits on a mobile screen. This has been collectively agreed to. What in the world will happen if the screens go dark?
Through much of art's history the challenges and possibilities of representation were tethered to nature —with every major move forward, riding on the cultural crest of its time. It is safe to say that if the Impressionists, early Color-Field painters or members of the Bauhaus could witness our world, they would not believe their eyes. We can speculate that they would make very different images now. For today the stakes of representation are haunted by dislocation—going more to the collapse of the living landscape. Failed corporate dogma has filled the space between the earth and sky with crazy unsustainable structures and systems. Indeed, the world is falling apart. It is within this context that I meditate on artists Gregory Fitz and John-Mark Schlink and their exhibition "Interspace Unbuilt" at Space 369.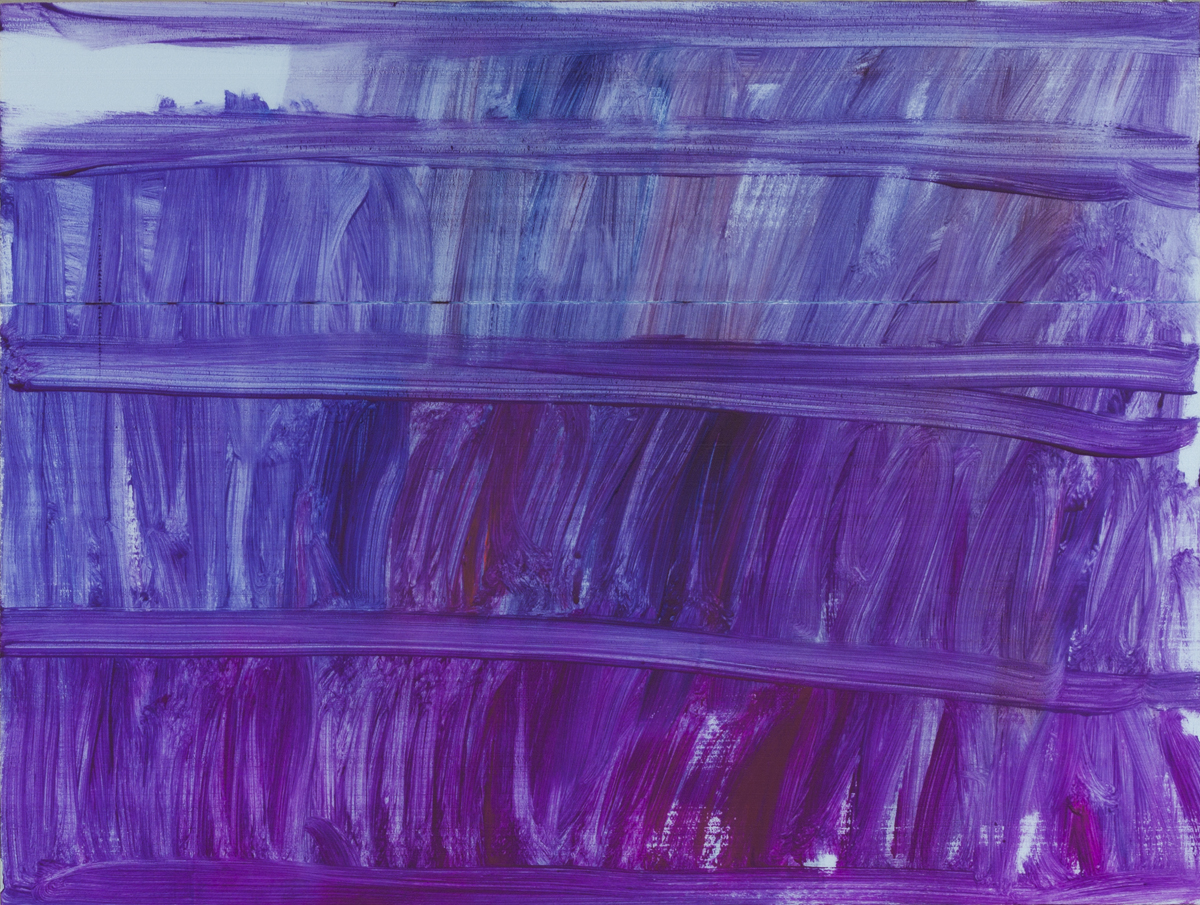 Greg Fitz
In 2009, Gregory Fitz began an ongoing series of gestural acrylic abstractions that he calls collectively "Sunrise/Sunset". Through this body of work Fitz navigates the space between abstraction and claimed representation. He locates his images on panels of foam insulation—a ubiquitous and non-biodegradable construction material known, more officially, as extruded polystyrene. This material is produced in two colors: baby blue (courtesy of Dow Chemical) and pink (by Owens Corning). These colors, often associated with newborns, belie the toxicity of the material and lull us into complacency—in the same way that poetic phrases like "Citizens United" tell lies as if they were true. Sadly and strangely, these colors serve the epic beauty of sunsets, holding up to Fitz's range of kinesthetic applications.
Throughout this series Fitz hangs the interspace of his compositions on painted passages that sweep from left to right. This gesture carries the solace of the horizon—locating our position and implying what lies beyond it. In a signature "Sunrise/Sunset", Fitz presents a dense construction of upward brushstrokes, mixing blue and crimson, directly, into a dynamic field of purple, set on a baby blue ground. Here Fitz's "horizon" strikes 5 times across the underpainting, canceling the singular meeting of earth and sky and bending the surface of the work with four territories that occupy different depths of field. It is a sumptuous and dis-quieting composition.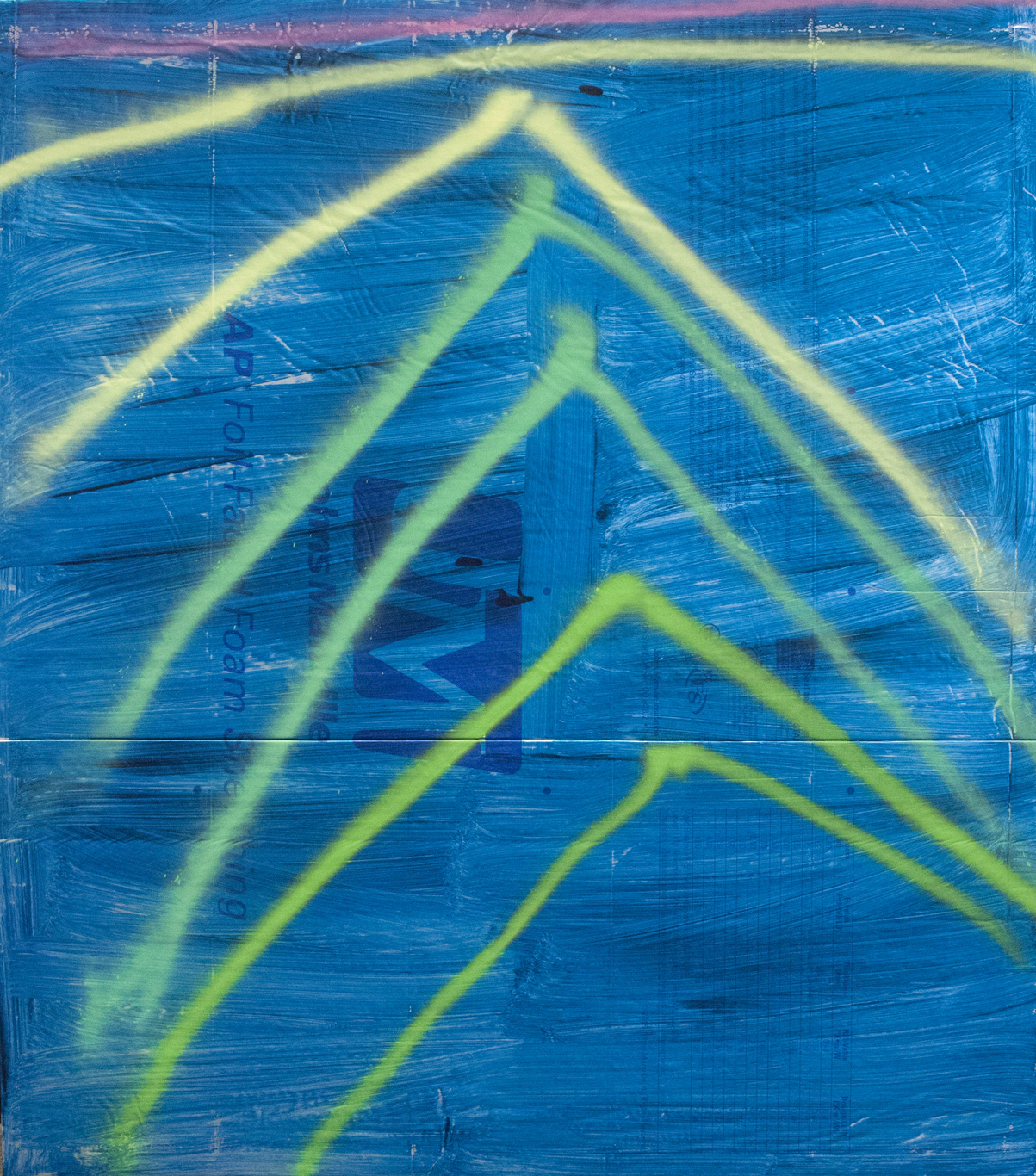 Greg Fitz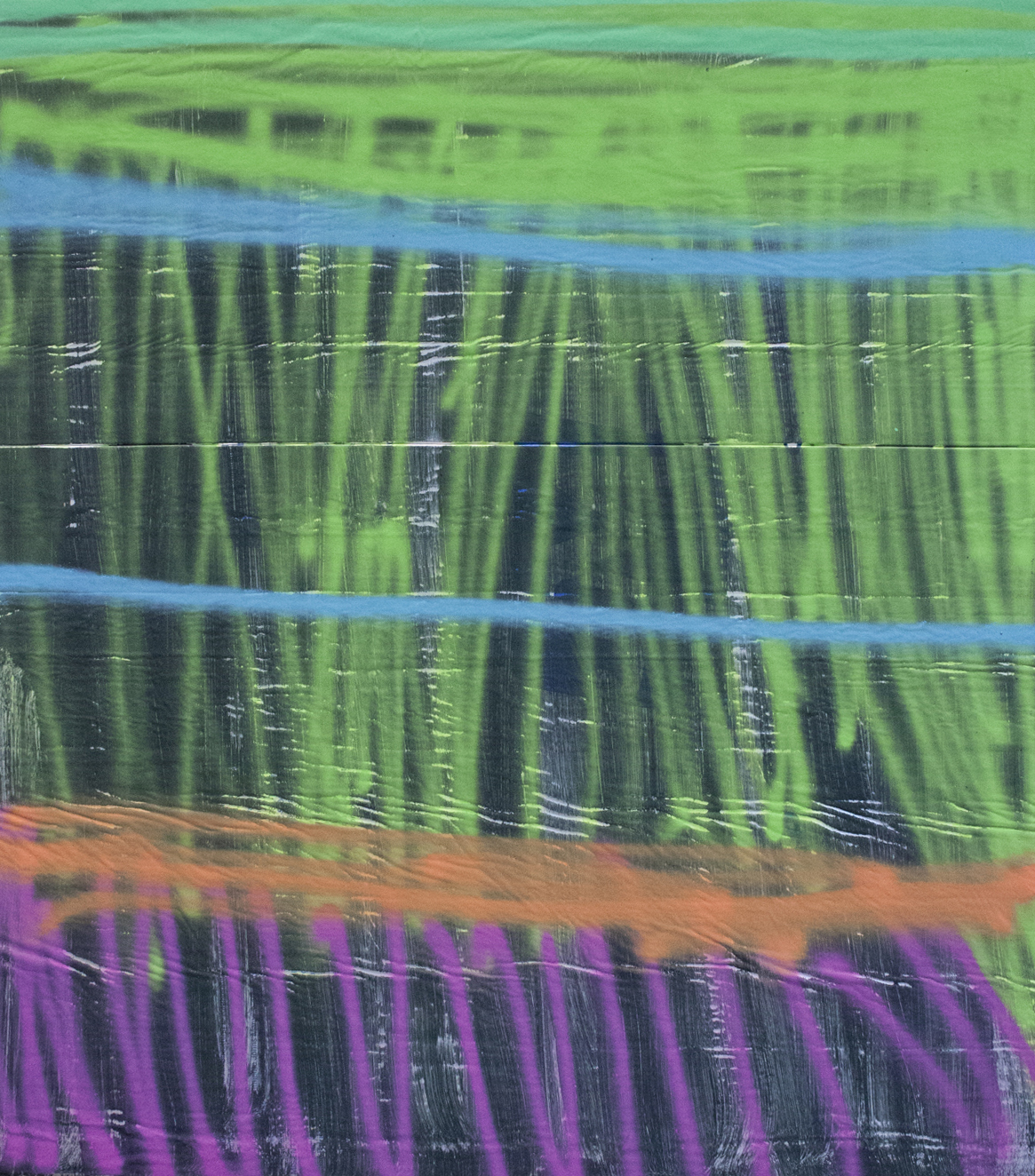 Greg Fitz
Through his recent series "Aurora Borealis" Fitz switches out brushes for cans of spray paint, moving to a format of foil-faced rigid polyisocyanurate foam. Each of these works is loosely under-painted with a semi-transparent ground of blue allowing the foil's reflection and product logos to read through. In this night sky Fitz floats misty, spray-painted arrangements that are, by turns, tenuous, frenetic or densely obliterating. Day-glow green hauls the freight of the series title. Fitz executes these compositions very quickly. Whatever their energy, they are raw, immediate and "in-your-face". This is not to say that they aren't considered carefully. He makes countless structural sketches and likens his process to a skilled musician who lays down an improvisation in several minute's time. Fitz says that he knows that a painting is worth keeping when it makes the hair on his neck stand up. It makes sense that his editing is so visceral, given that his keepers rely on his body's movement through space. One can't help equate spray paint with graffiti but Fitz is clear that these works are not about street vernacular. Still, these difficult paintings appear to tag Fitz's longing, vulnerability and complicity.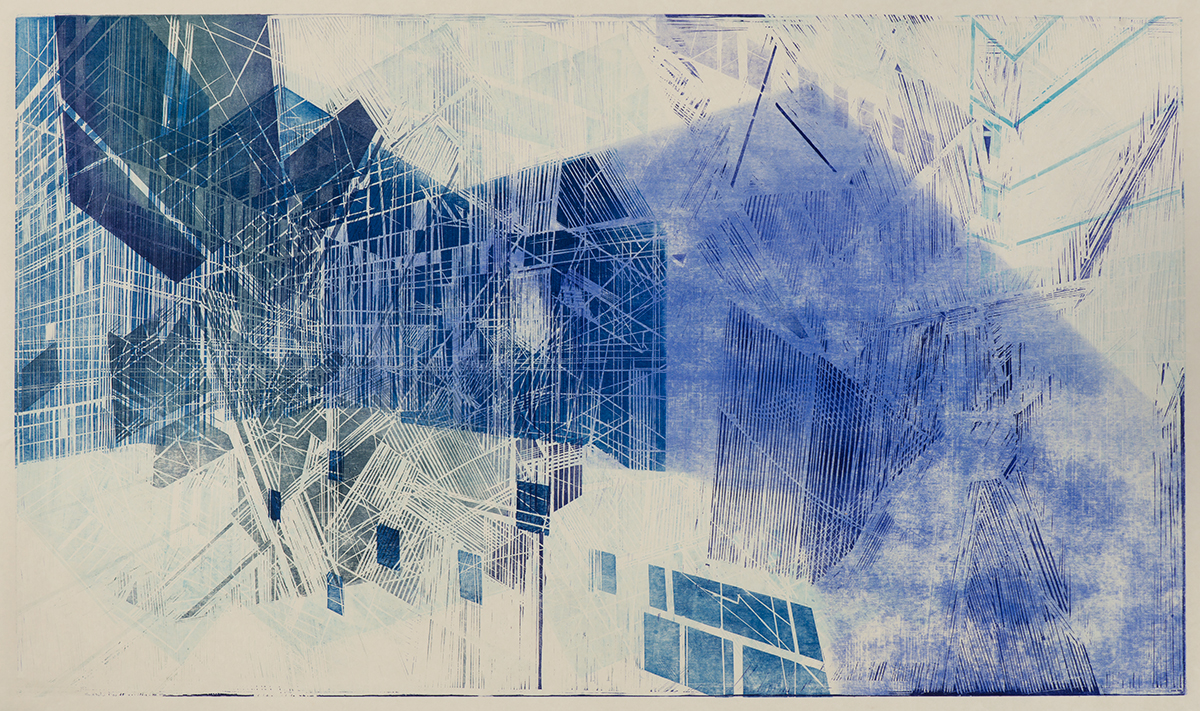 John-Mark Schlink
The architectonic grace of John-Mark Schlink's aesthetic provides a stark counterpoint to Fitz's miasma. Yet his approach to printmaking and the inter-workings of his compositions are equally rigorous and improvisational. The footings for Schlink's consciousness reside in a childhood partially shaped by his father who was, and is, an architect. While he chose a different path, he remains fascinated with building, noting that the father of Renzo Piano (one of Schlink's favorite architects) once questioned his son, "Why would you want to be an architect if you could be a builder?"
For the last 15 years Schlink has explored the possibilities of architecture through myriad printmaking processes. He works across the matrices of wood block and intaglio, often combining the two. In his most recent bodies of work Schlink forgoes the convention of multiple editions, creating monotypes that rely on multiple plates and blocks, plate rotation, hand stenciling, selective inking and embossing. Through a free-wheeling organic approach, Schlink mediates an illusionary interspace of imagined architecture, built in a 2-dimentional world. Schlink finds his images through the process of printmaking, building layers of information as he responds to each step with the plate or the block.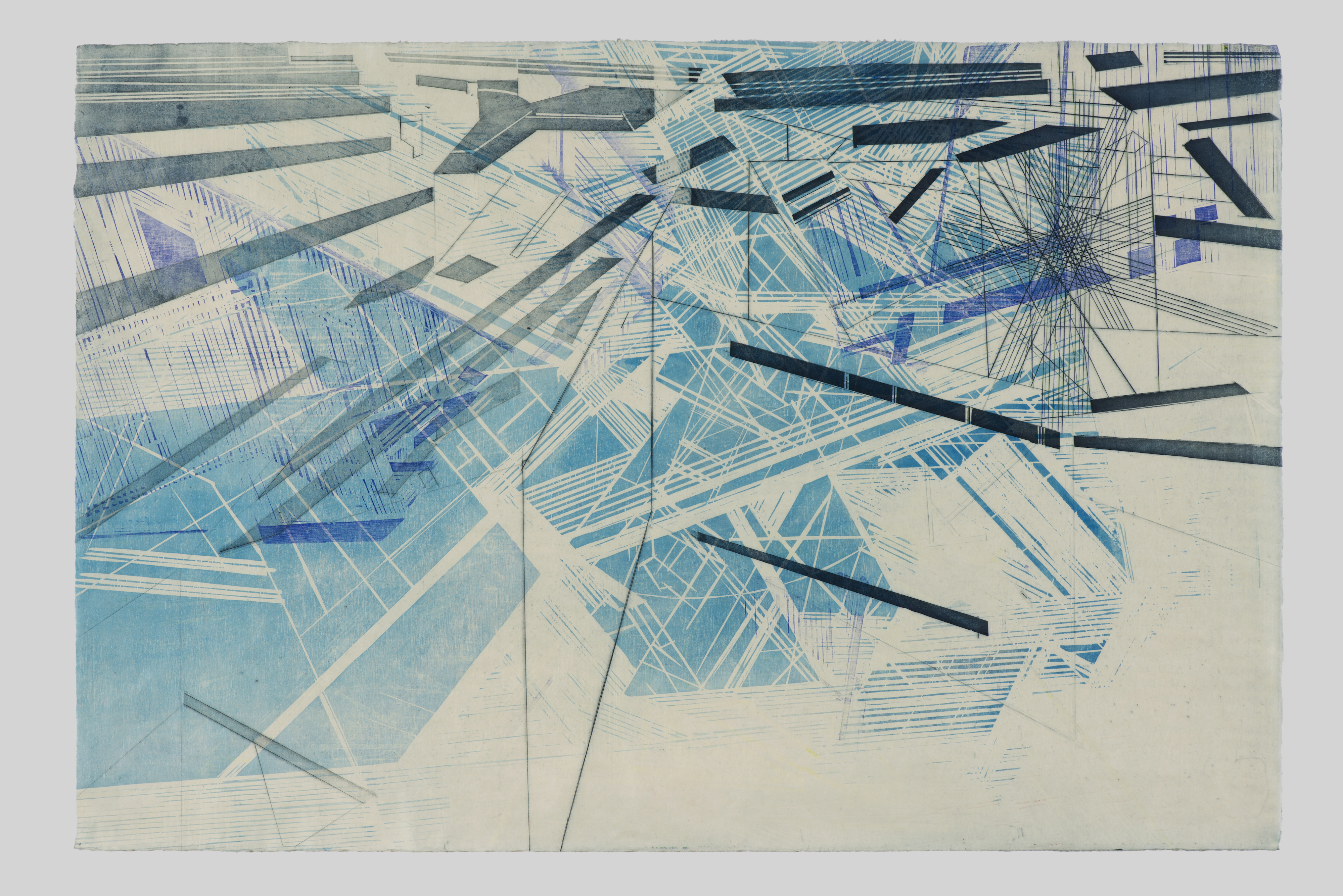 John-Mark Schlink
In his recent series—"Schematic" and "Architectural Possibles"—Schlink explores architectural concepts like articulation and folding: simultaneously joining the discrete parts of a continuous structure while preserving the integrity of its details and depicting multiple views of the same structure or site. By and large, Schlink employs a blue palette, calling in the aesthetic of pre-computer site plans and creating an overall atmospheric effect. His faceted, see-through buildings tumble and float in colliding spaces of mysterious purpose. Perhaps they are blueprints for the world that's coming apart. Un-building seems as much the point of this work—not in a dystopian sense, but more towards the idea of clearing a space so that something new can manifest. Schlink doesn't reveal a new world order but somehow implies that it's possible. At the very least, we can say that he provides a dynamic architectonic map for transformation.
The largest of Schlink's "Schematic" prints were initially planned as vertical compositions but once he saw the first inked run he decided to tip these prints back to horizontal position. By virtue of this decision, Schlink's compositions no longer stack like buildings but tumble and shatter, like ice on winter's river. The same image, turned by 90 degrees, sheds its constructed identity—conflating his imaginary city with an undulating, topographical map of the Earth.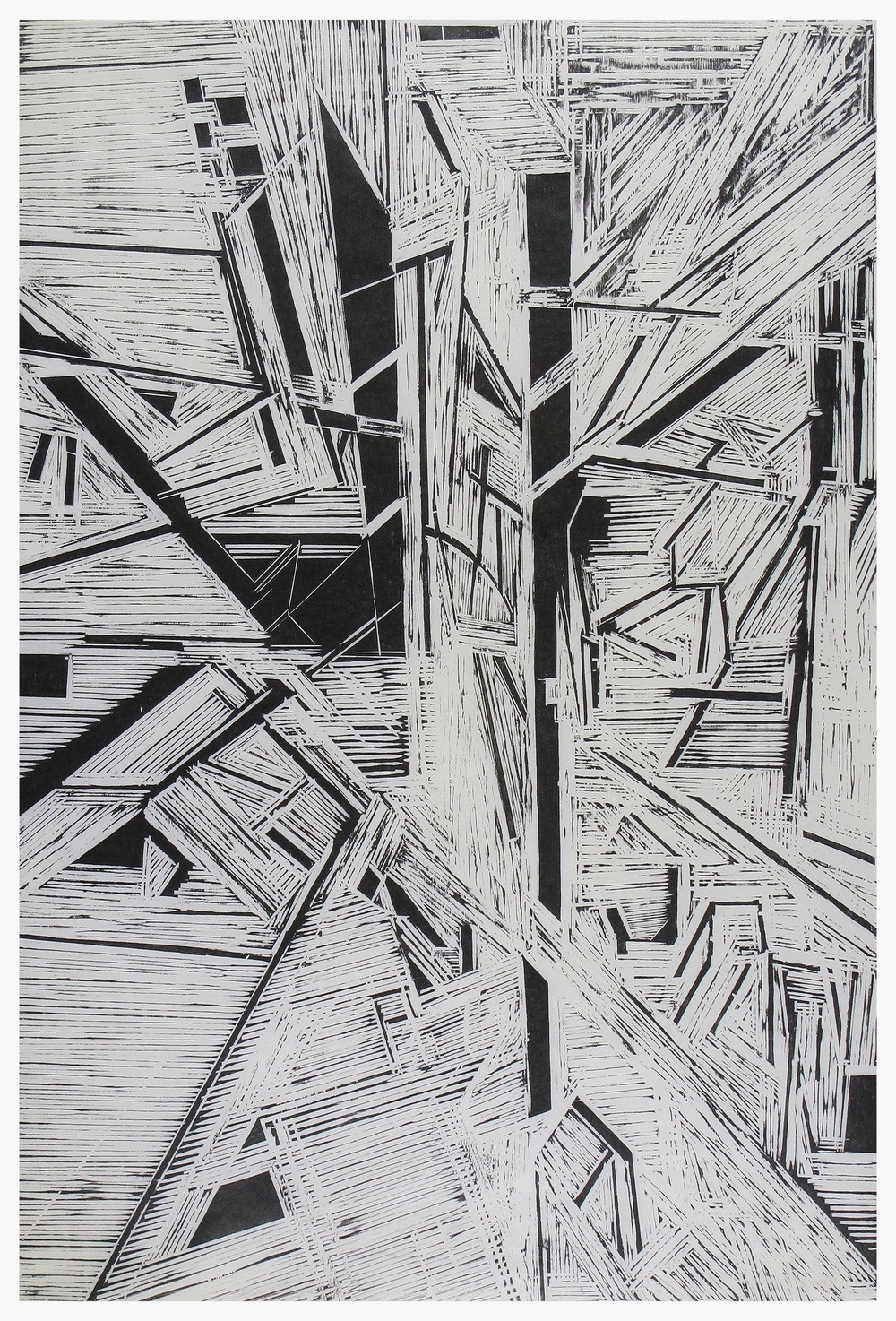 John-Mark Schlink
Quantum physics teaches that within the consciousness of an intelligent universe, collective and individual intention can alter physical reality. Both Gregory Fitz and John-Mark Schlink prove that it's possible to mediate what is, with what is not. We know that we are in a fix, but it is possible to re-trace the arc of representation (separation) until our feet hit the ground. It is time for reckoning and with this it only makes sense to face the interspace of our dilemma; choose the sunrise and re-build the world.
--Cynde Randall, April 2016 – with special thanks to Nathanael Flink and Julie Buffalohead​
Interspace Unbuilt opens Friday, April 22nd 6PM to 10PM at Space 369 in the Dow Building during the first night of the St. Paul Art Crawl. The exhibition will be on view through May 18th closing wih an artist talk at 7PM. Gallery Hours by appointment only.
We can't do it
without you.
Help keep independent arts journalism alive in the Twin Cities.