This is the first installation in a new and ongoing series of artist interviews. Our goal is to keep them concise in length yet rich in content. We'll speak with Artists from various mediums and at various stages in their careers. We want you to know the person behind the artist. In that vein, there is not a more appropriate artist to start with.
Entering Hilary Greenstein's bright California Building Studio is to walk into your childhood family room. Her paintings, based on vintage found photos, bring back memories of common scenarios we all experienced growing up.
The Artist as Person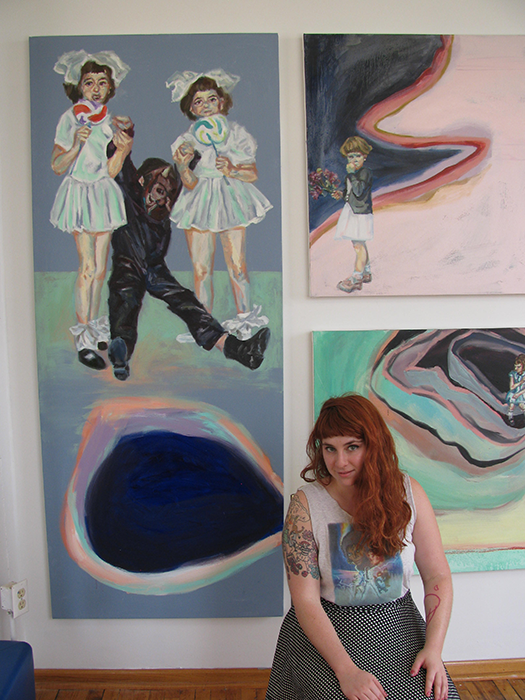 Hilary is a recent (2013) MCAD BFA program grad. Given the scale of her work, she knew she needed a studio straight away. When she isn't oil painting, she writes poetry, cooks, and plays with her beloved cat. She knew she wanted to be a painter very early on and got serious about it in High School when she attended MCAD's high school program. Hilary is a thoughtful, mindful person and artist. Her ability to pay attention to detail while keeping the big picture in mind is impeccable. She has a knack for the difficult task of determining when a painting is done. There are just enough brush strokes to complete the painting, but not the image, leaving the rest to the viewer's imagination. Hilary often works on multiple paintings at once to alleviate the natural tendency to overwork a singular piece. She views painting as an act of respect, paying homage to and treating the subject with respect. Balance is good word to describe her; it comes through in her art to be certain.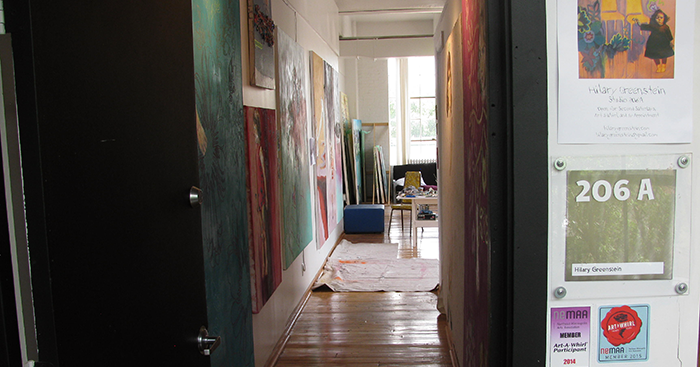 Hilary and I spoke at length about her process, which is noteworthy. Though her canvases are enormous, she stretches them herself. She appreciates the balance of the scientific/ mathematical nature of this with the creative nature of painting. There is a right and wrong way to stretch a canvas, there is no wrong way to create a painting.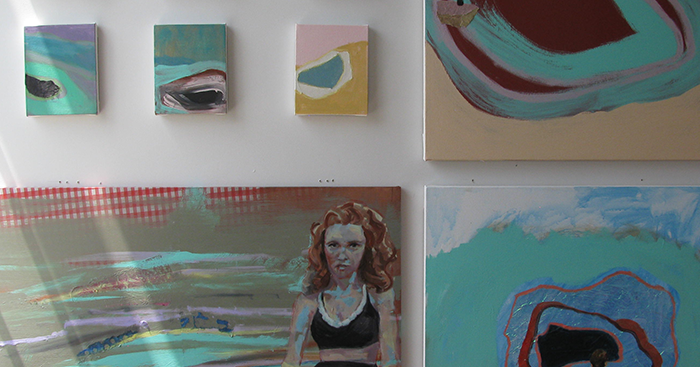 The Art of Familiarity
Familiarity is a theme that plays out in many ways in her work. Many of the works in her prior collection contain wallpaper patterns painted as the background. Of course these pieces would look great on a wall in your home for obvious reasons, but they also conjure sentiments of home regardless of their resting place. In her current collection in progress she often uses house paints for the background. This accomplishes an interesting juxtaposition of color, but also creates an implicit reminder of home. It's hard not to feel nostalgic in her space. There are enough quintessential youthful scenarios that something will resonate with you. In my opinion, one of the greatest measures of art if whether or not it makes the viewer feel or think in any way. In that regard, these paintings don't just hit the bullseye they punch clear through it.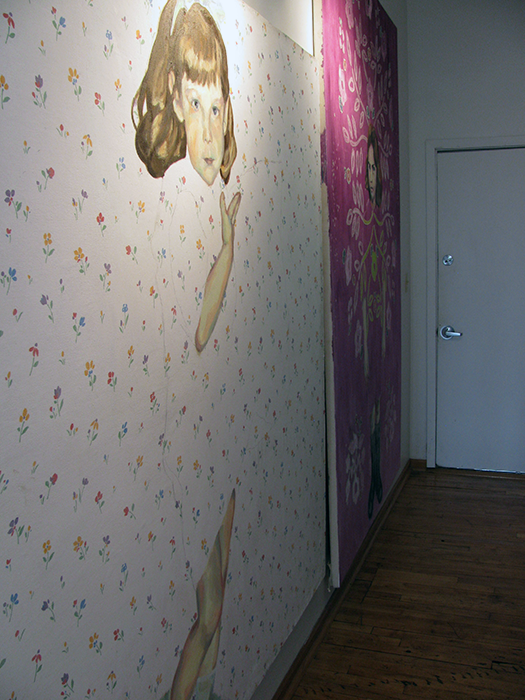 Most of the works in her current series in progress contain what she refers to as lacunas. At face value they may be symbols of birth, death, or wounds while perhaps representing the temporary or fleeting nature of youth. The expressions on some of her characters are somewhat somber or serious, but Hilary strives to not only paint the anxious, rather to balance that with happy imagery. That is life, after all.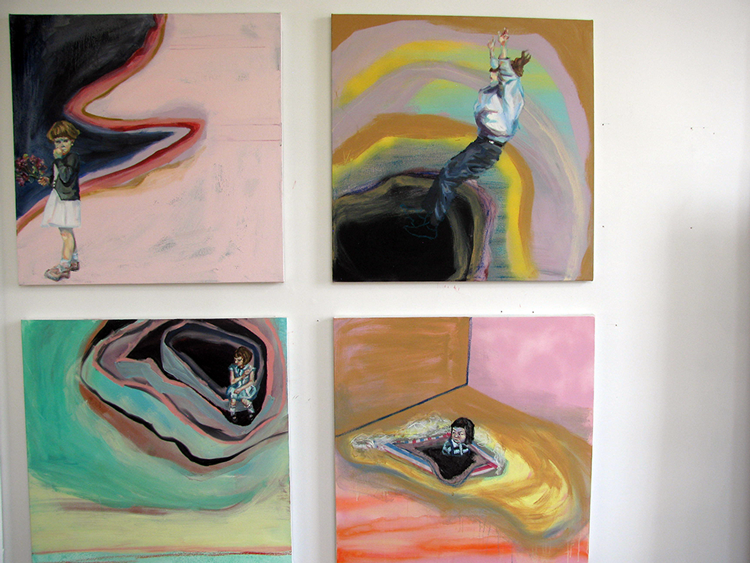 The Questions
(Josh Arbit): Why do you make art?
(Hilary Greenstein): Paintings are my way to communicate. They are open ended, like poetry. A painting doesn't try to convince nor argue a point; rather paintings are open-ended and evocative.
(JA): Why does art matter?
(HG): Art has been around forever, but every art show you go to presents new ideas and things not previously seen. It inspires and drives human connection, feedback, and reactions.
(JA): What does owning original art add to your life? What do people get from it?
(HG): It adds dimension to a room, changes the space. Art subliminally influences who you are and what happens in that space. Paintings look back at you. Owning Art should appeal to people because it plays into our desire for the scarce and rare. It resonates with the millennial drive for authenticity and originality. It allows us to curate our persona and show who we are and what we are about.
(JA): What do you like most about the Twin Cities Art scene?
(HG): It's big and it's small; more personal. It's Midwest friendly. There are many galleries, most of which particularly support emerging artists. The Art scene here is part of the social scene. It is accessible and lacks pretension. Painters here don't take themselves too seriously, nor do they put art on a pedestal.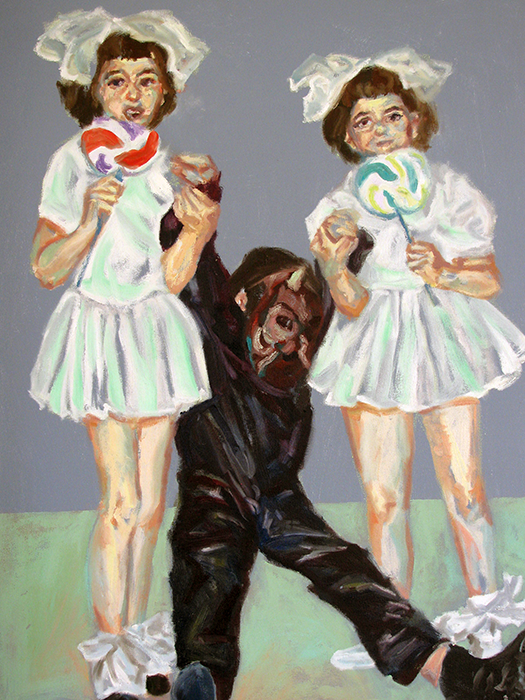 Hilary will have her first solo show, Stranger, opening at the Coffman Art Gallery at the University of Minnesota on March 4, 2016. For more details, visit her website http://hilarygreenstein.com

-- Josh Arbit