HOTTEA: Minneapolis Graffiti Artist Turned Street Art Innovator
Posted March 2nd, 2011 by Tristan Pollock
It was a hot summer night in Minneapolis.

Two dark figures with backpacks crossed a dimly lit road and jumped a fence that led to the freeway. The incognito duo found the perfect, high-visibility location and unloaded their gear: a gallon of paint, a roller and a slew of brightly colored spray paint cans. The two young graffiti artists commenced painting. Semi-trucks sped by. Cars honked and headlights flashed. Adrenaline-pumped hands whisked side-to-side just inches from the bland, monotonous highway wall. Aerosol paint cans clattered and clanked as a shadowy masterpiece began to take shape. After ten minutes, time seemed to lag by as the zoned-out traffic hummed in the background. Twenty minutes passed and just as soon as it began, it was over. The two street artists hurriedly slipped away leaving their graffiti art installments for morning commuters to eyeball.

Hopping the fence again they instantly noticed a slow-rolling car nearby — a chase was imminent. The undercover police car that passed them whipped around and peeled out, wheels spitting black tar towards the yellow street lights above. Both of street artists hit full sprint and used their paint-stained finger tips to scale an eight-foot wall. One of the two wasn't quick enough as the police officer came barreling out of the police car and grabbed his paint-filled backpack midway up the wall. Determined to not get caught, the street artist slipped out of his backpack, then his coat, and started sprinting down the uneven sidewalk. Seconds later he hit the ground, hard. Face bloodied and scrapped, the Taser prongs were still pulsating inside him. Attempting to breath he tried to turn on his side. Another excruciating shock absorbed through his body. It wasn't until two more electrocuting blasts rimmed through his vertebrae that he was told "don't move or I'll charge you again."

The next three days in jail brought on a metamorphosis that culminated in the creation of the street art project that is now know as HOTTEA. "The transition between mediums came from confinement, isolation, as well as finding happiness and hope," says HOTTEA.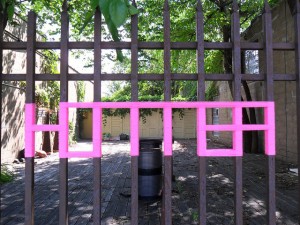 HOTTEA is composed of two artists, one of which that started writing graffiti art back in 1996 under a different name. He took inspiration from Boston-based Monk and Minneapolis' Ewok. "I liked how those artists specifically chose their locations well," says HOTTEA, "Much of graffiti is all about placement."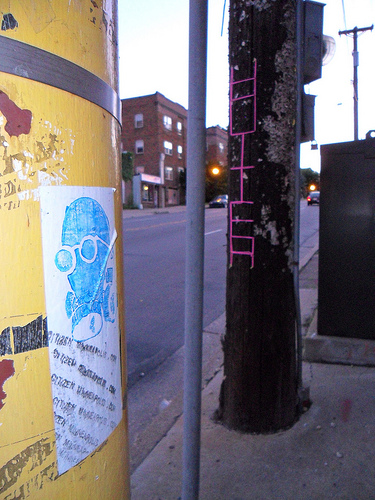 The HOTTEA project developed after a trip to jail, but it was also heavily inspired by past experiences: A grandmother teaching the skill of knitting, anti-gay bullying from kids at school, and, most importantly, the relationships that that were developed along the way — negative, or positive. HOTTEA explains, "The HOTTEA project embodies the similarities and differences in all of us. I wanted to base the project off an idea that had room for growth. We are always growing as people and the dynamic between people gives endless possibilities."

HOTTEA's latest work named "Socorro" was created on the top of a Seward-neighborhood highway bridge. "The meaning is to create a piece about two people with different backgrounds finding similarities and meeting halfway to form a closer bond." HOTTEA explains. "The purpose is to create something beautiful and interesting for people to look at and experience."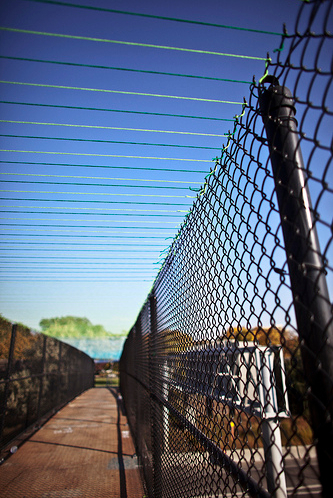 According to the New York Times, guerrilla art, or "craftivism" like the HOTTEA project "could become as potent a social movement as urban farming." And The Guardian refers to graffiti knitting as an "epidemic" and highlights the London-based Knit the City collaboration of yarn artists.

Despite the popularity of the movement, uncomissioned street art is still deemed illegal almost everywhere in the world. Besides recent "Graffiti Zone" designated areas in Taiwan and Australia, street art still carries heavy fines and jail sentences in the United States, England and most other countries. In 1994, Michael Fay, a student living in Singapore, was even given four cane lashes, four months in jail, and a $2,233 fine for spray paint vandalism.

Craftism, guerrilla art, or yarn bombing — such as the works by HOTTEA — is also classified as vandalism despite the lack of damage to personal or public property. Fines have been handed out by police and installations ripped down. HOTTEA has had four run-ins with police, all ending in warnings. Street art blog Unurth.com founder Sebastian Buck disagrees with common perception, "[To me] yarn bombing is such an interesting thing. I wouldn't classify it as graffiti, because to me that term infers spray paint, but I would include it under the broader umbrella of street art."

Many artists question why law enforcement and select groups of citizens fight for a public space so bland. It's just plain boring, many street artists agree. "At its best, street art brings a humanity to stark urban environments," says Buck, "and yarn bombers definitely achieve that."
-- Tristan Pollock
about.me | flickr

Socorro from Hot Tea on Vimeo.
*Photos by Tristan Pollock and Anthony Kwan.
This article has been archived from the original MPLSART.COM site. It may contain dead links, broken images, and formatting issues. We are working to fix these as much as possible. Thank you for your patience.
We can't do it
without you.
Help keep independent arts journalism alive in the Twin Cities.