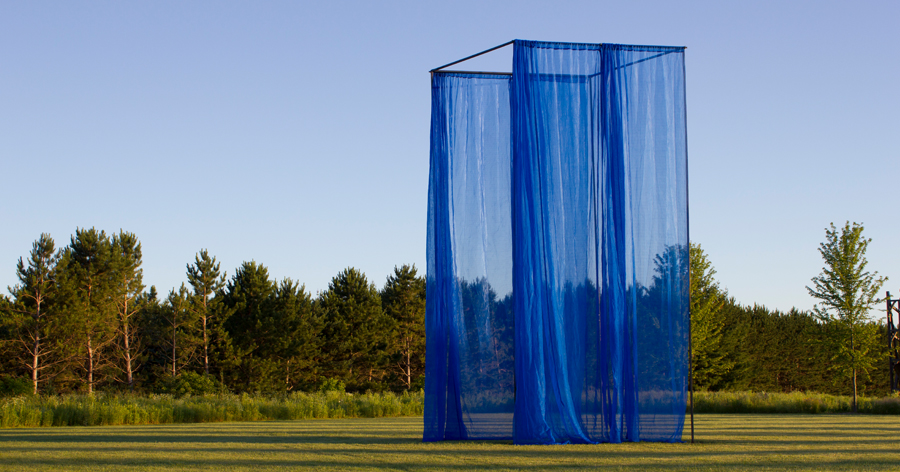 We Move Still (Blue)
Presented by First & FirstEvent Website

Public Opening + Performances

Thu Oct 17th, 2019 4:30PM - 7PM CST
3300 on the Park
3300 5th St NE
Minneapolis
( map )
IC: 'We Move Still (Blue),' 2019. A collaboration by April Martin and Jordan Rosenow, 35' x 20' x 10' (variable). steel, debris netting, wind
First & First is proud to present April Martin and Jordan Rosenow's We Move Still (Blue). This site-responsive sculpture was commissioned by Peter Remes and will be permanently installed outside the 3300 On the Park building.
We Move Still (Blue) is a 3-story tall steel structure with a curtain of transparent debris netting, a highly durable material commonly used at construction sites to enclose scaffolding and protect workers and pedestrians. The bright blue netting echoes Martin and Rosenow interests in performative sculpture as well as "queering building materials through simple bodily gestures," creating a space that is in a constant state of change as it responds to wind, sun, rain, light, and dark.
We Move Still (Blue) also creates a space for artists to perform and interact with the sculpture. A group of local artists and musicians have been invited to perform during the public opening.
4:30 - Performance by Judith Holo Shuǐ Xiān
5:15 - Solo viola performance by Mote (Miriam Karraker)
5:30 - Performance by Laura Levinson and Sami Pfeffer