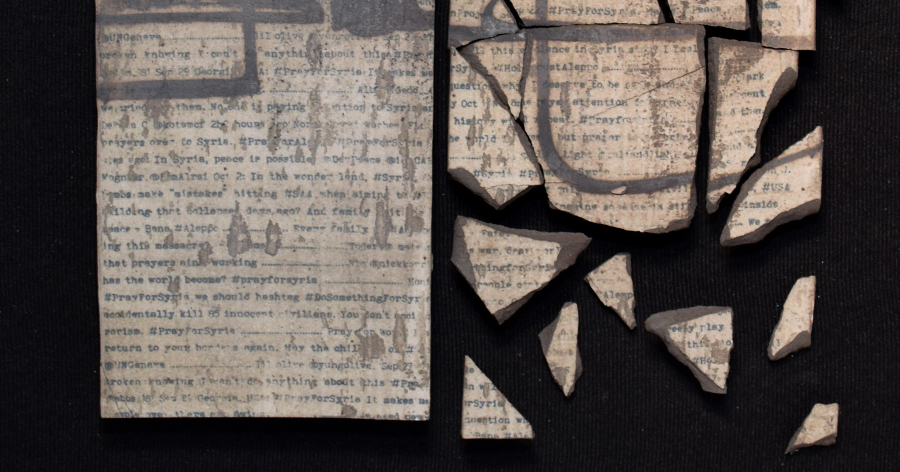 The Earth is broken, the Earth is Whole
Ceramics, calligraphy, media, performance, and installations that explore cultural and political exchanges between Middle Eastern and Western culturesEvent Website

Showing

Mar 28th - May 11th, 2019

Opening

Thu Mar 28th, 2019 6PM - 9PM CST
Hopkins Center for the Arts
1111 Mainstreet
Hopkins
( map )
One of Many, an interactive performance
During the opening, March 28, 6:30-7PM
A performance addressing themes of Disorientation, Reorientation, and Cultural Tagging is part of the opening reception
The Earth is broken, the Earth is Whole is a dialogue between artists Forrest Lesch-Middelton, Arash Shirinbab, Pedram Baldari and Nooshin Hakim Javadi.
The exhibition features ceramics, calligraphy, media, performance, and installations that explore cultural and political exchanges between Middle Eastern and Western interpretations of our cultures in an attempt to communicate ideas of morality and justice, migration, and the seemingly simple act of making art in today's complex and changing societal landscape.
——
This exhibition is part of 'Claytopia', the 53rd annual conference for NCECA (National Council on Education for the Ceramic Arts), happening March 27–30, 2019 in MSP.