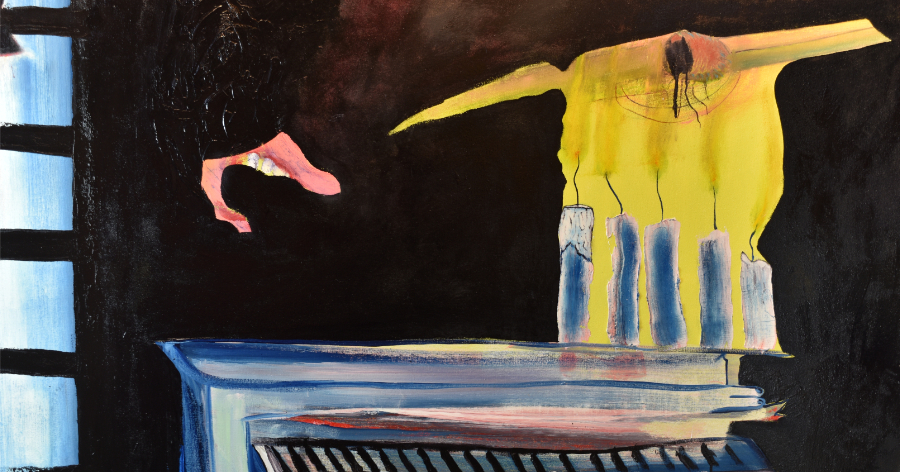 Shattersquelch/The Utmost Natural
New work from Hannah Piper Burns (PDX) and Ryan Fontaine (MSP)Event Website

Showing

Jan 11th - Feb 10th, 2019

Opening

Fri Jan 11th, 2019 7PM - 10PM CST
Hair and Nails Gallery
2222 1/2 E 35th ST
Minneapolis
( map )
HAIR + NAILS is pleased to announce Shattersquelch/The Utmost Natural::: a new exhibition of art by Portland artist Hannah Piper Burns and by Minneapolis artist Ryan Fontaine to open January 11, 2019 and running through February 10, 2019. This is HAIR+NAILS' second exhibition of Piper Burn's work and the 6th Fontaine show at H+N — a south Minneapolis gallery he runs with his partner, choreographer Kristin Van Loon.

Hannah Piper Burns describes her interactive installation Shattersquelch as "a psychotopographical method of loci, navigated with a non-Newtonian control system." Imagine a crystalline, shattered, blue sky video game navigated by your hand in slime.

Ryan Fontaine's The Utmost Natural reveals a number of new paintings, wildly varying in scale, including several huge-scale oil paintings and assemblage-type hybrids. His signature 2-d/3-d confounding is at play within and on top of the picture plane. Two distinct environments embrace the basement-y basement. Foils for each other, expect a tropical brightness (just in time for the January winter depths) vs. the hairy night. So lush, so sinister, so body.