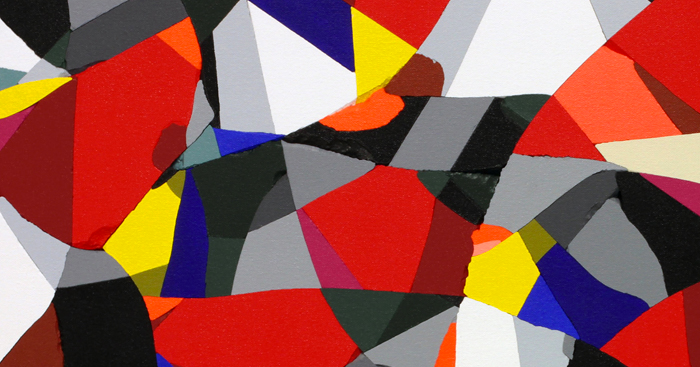 Ruben Nusz: B.C.
New work by Ruben Nusz
With B.C., Ruben Nusz continues his exploration of the relativistic qualities found in color theory. The exhibition, featuring seventeen paintings on plaster and six oil pastel drawings, introduces a new 'fresco-secco' technique that updates the long history of painting on plaster.

The paintings are made first by creating a silicone mold of a blank stretched and primed canvas. Next, plaster is poured into the mold to cast a trompe l'oeil copy. Then the artist shatters the plaster "canvas" into pieces, allowing random forces to begin the composition, a gesture that echoes early 20th century Dadaist ideas. He then scores the back of certain fragments and breaks the plaster further, guided by a hand-drawn digital composition. The final step in the process involves painting each individual broken section with acrylic and gluing the whole "painting" back together again. The finished work appears to be a conflation of hard edge color-field abstraction with distortions of two and three-dimensional space that feel both exciting and contradictory.


About the Artist
Born in South Dakota and raised by cowboys, Minneapolis/Saint Paul-based artist Ruben Nusz graduated Summa Cum Laude from the University of Minnesota in 2001. He has exhibited work at the Walker Art Center, the New Orleans Museum of Art, the Phoenix Art Museum, the Blanton Museum of Art, the Museum of Contemporary Art (San Diego), the Minnesota Museum of American Art, the Rochester Art Center, the Soap Factory, the Kiehl Gallery, and Weinstein Gallery. His work is featured in the permanent collections of the Walker Art Center, The Minnesota Museum of American Art, the North Dakota Museum of Art, the Weisman Art Museum and the Minneapolis Institute of Art. Nusz has received numerous grants and awards including a grant from the McKnight Foundation in 2013. In addition to contributing as an arts writer for the websitemnartists.org, Nusz is also co-founder of Location Books, an independent publisher that provides contemporary artists the opportunity to produce new work in book form. Location is featured in libraries throughout the United States, including the collections of the Whitney Museum of American Art, the Museum of Modern Art (New York), SFMOMA, and the Minneapolis Institute of Art.

Image details: Ruben Nusz, Rung, 2017, acrylic on broken plaster, glue, metal frame
Find out what's up
every week.
No spam. Just local art news and events straight to your inbox.