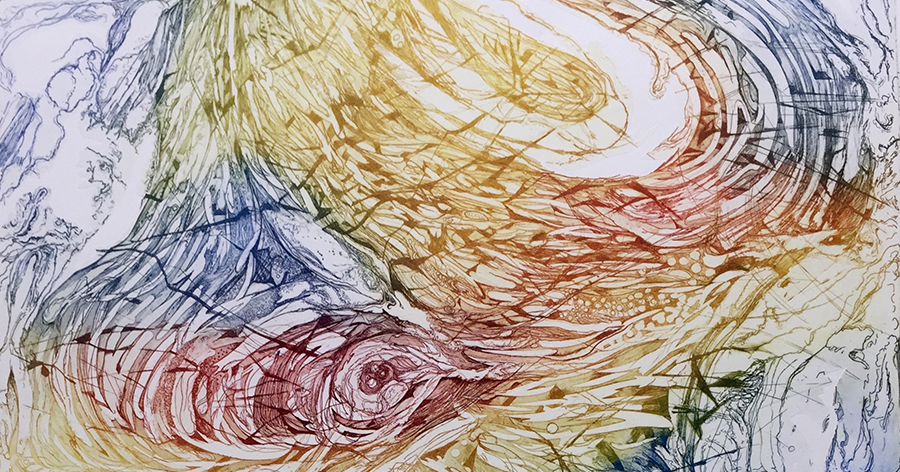 Prints on Ice 2018
Highpoint Center for Printmaking presents their 34th annual cooperative exhibition and print saleEvent Website

Opening

Fri Nov 30th, 2018 6:30PM - 9PM CST

Showing

Nov 30th - Feb 9th, 2019
Highpoint Center for Printmaking
912 West Lake Street
Minneapolis
( map )
IC: Lynnette Black, 'Convergence,' Intaglio, 2018
Highpoint Center for Printmaking is pleased to present 'Prints on Ice,' an exhibition of prints by members of its artists' studio cooperative. This winter's show features the work of 32 local printmakers currently working in Highpoint's facilities.
More than 70 pieces were selected by the co-op's curatorial committee for exhibition. Printmaking methods represented include lithography, relief, intaglio, screenprinting, monotype, and polymergravure.

Opening Reception and 20% Off Sale
The public is invited to an opening reception on Friday, November 30, from 6:30–9 pm. At this free event, guests will have the opportunity to mingle with the artists, tour HP's printshop, and enjoy beverages and hors d'oeuvres. Guests are encouraged to take advantage of a one-night-only 20% discount for all co-op member prints on the walls as well as shrink-wrapped work in the sale racks.
The prints will be on view and available for purchase Nov 30, 2018- Feb 9, 2019.