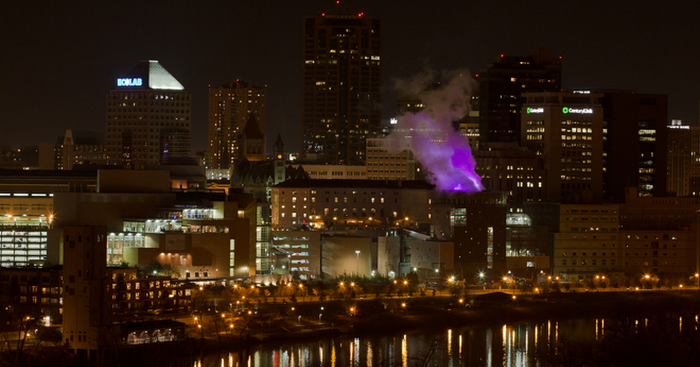 Plume Coloring Contest by Asia Ward
The steam plume at District Energy St Paul will be illuminated with projected light, color and animation in this 3rd and final display from Project Plume to build a deeper relationship with where our energy comes from.Event Website

Showing

Jan 28th - Feb 7th, 2016
District Energy St. Paul
76 Kellogg Blvd W
St Paul
( map )
Plume Coloring Contest by Asia Ward, January 28 – February 7, 2016
Plume Color Contest is an open call for local residents to submit content based on the topic "Positive Energy" to be projected onto District Energy's steam plume. Anyone is welcome to enter their drawing, video, or photo, to the application website, which will contain educational information and local examples of renewable energy resources. Selected content will be curated and projected onto the plume for the whole city to enjoy.
About the Plume Project
The Plume Project, a series of three temporary art works that will transform the signature District Energy St. Paul steam plume into a canvas for projected light displays. Each art work was designed by an individual artist as a member of the Plume Project team, using projection lighting, coloring, and animation to create an art and science project unlike any other in the world.
The projects will run from 5:00-10:00 PM on weeknights and 5:00-11:00 PM on the weekends. The three series represent almost eight weeks of arts programming, with each night promising something different for audiences. More information about the projects can be found at plumeproject.com or districtenergyplume.com.
Asia Ward works between the realms of science, art, and education. Asia is a resident artist who creates public art projects about the environment, water systems, and electrical power generation. Since 2005, Asia has been working for the Science Museum of Minnesota and in 2012 started working for the KidWind Project developing products, writing curriculum, and training teachers about renewable energy education. Asia has participated in several Artist Residencies around the US and has received grants from the Minnesota State Arts board, the Jerome Foundation, Northern Lights, Public Art Saint Paul, and the Knight Foundation, and was recently selected to be one of the featured artists in the book: The Art of Tinkering by Karen Wilkinson and Mike Petrich from the Exploratorium. Currently Asia is involved in two large public art projects, the Plume Project, Plume Coloring Contest, and Solar Tree, both on display the beginning of 2016.
Related Events: