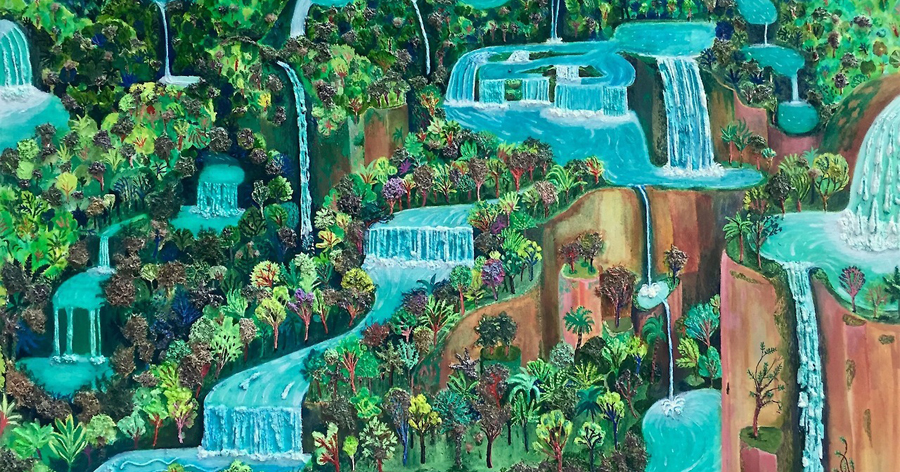 Landscape: Natural Fit, Imagined Prospects
Traditional, abstract, and mixed-media explorations of landscape as genre, place, and possibility
Event Website
Showing

Feb 24th - Apr 21st

Reception

Sat Mar 24th 7PM - 9PM CST

Panel Discussion

Wed Apr 18th 7PM - 9PM CST
Kolman Pryor Gallery
1500 Jackson St NE #395
Minneapolis
( map )
Because seven of Kolman & Pryor's nine gallery artists were eager to participate in an exhibition focused on landscape, says Kolman, curating the show was not only a "natural fit" for the gallery, but also indicates that "landscape is a compelling and relevant topic for these artists." The show includes works by
Christopher Atkins
(photography),
Betsy Ruth Byer
s (painting),
Jil Evans
(painting),
Patrick K. Pryor
(painting), J
odi Reeb
(painting),
Danny Saathoff
(sculpture), and
Cameron Zebrun
(sculpture).
In addition, two guest artists whose work addresses the representative with a singular sense of materiality were invited to join the exhibition. Sophia Heymans' work combines a variety of media including, acrylic, oil, paper mâché, pine needles, ashes, dryer lint, string, and prairie grass seeds. Shannon Estlund creates paintings and sculptures in which she incorporates both natural and manmade materials.

"Landscape has very different functions in each of the artists' work," says Evans, whose own paintings abstract imagery from the natural world into sophisticated, highly intelligent compositions of sensation, line, and form. Atkins and Estlund "bring a more conceptual approach" to their work, Evans continues, while Byers' paintings "have been focused on landscapes disappearing and the memories that remain." In Reeb's encaustic paintings, landscape is treated as metaphor. Pryor's acrylic and graphite pieces encompass mark-making, and digital and urban mapping processes, resulting in strata that simultaneously bury and reveal."
#mplsart
If you are making art or looking at art in the Twin Cities, use the hashtag to show it off.