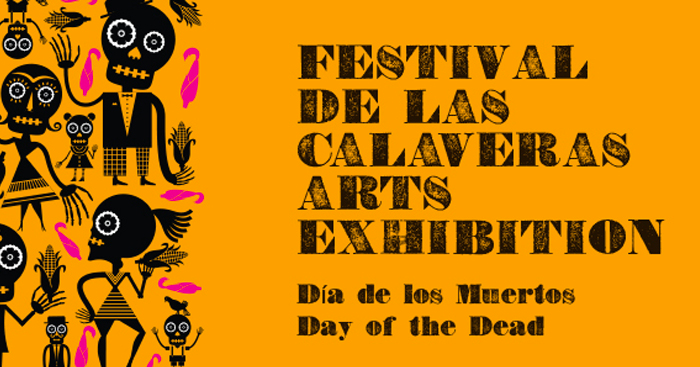 Festival de las Calaveras 2017
A multimedia, multidisciplinary arts exhibition that explores contemporary expressions and traditional elements related to Day of the Dead intertwined with social justice issues that affect the Latin community curated by Ana Laura Juarez
Festival de las Calaveras is a multimedia Latin music and arts festival volunteer-organized and presented by community group Tlalnepantla Arts. The festival is centered on the traditional and contemporary celebration of Day of the Dead, an indigenous Mexican tradition which honors the memory of ancestors and departed loved ones, the duality of life and death, and the corn harvest season.

The exhibition features work by Jonathan Herrera, Melodee Strong, Douglas Padilla, Tania Galaviz de Espinoza, Rebekah Crisanta de Ybarra, Luis Fitch, & Ana Laura Juarez.
Festival de las Calaveras is composed of a series of events that take place annually in the fall and include live music, dance performance, puppet theater, visual arts exhibition, multimedia animation, spoken word, and family art-making activities. Festival events take place at leading Twin Cities' venues, claiming and creating space for Latin arts, artists, and community.

Reception - September 28th - $5 suggested donation
DJ Miguel Vargas, Refreshments, and more.


Community Conversation - September 29th
Día de los Muertos: A Transformative Tradition. A community conversation with artist/curators Maria Cristina Tavera and Rebekah Crisanta de Ybarra, Mayan elder and guardian of the Mayan calendar Gina Kanbalam Miranda, and University of Minnesota Chicanx and Latin Studies Department Professors Karen Mary Davalos and Gabriela Spears-Rico, facilitated by Gilberto Vazquez-Valle, KFAI Encuentro radio host. Live music by Ina Yukka and refreshments to follow!

Family Art Day - October 29th
Creative fun for the entire family!

Related: Read our artist profile of with Luis Fitch
Find out what's up
every week.
No spam. Just local art news and events straight to your inbox.