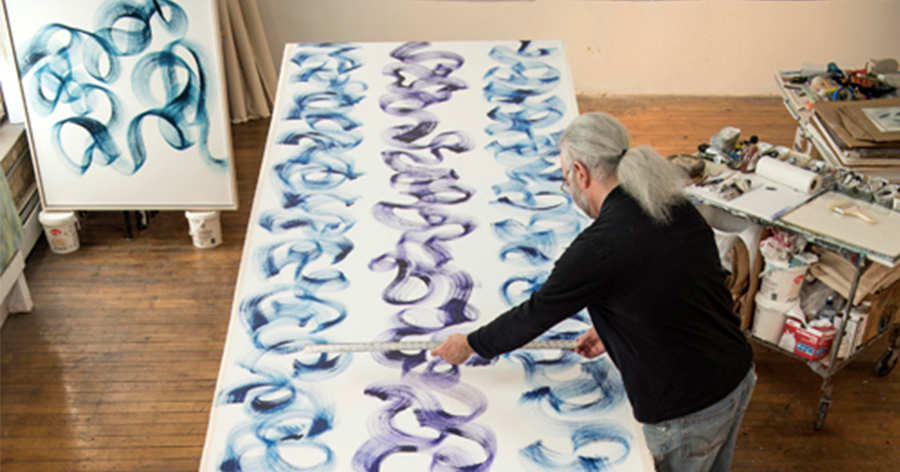 Dweller on the Threshold
An exhibition of new paintings by Howard OranskyEvent Website

Showing

Feb 25th - Apr 5th, 2019
Traffic Zone Center for Visual Art
250 3rd Ave N
Minneapolis
( map )
I'm a dweller on the threshold
And I'm waiting at the door
And I'm standing in the darkness
I don't want to wait no more
—Van Morrison
Traffic Zone Gallery presents Dweller on the Threshold, an exhibition of 5 new paintings by Howard Oransky. Using the architecture of the gallery as a starting point, Oransky has made the paintings 18 feet high by 55 inches wide. Hanging from the ceiling to the floor, each work is composed of 3 vertical lines that reach from the top to the bottom of the canvas. The imagery was inspired by a painting made by Oransky's niece, Zivitte Rose Bergman-Igra, when she was a child. For that painting, Zivi reached up to the top of her easel and brought the marks all the way down to the bottom of the sheet, creating a forest of lines.
For me, the process of making a painting is like opening a door. I don't know what's on the other side, but I am ready to walk through and find out.
—Howard Oransky
This exhibition is respectfully dedicated to the memory of Felipe Alonzo-Gomez, age 8 and Jakelin Caal Maquin, age 7.