MPLSART Sketchbook Project 2020
Artwork by Hend Al-Mansour

Artwork by Gordon Coons

Artwork by Christopher Harrison

Artwork by allison anne

Artwork by Blaine Garrett

Artwork by Sean Ferris
MPLSART Sketchbook Project Book
---
The 2020 MPLSART Sketchbook Project was compiled into an amazing ultra limited edition book collecting the contributions of all 69 artists. This beautiful hardcover book boasts 88 full color pages and features work made exclusively for the MPLSART Sketchbook Project. The book was produced through the support of 196 backers to our successful kickstarter campaign.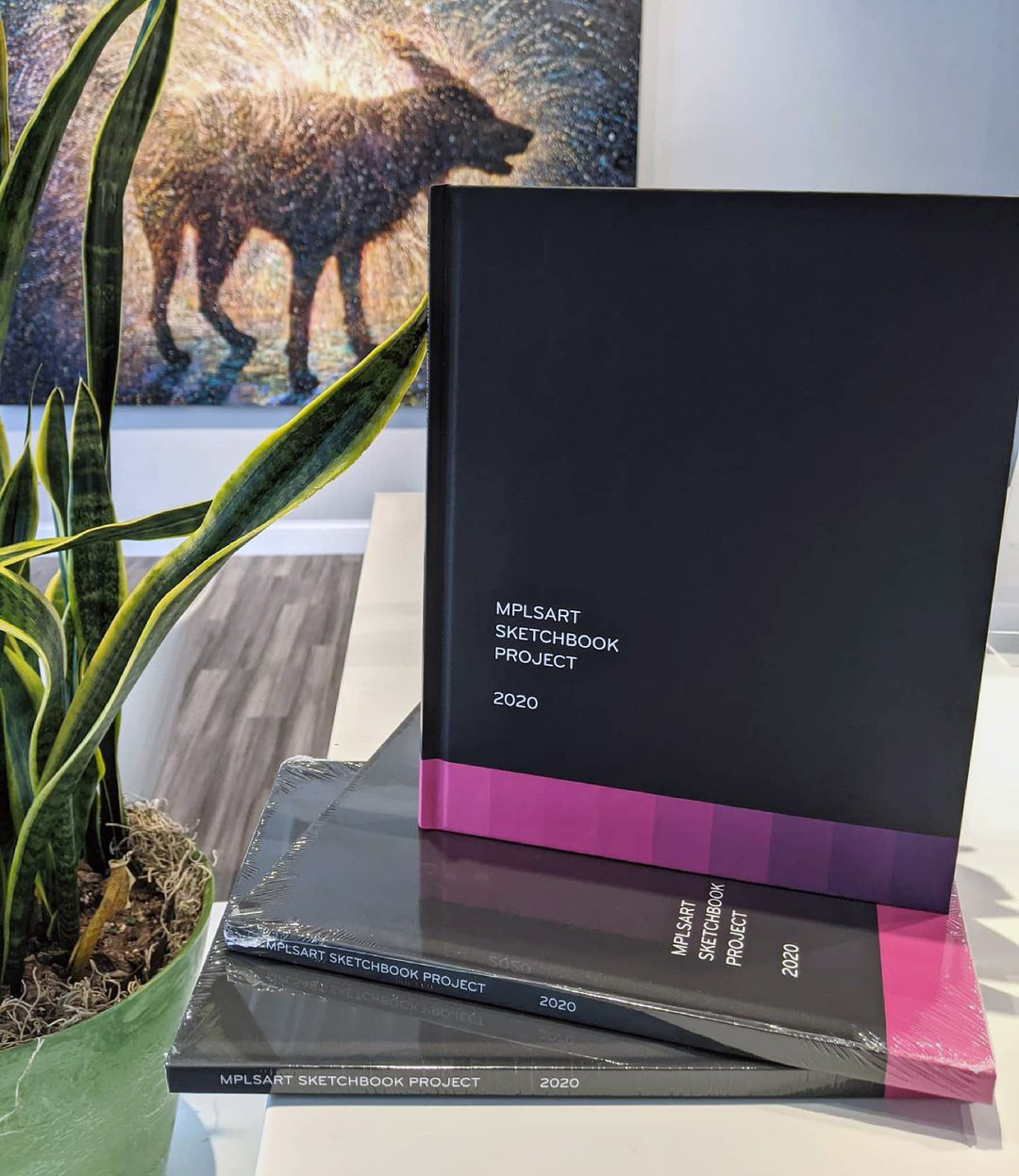 Publisher: MPLSART.COM
Curator: Blaine Garrett
Art Direction: Katie Garrett
Printed in Minneapolis, MN by Shapco Printing
Digital imaging by Colorspace Art and Imaging
ISBN-13: 978-0-578-85581-3
Hardcover, 88 pages, 8¼" x 10¼"
Edition Size: 250
MPLSART Sketchbook Project 2020 Limited Edition Book
$70.00
---
Purchase Options:
Burnet Fine Art & Advisory
Weisman Art Museum Shop
Gamut Gallery (out of stock)
* MPLSART.COM is not directly selling books nor are there plans for a 2nd edition. Please see the above organizations to purchase a copy.
---
A limited edition hardcover fine art book featuring the collected works of 69 Twin Cities artists from five traveling sketchbooks. This beautiful hardcover book boasts 88 full color pages and features work made exclusively for the MPLSART Sketchbook Project.
The MPLSART Sketchbook Project was launched in Fall 2020 as a way to connect artists in the Twin Cities and give them a much needed financial boost. The project is a unique survey of the Twin Cities arts community during 2020. 69 artists contributed 120 pages of work to a series of five traveling sketchbooks.
MPLSART worked deliberately to capture a diverse slice of artists working in the Twin Cities. From hobbyists to internationally exhibiting artists, from McKnight Fellows to artists just starting their careers. The project features muralists, studio artists, street artists, graphic novelists, collage artists, Urban Sketchers, and more.
Kickstarter Backers
Over 190 backers on
Kickstarter
helped bring the MPLSART Limited Edition Book to Life. On bahalf of the artists and everyone who worked so hard on this project, we thank you!
Agata Wang
Alevel Cheng
Alex Register
Ali Kahlert
Alice Geglio
allison anne
Amelia Odens
Amy Meek
Amy Shike
Andriana Abariotes
Ann Magnusson
Ann Rachel Olberding
Anna & Jon Eldridge
Anna Becker
Anna Pravinata
Anne Todey
Annie Hejny
Anonymous
Anonymous
Anonymous
Anonymous
Anonymous
Anonymous
Anonymous
Anthony Cheng
Anthony Papps
Antonio M. Perez-Cajina
Aza
Barbara K Moeller
Becca and Britt Clanton
Ben DiNino
Ben Grindy
Benjamin Brown
Beth Bergman
Beth Dehner
Betsy Johnson
Bill Wiggins
Blessie Cheng
Bobbi Hernandez
Brenda Kayzar
Brook Thompson
Bruce Ellingson
Bunny Portia
Burnet Fine Art & Advisory
Callie
Caroline & Collin Burke
Carrie M
Cate Mckinney
Catherine Bosley
Chad Zenk-Tills
Charlton Cheng
Che!sey B!anke
Chholing Shawllady Taha
Chris and gary cohen
Chris Neville
Chris Rowley
Chris Shillock
Christopher E. Harrison
Cindy Young
Clay Squared to Infinity
Colee Recke
Colleen Guzman
Courtney Coco Mault
Craig Drehmel
Crystal Brinkman
Daniel D. Donovan
Debbie Ong
Denise S. Tennen
Derek Meier
Diane Lorvig
DonDon Lorr & Elizabeth Giffin
ECRAC
Elianna Lippold-Johnson
Elise K
Emily C. Tracy
Emily Nispel
Eva Abderholden Keller
Flahn Manly
Gabriel and Angel Pascual
Heather Zemien
Heidi Makela
Hend Al-Mansour
I. Goodman
Jacque Cheah
Jane Powers
Jane Wunrow
Jennifer Davis
Jennifer Leazer
Jennifer Phelps
Jesse Quam
Jillian Rae
Jim & Ann White
Jim Denomie
Joan and Stephen Costello
Joe Arduini
Joe Lipscomb
John Costello
John Schuerman
Joli Grostephan-Brancato
Jon Reischl
Jonatan Pettersson
Judy Ericksen
Judy Ostendorff
Julie Elliott
Justin
Justin, Ann, & Ada Eder
Kait
Kar-Keat Chong
Kara & Brad Wallace
Karen Nygren Wallin
Kathleen A. Fluegel
Katie and Tom
Katie Garrett
Katje McIntyre
Katy Rex
Ken Koense
Ken Webb
Kerry Morgan and Michael Gaudio
KJ Conover
Kris
Krista Anderson-Larson
Kristin Boehm
Kristin Garrett
Kristina M Johnson
Kristoffer Knutson
Kyrie
Leah Sipes
Leah Straight
Leslie Barlow
Lisa Dobosenski Sarvie
Lora Marie Hlavsa
Loren Marple
Lori Greene
Louis Dachis
Lupi
Lydia Sadoff
Lynn Zetzman
Madeline
Mara
Margaret
Margot Rosenstein
Maria Elswick
Marianna Marks Mondanelli
Mary Beth Mueller
Mary Seavey
Maryjo D'Andrea
Mat Kramer
Matt Garrett
Matthew Bindert
Maxwell
Megan Bell Honigman
Micah Savage
Michael Skoglund
Michael Wallace
Nat
Nathan Smith
Nicholas Harper
Niky Motekallem
Pam Orren
Pam Prideaux
PrestonThe Drum Family
Rachael Hartzler
Rachel Breen
Rachel Daly
Rhonda Kullman
Ric Almer
Russ White
Ryan & Amber Simatic
S. Chen
Sadie Botine
Sam Bergman
Sara Steinberger
Sarah Rock
Sarah Whiting
Scott Streble.
Sean Ferris
Sharolyn B. Hagen
Simone Needles
St. Catherine University Library
Stacey Combs
Stephanie
Stephanie & Evan Engesether
Steve Reidell
Steven Michels-Boyce
Taren
Tasha Hock
Taylor Champoux
Ted Beverly
The Catherine G. Murphy Gallery at St. Catherine University
The Creative Fund by BackerKit
The Garramone Clan
Thomas Bull
Tom Arneson
Vanessa Haight
Victoria Lauing
WSP Zander Family
Find out what's up
every week.
No spam. Just local art news and events straight to your inbox.