Minneapolis visual artist and Associate Director of Soo Visual Arts Center, Alison Hiltner is an "archaeologist of science fiction." Though some might see this as more of a hobby or even a conflict of interest, Hiltner has found a way to translate her love of science into art, creating thought-provoking, visually arresting installations. Her themes explore a fascination with how science — specifically in cinematic science fiction — has influenced our understanding of scientific research. By taking visual cues from both the natural world and fiction to create art, Hiltner allows room for something otherwise daunting and mysterious to be more accessible and experiential: art as a gateway drug towards a dialogue with science.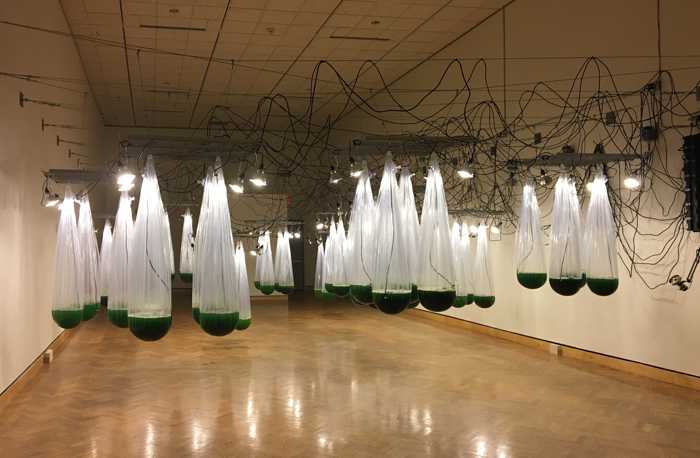 It Is Yesterday, installation view
Her latest body of work, a solo exhibition at Mia as part of their MAEP program, explores the symbiotic relationship between human origin and the aquatic phylum cyanobacteria (often called blue-green algae). Examining this relationship, Hiltner strives to introduce the viewer to the vast world that is the intersection of art and science, establishing communication where there is no apparent common language.
For this installation, Hiltner has created a mechanized interior environment exploring cyanobacteria via large-scale hanging sacks of algae. Like walking down the corridors of a science fiction mise-en-scène, she brings the laboratory to the gallery in the hopes of inspiring a curiosity and a desire to understand more about the natural world in which we coexist with a great many other organisms.
I caught up with Hiltner to talk about the connection between science and art and what it was like to bring her largest and most complex installation piece to date to Mia.
JE: For your MAEP exhibit, It Is Yesterday, you've literally brought the science lab into a gallery setting to explore the symbiosis between algae and humans. Why algae?
AH: I was drawn to algae for a variety of different reasons, and to quickly clarify, it is actually cyanobacteria, a primitive form of algae, and that is very important and will make an interesting lead in to the question below. Cyanobacteria was instrumental in forging the earth's atmosphere from the very start of the evolution of life. It also holds a very complex place in our rapidly altering climate, both as a resource to course-correct as well as a force for ecological destruction. I see this as a concise connection to how humans interact within our environment. On a more basic level, it appealed to me as something that registered as an organic life form. Its intense shade of green feels like the defining color of a plant but on an intensely primitive level. It forges a difficult, but meaningful, connection between the viewer and the cyanobacteria to push viewers to connect with a lifeform that seems void of life, yet is critically essential to our ecosystem.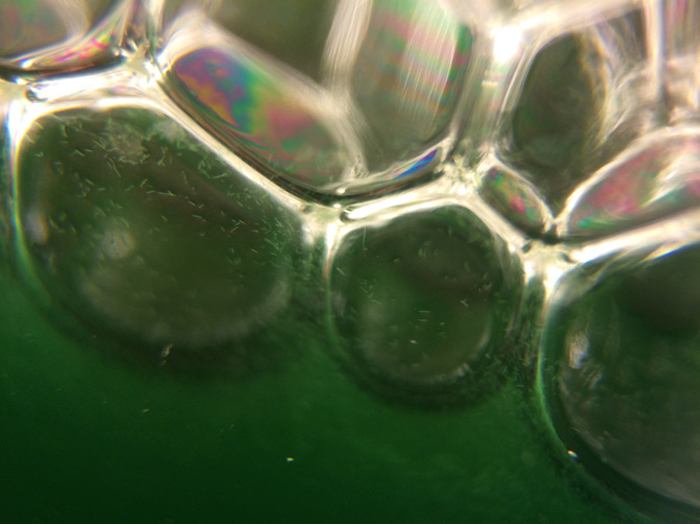 JE: In creating a responsive environment that explores growth and climate, how, more specifically, does this relationship between the beginnings of plant life and human origins connect?
AH: This is a really great question and I think this link is a pretty concise summary of how I see that relationship: http://www.ucmp.berkeley.edu/bacteria/cyanointro.html
As far as how I forged that connection, the idea of an exchange of breath — the input of breath, filled with carbon dioxide, into the sensor chamber will exchange for the oxygen produced by the cyanobacteria. This exchange can feel like a very personal and primitive form of communication.
JE: What was the technical process in creating large-scale algae sculptures?
AH: This piece was two years in the making. It started as a smaller scale piece, It Was Tomorrow, and then endless prototyping, planning, consulting, experimenting, developing, more planning, and then executing. Not only am I dealing with a living thing that can die, I am also working with programming and interfaces, all of which have infinite variables attached. I try to solve and plan for as many of the outcomes as possible, but with all of the variables it is a constant moving target.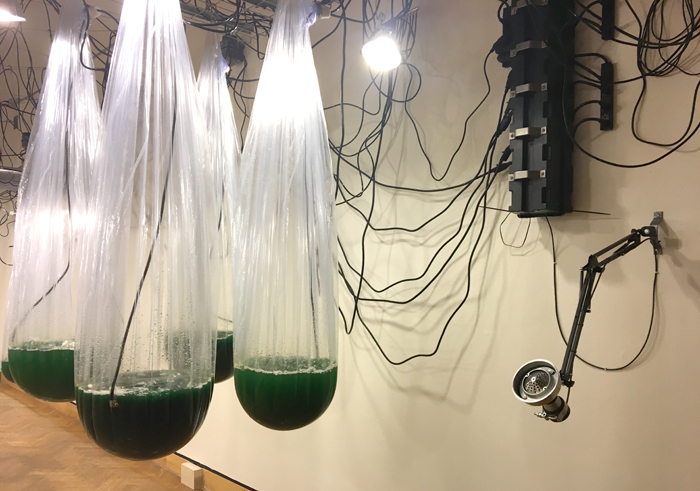 JE: How do you think viewers will react to giant algae sacks at Mia?
AH: Well, I hope they will be amused, curious, and eventually invested.
JE: I recently listened to an NPR podcast on connecting science and art. During it, one of the guests speculated on the cultural aspect of science and art: origins. Both force us to reassess our place in the cosmos and probe into the larger questions of humanity. Both imagine the way the world is and as it might be. Where do you see the connection between science and art?
AH: I think you nailed that one with the introduction to this question. But to address this a bit further, I believe that art is an invaluable tool for visual storytelling and creating a point of accessibility for the sciences that are somewhat intimidating to a large portion of the population. It creates an opportunity to directly interact with a hypothesis turned factual outcome; this ability to literally immerse someone in a line of thought is not really available to scientists on a large scale in terms of outreach. The laboratory is not usually a place for large groups of spectators.
JE: What led you to create your own connections with your sculptures and elements of science?
AH: A lifelong love of the sciences; in what now feels like a previous life I thought I was going to pursue becoming a genetic engineer. Eventually I realized that art allowed me to investigate, understand, and share that understanding as a generalist instead of a specialist. In other words, I figure out it was more fun to play a scientist "on television" and still have the rewards of learning new things.
JE: When you're seeking a source for artistic inspiration, are there specific science fiction films or literature which have led you to explore the realms of wonder and mystery?
AH: It is constantly expanding; I am a voracious consumer of films, not just sci-fi though that is most near and dear to my heart. As far as touchstones, Blade Runner and 2001: A Space Odyssey are the gold standards. There are far too many to name in particular, but for this exhibition Close Encounters of the Third Kind addresses similar ideas of forging communication with something that we have no common language with. Interestingly enough, I recently watched The Arrival and while it came out well after this exhibition was far into the final stages, I really connected to the exploration of linguistics in the film. And I will add Another Earth as it is a film that sticks with me as far as conceptual influences are concerned more than for visual components.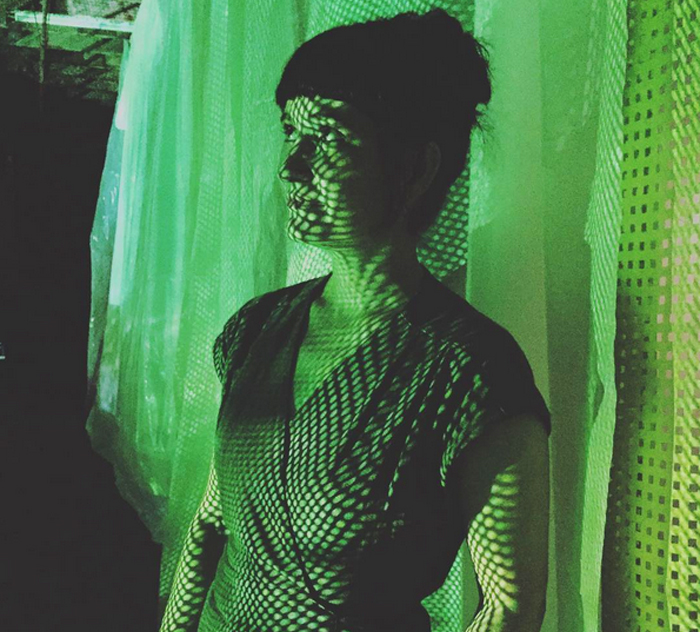 The artist in her natural environment
It Is Yesterday is part of the Minnesota Artists Exhibition Program, located in Mia's U.S. Bank Gallery. The opening reception is Thursday, March 16th, 6-9pm — held in conjunction with Mia's Third Thursday — with an Artist Talk on Thursday, May 18th. The exhibition runs through June 25th.
All images courtesy of the artist.