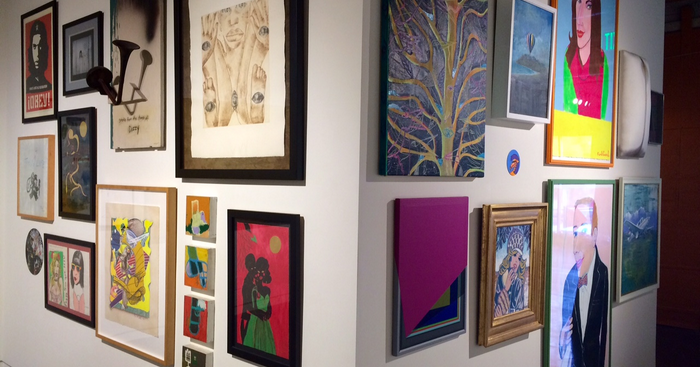 Collect Call 2
2nd annual exhibition showcasing local collectors' private and public collections

Showing

Sep 25th - Oct 24th, 2015

Opening

Fri Sep 25th, 2015 6PM - 9PM CST
Soo Visual Arts Center
2909 Bryant Ave S
Suite 101
Minneapolis
( map )
Our inaugural collectors show, Collect Call in 2013, was embraced with much acclaim. Now in our new location SooVAC has the opportunity to exhibit more collectors, providing our audiences with an even larger cross section of tastes and exciting experiences. Collect Call 2 is a celebration of local collectors that champion art on a personal level. SooVAC has invited several local collectors to share artworks from their private collections, offering the public the opportunity to view works signifying a lifelong commitment to the arts and the artists that have ignited their passion for collecting.
Participating Collectors Include: Todd Bockley, Jay Coogan, Masami Kawazato, Benjamin Meents & Chet Richie, Dr. Herman J. Milligan Jr., Eric Recktenwald, Kevin S. Ringdahl & Randy Cernohous, Robyne Robinson, Michael Sammler-Jones and more to be announced.
The role of the arts collector is vital and complex; it is an investment in the life and legacy of the artists that find a place in their collections. This exhibition offers an insight into the relationships forged between collectors and artists, presenting a sampling of artwork that inspired these art lovers to find a space in their homes to live with the work on a daily basis.
Many of the works in Collect Call 2 were acquired directly from the artist, frequently unviewed in a public exhibition, providing audiences an opportunity to experience these works for the first time. Each of these collections offers a variety and richness derived from the diverse personal visions of each collector.
Soo Visual Arts Center is located at 2909 Bryant Avenue Suite #101 in Minneapolis, on the corner of Bryant Avenue South and 29th Street facing the Greenway. Gallery hours are: Wed 11-5pm, Thurs thru Fri 11-7pm, Sat & Sun 11-4pm. SooVAC is a nonprofit 501 c3 arts organization that depends on support from our friends and visitors.
Special Minneapolis #GalleryCrawl Hours:
Thursday, October 1st 4 - 8 PM including over 15 galleries around Minneapolis.
Find out more information