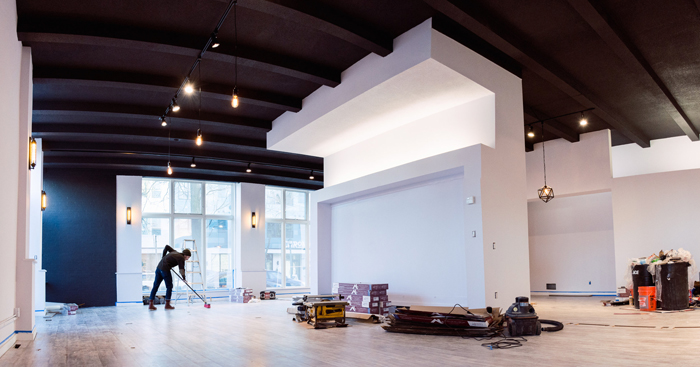 5th Anniversary & Grand Reopening
Light Grey Art Lab celebrates 5 years with the unveiling of their newly expanded space and 5 exhibitionsEvent Website
Showing

Mar 3rd - Apr 28th, 2017

Opening

Fri Mar 3rd, 2017 7PM - 10PM CST
Light Grey Art Lab
118 East 26th St
#101
Minneapolis
( map )
Over the course of five years, Light Grey Art Lab has hosted dozens of exhibitions, and featured the work of over one thousand artists. The gallery has published a range of creative products including books, tarot decks, and video games, created seasonal workshops led by industry leaders in visual design from places like Disney, Cartoon Network, and HBO, and established an annual international residency program in Iceland. Throughout, the people teaching, learning, exploring, creating, and discovering have connected with each other through Light Grey Art Lab.
"We've crossed paths with so many bright and talented people in the past five years," says Light Grey Art Lab founder Lindsay Nohl, "and they've found each other as well. Despite being separated by thousands of miles in many instances, there's a sense of camaraderie that we love to see. Friendships have been formed, careers have been nurtured, and experiences have been shared. There's a sense that we're all in this together."
Light Grey Art Lab is celebrating its five year anniversary by doubling-down on its specialties: the team is increasing the scope and frequency of their exhibitions, expanding the collaborative and educational opportunities on offer, and growing their physical space in a big way.
Light Grey Art Lab remains on the corner of 26th Street and Stevens Avenue, which it has occupied since 2012. But the modest-sized gallery is taking over the entire first floor of the charming 100-year-old building, tripling its footprint. In addition to the Main and Adjunct gallery spaces which comprise Light Grey Art Lab's original 1,000 square foot space, the gallery is opening an additional 2,000 square feet, which is divided into the Salon, Satellite Gallery, Page Gallery, a dedicated workshop space, and a newly expanded shop.
To kick off this massive expansion, Light Grey Art Lab is launching five new exhibitions, one in each exhibition space. The opening reception for all 5 shows, as well as the grand unveiling of the new space is Friday, March 3rd, 2017.

RSVP on Facebook

Exhibitions:
tobeyou - Main Gallery and Adjunct Gallery
The Dark Forest: An Exhibition About Nature's Secrets - Salon Gallery
Solo Exhibition: Erik Krenz - Satellite Gallery
Solo Exhibition: Carolyn Nowak - Page Gallery
Featured Shop Artist: Camille Chew - Light Grey Shop