Atlanta-based painter Horace Imhotep has a message for us, a history lesson of sorts. A clothing designer by trade, Imhotep studied art at Morehouse College before putting down his brushes to start the fashion label Blood Sweat & Tears with his brother. This show marks the artist's apparent return to painting, thanks to the insistent nudging of co-curator Teri Anvid, who had a chance encounter with his work at a dinner party.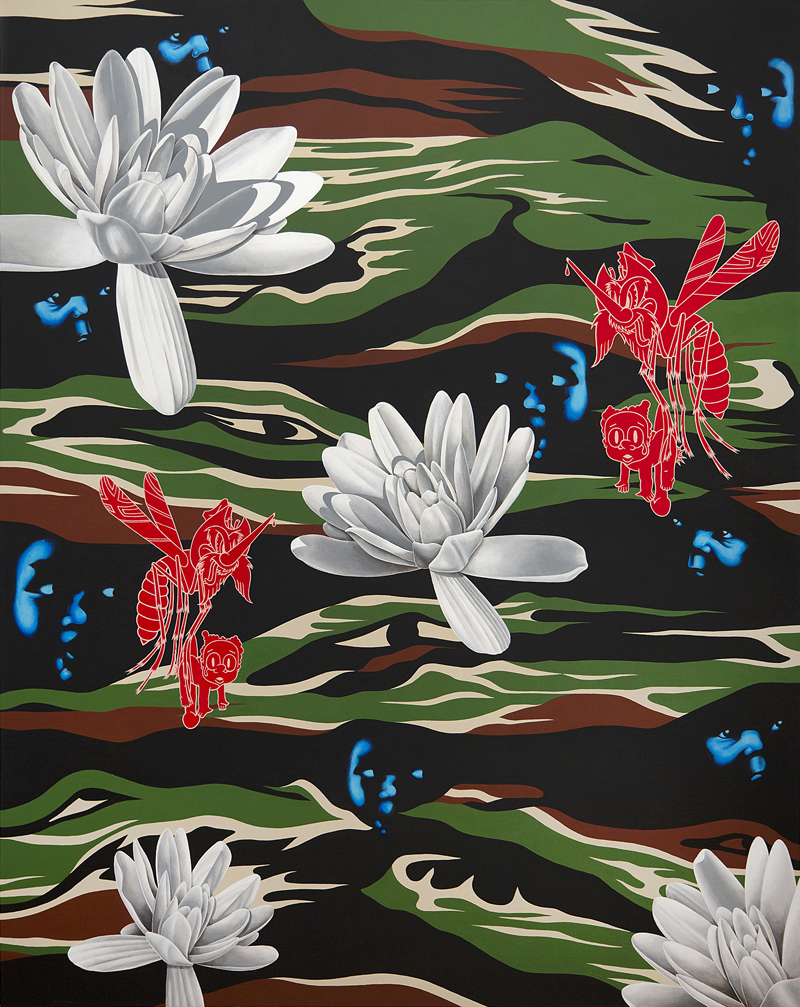 A Tasty Morsel, acrylic, 4 x 5'
It's no wonder what attracted Anvid to the work: it is startlingly crisp and clear, even as it wades into murky waters. The paintings are steeped in a long, sad history but manage to capture something of the present moment as well. In A Tasty Morsel, beautifully rendered white water lilies float atop a swampy camouflaged layer of water. The faces of black children, cast in a ghostly blue light, emerge from the depths and repeat throughout the composition. Interspersed are red cartoon wasps with the villanous head of Yosemite Sam carrying a wide-eyed kid away by the pants. To say there's a lot going on here would be a tremendous understatement; the effect is something like schizophrenic wallpaper.
The delicate realism of the flowers stands in stark contrast both to the flatness of the color-blocked water and to the fevered cartoonishness of the wasps. It could have easily become a hodgepodge, but the layers and repetition throughout give the painting a narrative structure, and the consistent, polished quality of the mark-making holds it all together. It's like Kara Walker meets James Rosenquist, mixing the terror of Old South brutality with a Pop Art sensibility that references contemporary fashion, classic cartoons, and racist memorabilia.

Left: Kara Walker, African/American, 1998. Right: James Rosenquist, F-111, 1964
This callback to 1960s Pop is not entirely surprising, given the similarities between those times and these. We like to collectively remember that era as "turbulent," and I dare say we face similar challenges, if not the same. The racialized tension between the police and the citizens they serve, though well-known for decades in America's communities of color, is now on full display; we again are grappling with just what role our military should play in world affairs after nearly fifteen years of overseas conflict and decades of mistreating our veterans at home; and we have a major party presidential nominee campaigning like the bastard child of George Wallace and Richard Nixon… Perhaps the times may not have been a-changing as much as we had hoped.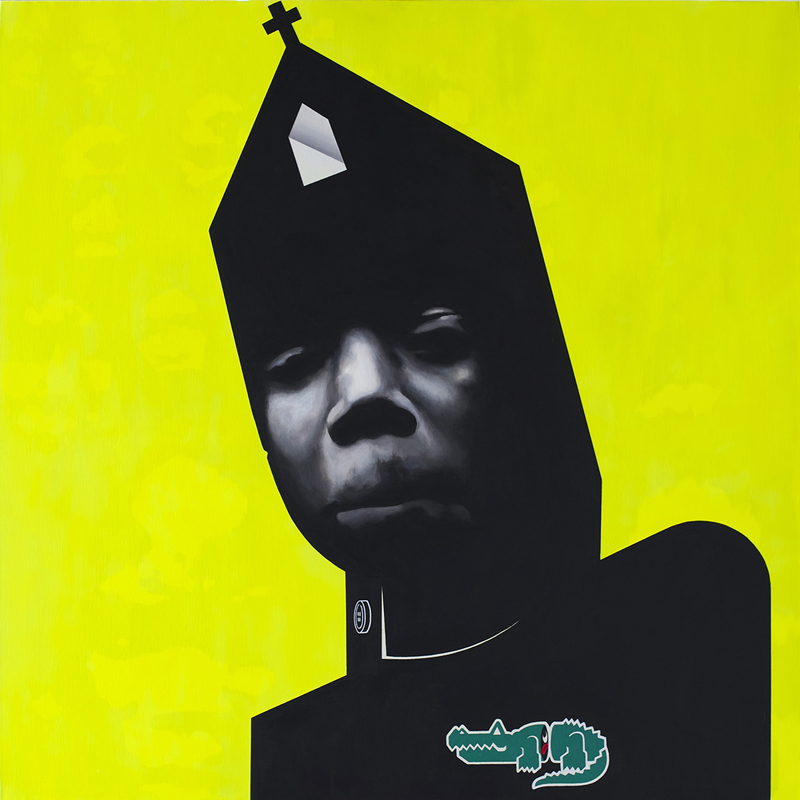 Chuuuch, acrylic, 30 x 30"
The snarky humor of Pop Art, putting its cigarette out on the balloon of the self-serious Abstract Expressionists, has had a lasting effect on popular visual culture. Warhol and his contemporaries changed everything by mixing the highbrow with the lowbrow. Forty years later, the lines between "content" and advertising are blurrier than ever, and slick craftsmanship and clever satire can occasionally masquerade as quality artwork (especially if it gets a lot of likes). But Imhotep doesn't fall into this trap. His paintings have heart, most evident in the painterly portraits in many of his pieces, such as Chuuuch. Even as a stylized Lacoste crocodile is cleaved in two to reveal a cartoon minstrel emoji, the painting is grounded in human reality by its subject's face, dressed up for church but not entirely pious. Other faces emerge vaguely from the bright yellow background as well, hinting perhaps at the generations of Americans lost to history or at a family lineage steeped in stern faith.
Even more stark and sober are the dark, gold-leafed portraits of recent high-profile victims of police violence. Mike Brown stands alone in a mournful spotlight, still wearing the mortarboard from his high school graduation photo but decked out in an old, striped prison uniform. Eric Garner, in the same prison attire, squints into a golden light that shines in his eyes like an unwelcome flashlight. The nameless faces are there as well. The paintings mourn and beatify these men, casting them at once as performers on a stage and inmates on a chain gang, two elements of their cultural history that cannot be entirely disentangled from each other.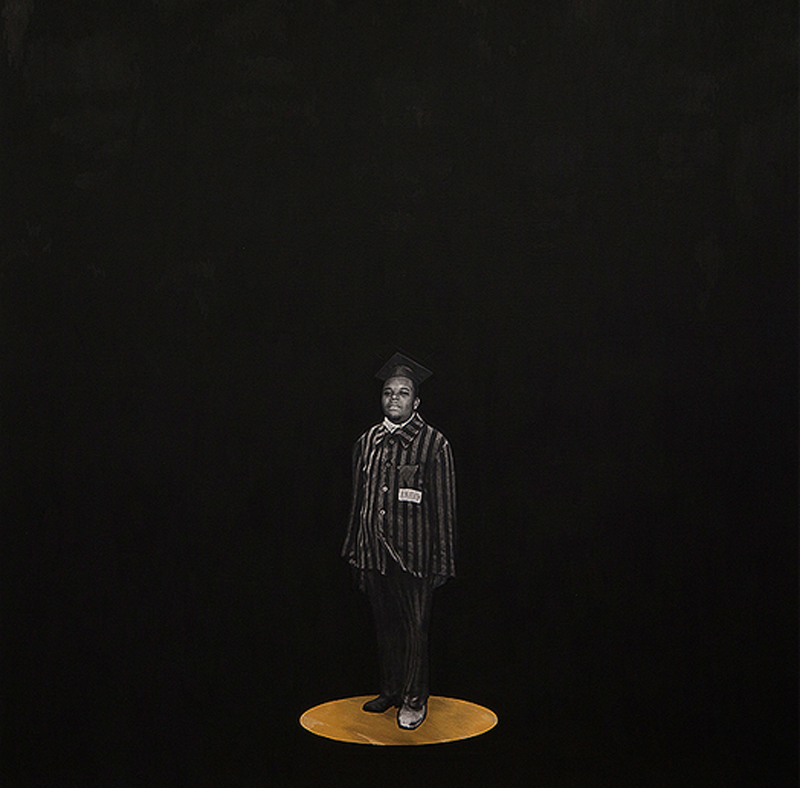 The Future – Mike Brown, mixed media & acrylic, 4 x 4'
As much as we'd like to convince ourselves otherwise, the American South does not have a monopoly on bigotry. I spent the first twenty years of my life there, growing up in North Carolina and Mississippi. It's a place where the past still lives, hanging in the thick humid air, memorialized in bridges and buildings, in Savannah's Spanish moss and in Medgar Evers' driveway, in confederate flags and in the gloating promise that the South shall rise again.
But it is telling to note where many of the recent martyrs were made: Mike Brown in Ferguson, Missouri; Tamir Rice in Cleveland, Ohio; John Crawford in Beavercreek, Ohio; Philando Castile in Falcon Heights; Jamar Clark in Minneapolis. Imhotep's work carries with it a Southerner's understanding of what it means to be part of a living history. His letter is one that midwesterners would do well to read.

-- Russ White

"A Letter From The South" opens September 2nd at City Wide Artists 7-10 PM and is on view through October 7th with gallery hours Tuesday through Friday, 4 to 7pm, and Saturday, 4 to 8pm, or by appointment. To learn more, visit www.citywideartists.com.