For the past ten years, photographer Adam DeGross has been a standard fixture in the underground music scene here in the Twin Cities, documenting all of the grit, grime, and energy of the punk, metal, and hip hop shows he shoots. Having recently publishing a new book of his photos, DeGross is currently on tour with A$AP Ferg, where Russ White caught up with him by email.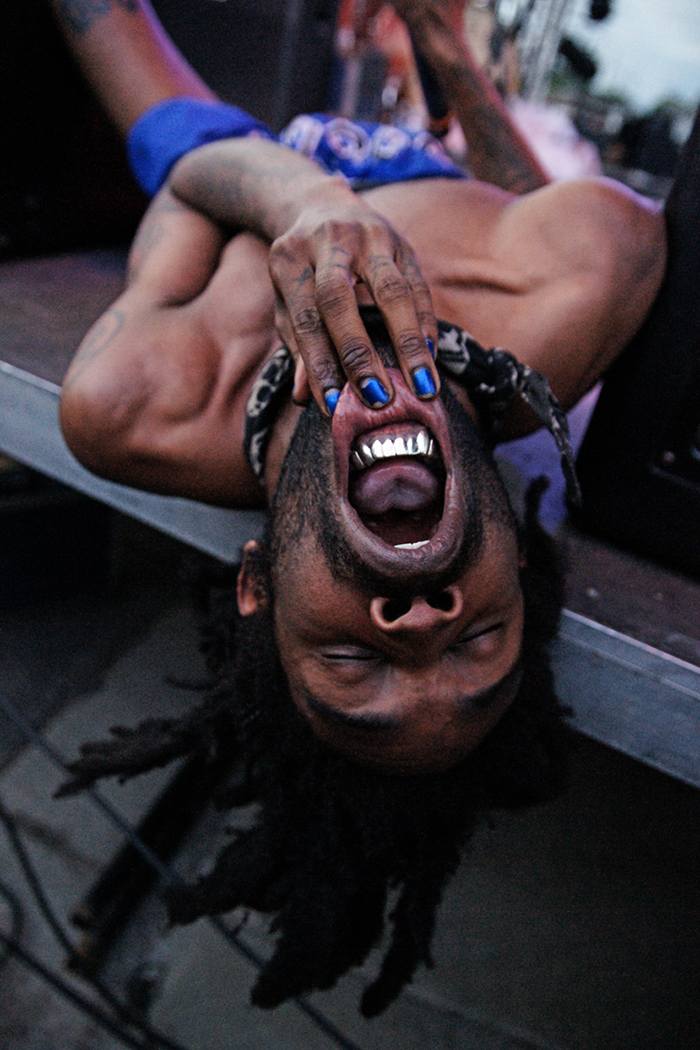 RW: You made a name for yourself photographing the Minneapolis punk and metal scene, shooting shows in random basements and warehouses, and now, after more than ten years as a photographer, you tweeted a few days ago that you were backstage with Diddy, Wiz Khalifa, and some other big names. Did you hope for or expect that level of professional success at all early on?

A: I definitely didn't expect any of this. If you would have told 18-year-old Adam that he was going to be shooting photos for Puff Daddy, and going on national tours with rappers, 18-year-old Adam would have thought you were crazy. Back then, I only cared about punk; it was hard to get me to even shoot a metal show. It took me awhile, but I'm glad I finally branched out and started shooting everything—best decision of my life. I'm grateful that I was able to perfect my craft at punk shows early on, because it allowed me to make mistakes. The type of shows I shoot now don't really allow you to make mistakes; if your work isn't 100% then you might not get another job.

RW: Do you find it difficult to switch gears from shooting those small, scrappy venues to the larger ones? Do you prefer one over the other?

A: I'll always love shooting in a basement, or a smaller club, it allows me to have more freedom. My favorite shots are always going to be the ones from the DIY venues, and I think those are the shots I'm going to be remembered for. Don't get me wrong, bigger venues are fun to shoot at too, but for different reasons. Bigger venues are fast paced, but in a different way. Getting use to the 3 song rule was hard at first, but now I find it kind of fun, it's almost a challenge, what can I get done in 3 songs?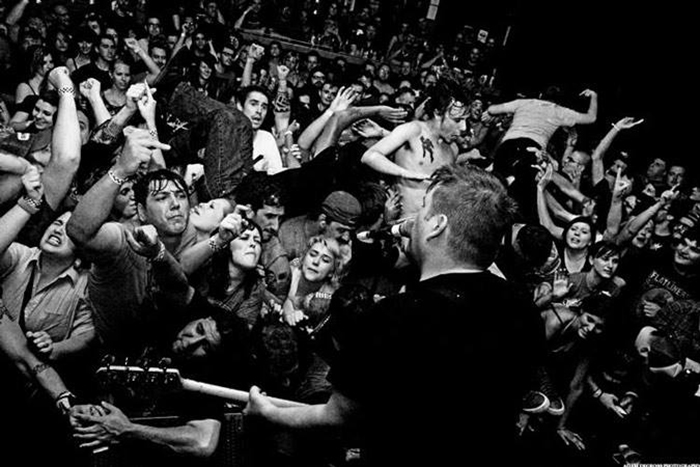 RW: After being out on the road to so many places, is there anything you see happening here that makes the Minneapolis music scene unique?

A: I love the Twin Cities music scene, there's nothing like it. MN feels like a community, rather than just a big group of people in a room seeing a band. I think 2016 is going to be our year, we have so many artists on the breaking point, and I can't wait to see what happens. There are a lot of eyes on the Twin Cities right now.

RW: Do you engage much with the art community here, either showing your work or going to exhibits?

A: I try, but in the Twin Cities it seems like everyone is an artist, photographer, in a band, designer, rapper, etc so it's hard to keep up. Not saying there's anything wrong with that, there's just so much going on that it's hard to always pay attention to everything. I really like Serene Supreme, Hoods By Marge, I Cravae, Tony Sleaze, Derrick Koch, and I'm sure there are some others. As far as my participation in the art community, I've done two successful solo shows, where I sold about half the prints at the first one, and about 70% of the prints at the second one (hung around 150 each show), then I've been included in a few pop up exhibits, but I usually just like to do solo stuff.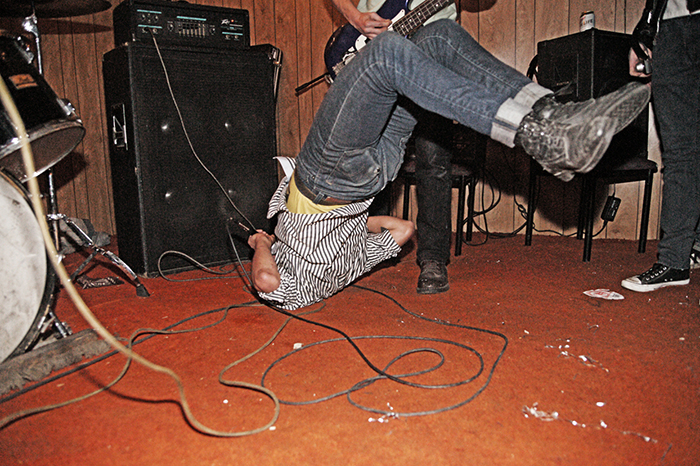 RW: Are there any photographers that inspired you early on or ones working today that blow you away?

A: I was inspired by the early punk photographers, Edward Colver, Glen E Friedman, etc. There's one shot that single handily molded my style, and that's the cover of The Clash album London Calling. I wish I knew who took it. I don't watch too many photographers closely, but I scroll through Instagram/Tumblr constantly, and there's a lot of great artists out there. It used to be intimidating, but now it just makes me work harder.

RW: On a technical note, what kind of camera(s) do you use, and how much photoshopping goes on after the fact? I would imagine that, especially at the punk shows, having a lot of fancy gear might get in the way a bit.

A: I shot the A$AP Ferg tour with a Sony A7R ii, but before I had that camera, I just used a Sony A850 for my whole career. I'm actually not much of a gear head, and I don't usually enjoy talking about cameras with people because I never know what to say. As far as bringing my camera to punk shows, no one ever really says anything, and I've learned how to dodge people pretty well haha. People ask me often if my camera has ever been broken at a show, and the answer is no.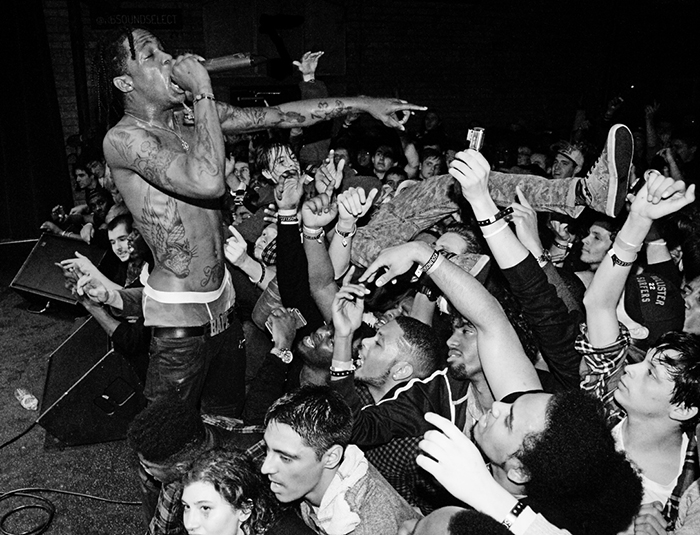 RW: Your instagram feed is almost exclusively shots of musicians or people at shows. Do you shoot much on a daily basis outside of your work in music or do you just save it for the shows?

A: I basically only shoot at shows and candid photos of people. Every now and then I'll walk around doing some street photography, but I tend to just stick to shows. I'm not against shooting promo photos, or modeling photos for people, but there's way more work that goes into those shoots then what goes into shooting a show. I also want people to know that if you message me saying "lets link" or "let's work," have an idea and be ready for me to tell you what I cost. I wish more photographers would know their worth, and not do work for free. Too many people expect photos for free these days because everyone has cameras. Not saying I won't work with you for free, but I only do that for people I have history with. Say Finding Novyon asked me to shoot some stuff for him, I'd never ask him for money, he was a day 1 dude. People like him gave me a shot before all this A$AP Ferg stuff, and I don't forget those people.

RW: When you were growing up, how did you first get into punk? Was the visual side of the culture engaging for you early on, through photography or album and poster art?

A: I got into punk around the age of 14, I was always into weird stuff, so it fit. I liked the music, the vibe, the style, imagery, lifestyle, it's what I was looking for.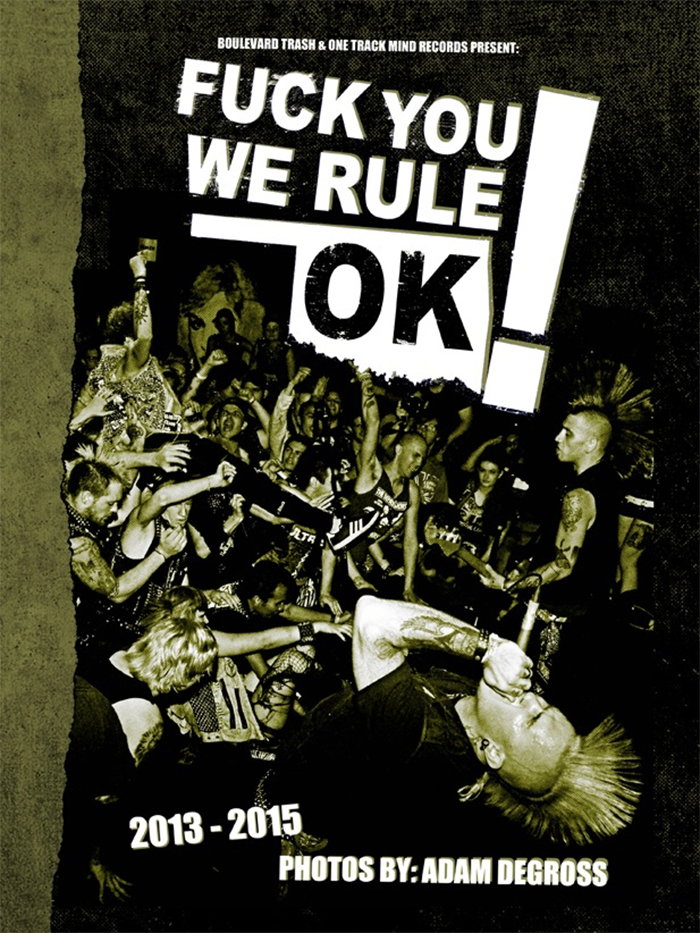 RW: You also have a new book of photography out now, Fuck You We Rule OK, documenting the past few years of the FYWROK festival in Tulsa, OK. How did you end up putting this book together, and why did you choose this festival as the focus?

A: I toured Europe when I was 22-23 with a band that one of the promoters of the fest is in, so that's how I initially found out about the fest. I was hesitant to go, but every year ends up being a lot of fun, and I always produce some of my favorite shots. It just made sense to make a photo book, sales have been great, and I'm really glad with how it's been received. I'm a big fan of the classic "punk" look, spiked hair, studded jackets, etc, so I get really inspired every time I'm there.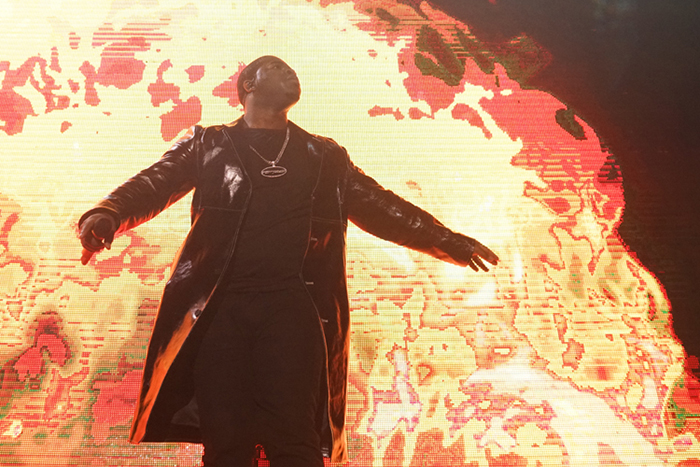 RW: After you get back from the A$AP Ferg tour, what have you got lined up? Any more books or tours in the works?

A: I'm heading back out to LA on Feb 24, going to work with some really cool artists, shoot a fest, do a few other things. I have some other plans in the works that I can't really talk about yet, but people will find out soon. Always gotta have something in the works. I can say that I'm going to be working on a new exhibit that will focus more on my hip hop photos, so watch out for that. Follow me on Instagram @adamdegross for updates.

- Russ White