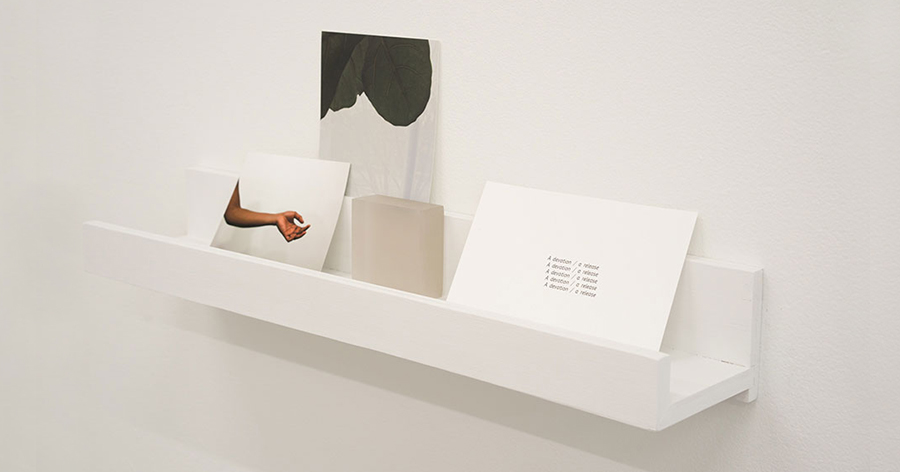 To be seen / To be manifold
Featuring Minnesota-based visual artist Mara DuvraEvent Website

Showing

Feb 11th - Apr 6th, 2019

Opening + Artist Talk

Thu Feb 14th, 2019 6PM - 9PM CST
Juxtaposition Arts
2007 Emerson Ave N
Minneapolis
( map )
Juxtaposition Arts (JXTA) proudly presents the work of Minnesota-based visual artist Mara Duvra in the 2007 Emerson Gallery.
Her current body of work, Tending: meditations on interiority and blackness, is focused on centering softer visual representations of women of color, using poetic and ephemeral imagery to understand Blackness beyond public identities. This work addresses what it is to be hyper-visible and simultaneously unseen. The opening reception and artist talk will be held on Thursday, February 14: doors open at 6PM, and the artist talk will take place at 7PM. Gallery admission and all events are free and open to the public.
Tending is about the quiet and quotidian, the still and meditative. With photographic images, poetry, found objects, and small sculptural arrangements, Duvra creates an environment that encourages stillness and contemplation of interior landscapes. The installations and corresponding texts introduce wonder and imagination into the handling of black identities. In this project, Duvra uncovers poetic representations of tenderness, calm, and creativity in order to create a rich anthology of representations of blackness.