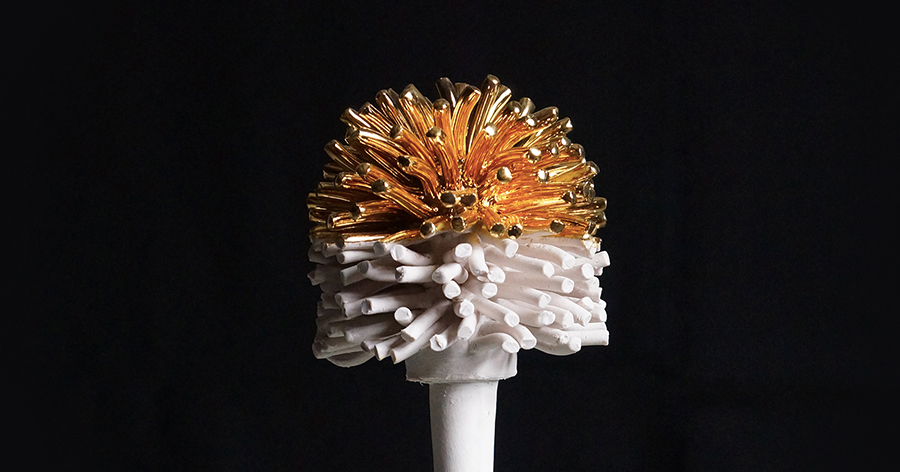 The House | The Yard
Group exhibition of eight artists about to complete their Master of Fine Arts degree in the Department of Art at the U of MEvent Website

Showing

Apr 9th - Apr 27th, 2019

Opening

Sat Apr 13th, 2019 6PM - 9PM CST
Katherine E. Nash Gallery, U of M
405 21st Ave S
Minneapolis
( map )
IC: Katayoun Amjadi, 'Toilet Brush,' 2019, Porcelain, gold luster, gear motor, 16.5 in. x 4 in. x 4 in.
The Katherine E. Nash Gallery at the University of Minnesota presents 'The House | The Yard,' a group exhibition of eight artists about to complete their Master of Fine Arts degree in the Department of Art at the University of Minnesota.
Artists
Katayoun Amjadi, Adam Kirk, Nina O'Leary, Anna Orbovich, Sarah Sampedro, Emily Swanberg, Anna Van Voorhis, and Asia Ward
In her mixed media representations of quotidian cultural symbols, Amjadi combines a pictorial heritage of the past with the language of contemporary art.
Influenced by the visual language of screens and the role of metaphor in images, Kirk's often surreal paintings invite the viewer to make meaning rather than prescribing answers.
Exploring themes of identity and anxiety through photography, O'Leary represents the indigenous resilience of her family through images of true contentment.
Orbovich's desire to explore the wilderness of earth and harness its materials—iron, rust, salt—results in images and objects that examine our complicated relationship with the environment.
Using indoor cyanotype exposures on paper, Van Voorhis documents the light moving across the everyday objects of her kitchen and assembles those prints into tactile sculptures.
Sampedro's use of objects and photography investigates the space between people and how individuals and groups hold, use, and transfer power.
In her refabrication of materials, Swanberg performs the intimacy of building labor and frustrates systematic construction processes.
Acknowledging that plastics have their own agency, Ward's sculptural installation questions how we coexist with these materials and how they continuously shape our world.
Showing
April 9 - 27, 2019
Gallery hours are 11:00 AM - 7:00 PM | Tuesday - Saturday
Opening
Saturday, April 13, 2019
Program | 5:30 - 6:00 PM | InFlux Auditorium E110
Reception | 6:00 - 9:00 PM | Regis East Lobby
Free and open to the public
That same evening visit 'A Babel of O'rms | Intervals' in the Quarter Gallery, U of M.