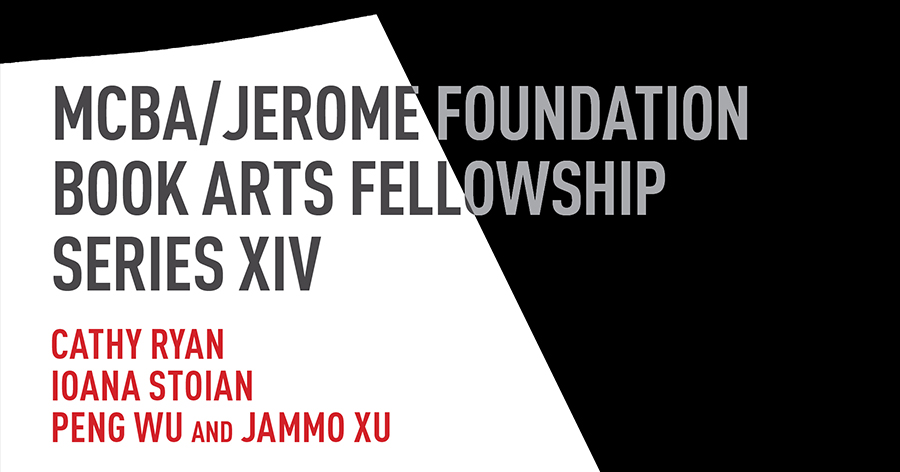 MCBA/Jerome Book Arts Fellowship Series XIV
New work from this year's MCBA/Jerome Book Arts Fellowship recipientsEvent Website

Showing

Nov 3rd - Jan 27th, 2019

Opening

Fri Nov 9th, 2018 6PM - 8PM CST
Minnesota Center for Book Arts
1011 Washington Avenue S
Suite 100
Minneapolis
( map )
Minnesota Center for Book Arts (MCBA) is pleased to announce its upcoming exhibition, MCBA/Jerome Book Arts Fellowships Series XIV.
On view in MCBA's Main Gallery, this exhibition features exciting new work from this year's MCBA/Jerome Book Arts Fellowship recipients: printmaker and book artist Cathy Ryan; artist Ioana Stoian; paper maker and social practice artist Peng Wu; and installation artist Jammo Xu.
Cathy Ryan is a book artist and printmaker based in Minneapolis, MN. For the Fellowship, she produced Connections, a mixed media printed book installed as an abstract landscape, drawing on themes of nature, perspective, and connection.
Ioana Stoian is a self-taught, British-born artist with a passion for paper. For her Fellowship project, she has created The A-Z of Motherhood, an edition of hand bound books containing 28 pages of custom-dyed handmade paper, juxtaposing specific words and colors to create an energetic harmony.
Peng Wu and Jammo Xu's installation, Arriving Ashore, advocates for global awareness of the refugee crisis. The artists have been in close collaboration with UNITED for Intercultural Action – a European network against nationalism, racism, fascism and in support of migrants and refugees, which has worked in the past 15 years to document the ongoing refugee crisis in Europe. The artists use handmade paper and other sculptural materials to create an installation to commemorate the refugees who lost their lives in the forceful migration.