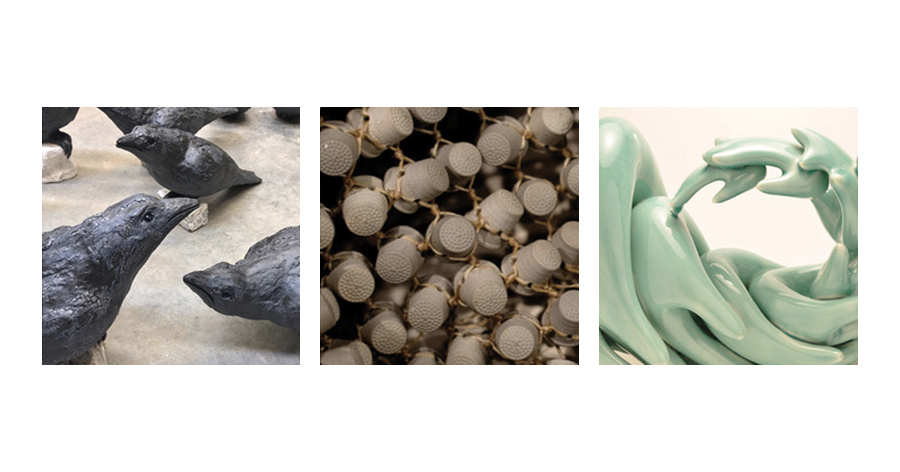 Heart Land Stories
Curated by: Katayoun Amjadi and Jonathan QueryEvent Website

Showing

Mar 25th - Apr 12th, 2019

Opening

Fri Mar 29th, 2019 5PM - 9PM CST
Q.arma Building
1224 Quincy St NE
Minneapolis
( map )
Exhibitions and related events are free and open to the public.
The thematic arc of this exhibition is one of storytellers, of artists reflecting on the human condition: of what binds us together or tears us apart, of what holds us safe or exposes us to fear or failure.
Stories like ceramics are durable and mutable, and stories mark and measure our passage. Storytelling unfolds in a weave of reference points, of navigational coordinates that allow us to find our place, our history and trajectory, and ourselves. Storytelling moves from the individual stories we hold, our body's knowledge, into the realm of cultural narrative, of reaching beyond self to other, to community and world. The act of looking out through other eyes gives us empathy and insight, that there is somebody like us, that we are not alone. Stories are one of the binding acts that help us locate self within community.
Featured Artists

Anna V Metcalfe works in the realm between ceramics and public art and uses her work as a springboard for public engagement, collaboration and community narratives.
Juliane Shibata explores the intersection of the human condition and the natural world, the transience of a dying flower captured in fired ceramic, the power of multiples woven into introspective narratives.
Kelly Connole's work with rabbits, crows, butterflies and hybrid beings investigates human and natural relationships and creates narrative pieces that examine the human condition, our vulnerabilities and tendencies, tinged with both darkness and light, and turns the anthropomorphic gesture on its head.
Mika Negishi Laidlaw's deeply personal work explores the ancestral memories and stories carried in our bodies, in our cells, of the deeper recognition of touch, cradle and song, the sense of safety, security and warmth in a hand like a pillow, of the pushing of a material that is so fragile yet folds back to the idea of softness and comfort.
Alison Rose Craver's work navigates from the deeply personal to sweeping and political, and at times both. In her work clay as a vessel is pushed to describe the body, of how the shared vulnerability speaks to the human condition.
Katayoun Amjadi's work is at once personal and yet frequently seeks a common thread of identity within otherness and difference. Her work is an ongoing synthetic process of investigation and becoming. She often picks popular cultural symbols and works them into new visual statements, creating a synthesis between a pictorial heritage of the past and the new language of contemporary art.
Erika Terwilliger's work is a kind of scientific narrative, a catalogue of the story's constituent parts, a record of existential data points and explores our connection to the land, of her family's farm and reaches beyond to investigate the source of our sustenance and community.
——
This exhibition is part of 'Claytopia', the 53rd annual conference for NCECA (National Council on Education for the Ceramic Arts), happening March 27–30, 2019 in MSP.