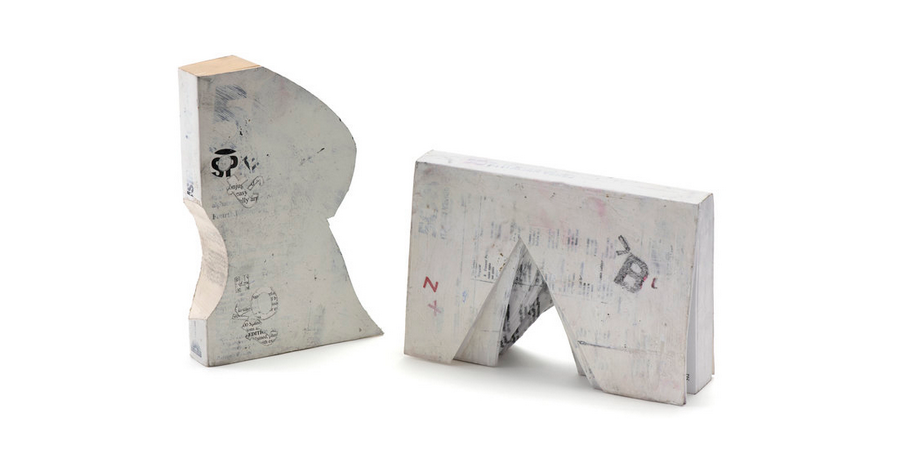 Books: Altered Language Dictionary, Painting, Collage, Sculpture
An exhibition of cut and mended language dictionaries transformed into paintings, collages, and sculptures by Vesna Kittelson.
Event Website
On View

Mar 1st - Apr 6th

Public Reception

Sat Mar 3rd, 2018 6PM - 8PM CST
Traffic Zone Center for Visual Art
250 3rd Ave N
Minneapolis
( map )
Traffic Zone Gallery presents Books: Altered Language Dictionary, Painting, Collage, Sculpture, an exhibition of new work by Vesna Kittelson. This exhibition is an exploration of how to discover possibilities of painting, collage, and sculpture, through an intervention upon a book. A language dictionary, this familiar, user friendly object; this comforting collection of words and cultural identities; this soft, thought provoking object; carries a quietly mysterious power of addressing politics, economics, and identities.
The exhibition is a depiction of Kittelson's compelling fascination with the material process of transforming a book into painting, and collage - by cutting and covering it with encaustic, rust, tar, gold leaf, metallic leaf, adhesive letters – thus restoring and transforming it into a sculptural object to be displayed on a plinth, while remaining a book in its appearance and meaning.
#mplsart
If you are making art or looking at art in the Twin Cities, use the hashtag to show it off.