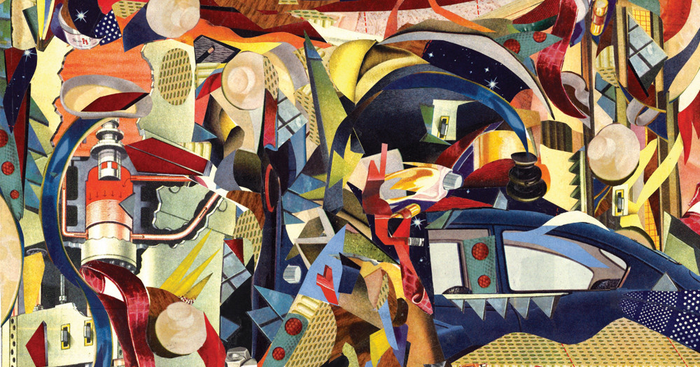 Art at The Hive / Erik Farseth
Using bright, bold colors to drive away the darkness, the artist entices you to follow him down the rabbit hole. Event Website

Showing

Sep 23rd - Nov 12th, 2017

Reception

Sat Sep 23rd, 2017 8PM - 10PM CST
The Hive Salon
1621 E Hennepin Ave
Suite B20
Minneapolis
( map )
These colorful, mostly abstract collages were created in direct response to the collective feeling of depression and despair that followed in the wake of Donald Trump's ascension to the White House.

Modern Radio recording artists Oaks will perform dark, heavy, fuzzed-out rock during the opening.
ABOUT THE EXHIBIT

Inspired by Cold War-era ad campaigns, Erik Farseth's cut paper collage uses the cultural detritus of the fading "American Century" to critique contemporary consumer culture, the ongoing wars in the Middle East, and the rise of the U.S. surveillance state.

These abstract collage "paintings" evoke a candy-coated version of American myth-making – myths then torn apart (literally) to create new meanings.

Wielding a pair of scissors in lieu of a paintbrush, new hybridized images are gradually built up from dozens of cut up paper fragments, arranged and rearranged layer upon layer, to create repeating patterns of texture and color.
ABOUT THE ARTIST

Erik Farseth is a printmaker, zine publisher, and collage artist based in the Twin Cities. He has exhibited at numerous local and regional galleries, including: the Minnesota Center for Book Arts, Rosalux Gallery, Highpoint Center for Printmaking, Gamut Gallery, and other locations.

Farseth has received a number of awards and fellowships for his work, including two Artist Initiative Grants from the Minnesota State Arts Board, and an MCBA / Jerome Book Arts Fellowship.

More about the artist: jcruelty.com