In an era where little black dresses are accepted as style staples and every woman's "to-do" list is miles long, Kate Iverson and Kelly Groehler are combining unique prints with easy fabrics for a funky line of fundamentals.
Alice Riot — named for Iverson's young niece and Groehler's late great aunt (one Alice, the other Alyce) — "honors both the girl and the woman: the encouragement to break from tradition, to support other women, to embrace creativity and art, and to authentically chase our dreams."
While shopping for outfits to impress on job interviews, Groehler —a branding, communications, and public affairs executive, as well as a member of the Public Functionary board of directors — became frustrated in the lack of affordable garments that showcased both her creativity and her professionalism. An Instagram notification for one of Iverson's paintings pinged her phone when the idea hit her: "I wanted to support my friend's incredible, striking art, so why not wear it to work?"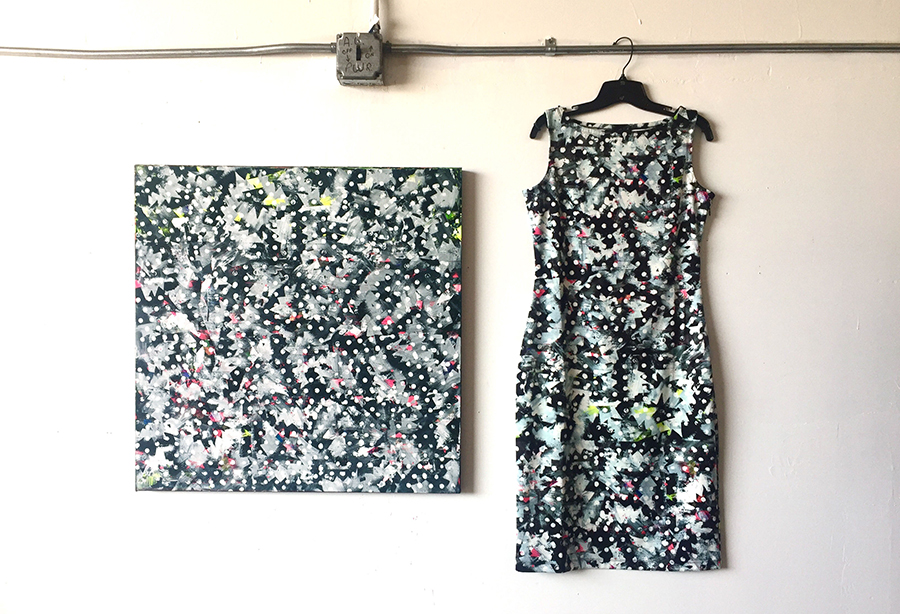 Iverson's artwork next to the clothing it inspired
The first Alice Riot collection will feature clothing in prints by Kate Iverson, an artist, copywriter, brand strategist, and co-founder/board chair of Public Functionary. These garments will be the main perks for the crowdfunding campaign, which launched February 22nd and runs through late April. New collections — each highlighting a different artist — will be released twice a year. While the line will start with her own work, Iverson states, "We are not beholden to any particular style, background, or medium when it comes to the artists we work with, but we absolutely plan to represent a global, culturally diverse cross-section of female artists."
In addition, a lookbook featuring Twin Cities "Women Who Inspire" will be launched along with the Indiegogo campaign. Each of the five women in the lookbook inspire by using their resources and platform to improve the lives of others, no matter their position or background.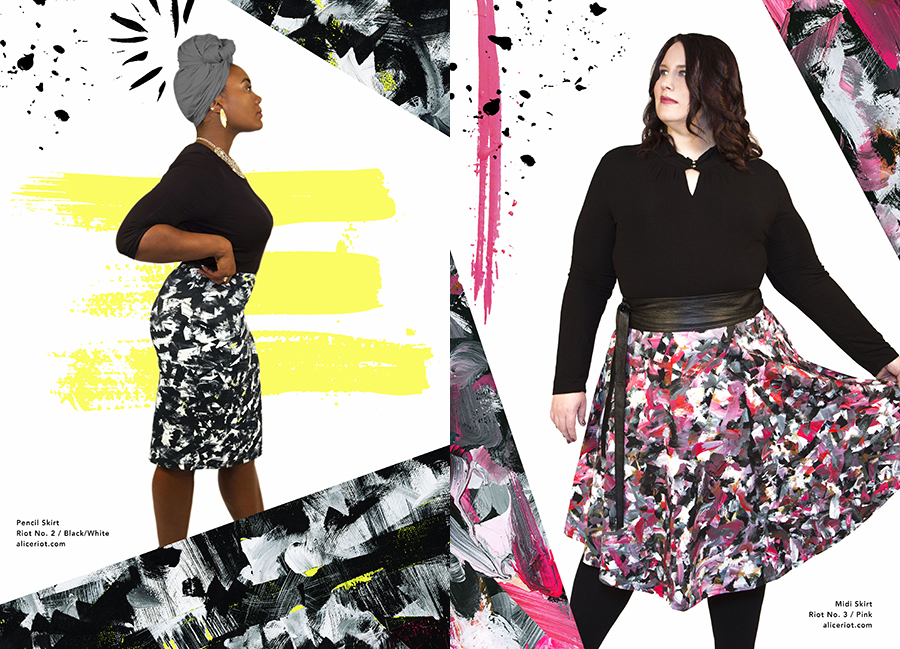 Alice Riot's all-season core collection will include a pencil skirt, midi skirt, 3/4 sleeve sheath dress, and a sleeveless sheath dress. Each garment will be available from sizes XS (2-4) to 3XL (26-28), which reflects the brand's commitment "to offer accessible fashion for a wide range of body sizes and shapes." In addition, two 100% silk scarves will be offered. "With the scarf, we wanted it to be appealing to all women," Iverson explains, "so they are sized to not only be worn around the neck, but can easily translate into a turban or hijab."
Another feature to Alice Riot clothing is the wrinkle-resistant fabric. The fabric is 90% polyester, 10% spandex and according to Iverson, "it has just enough stretch to it to be very comfortable, but also enough structure to hold the garment shape perfectly." It was important also that the fabric "carried the prints well — we didn't want a level of stretch that would distress the image of the artist's work," said Groehler.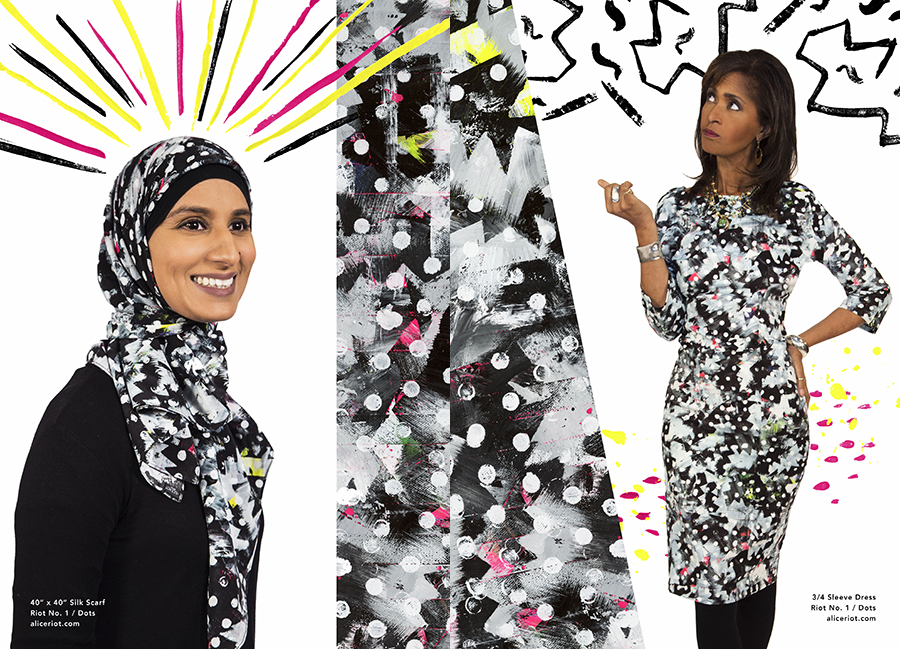 A digitally printed heat-set process is used to transfer the artwork to the fabric. "The printer we worked with through our manufacturing partner in Hong Kong was integral in helping color match and find the perfect fabric that showcases the artwork's dimension beautifully," says Iverson. "The process is quite similar to what an artist and fine art printer go through to create a traditional paper print — same rules apply, just a different type of printer and medium."
Merging art with fashion in this way puts the stories behind the garments, and thus the women who created the art, at the forefront of the conversation. The brand's hashtag, #WearTheGallery, emphasizes the mission of Alice Riot: "creating an accessible entry point to art and bringing attention to female contemporary artists."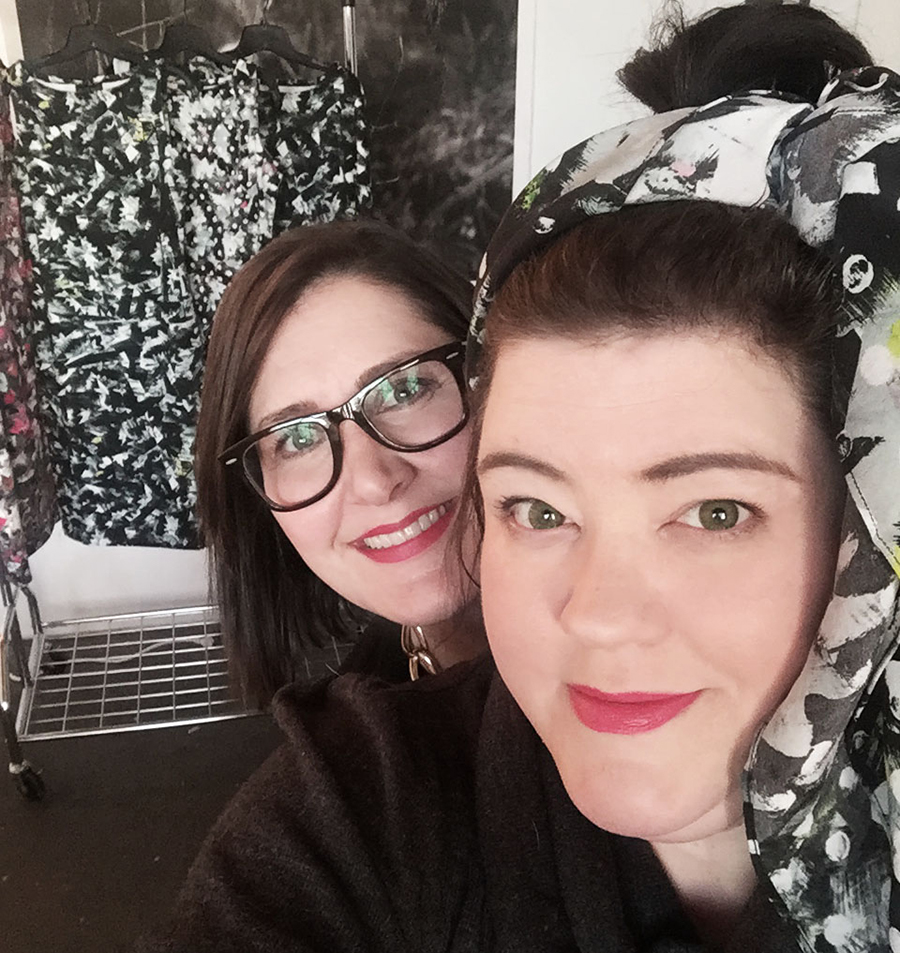 Co-founders Kelly Groehler (left) and Kate Iverson
Visit aliceriot.com to see more of their clothing or visit their Indiegogo campaign to learn more and place an order!