Curated from more than 200 photographs taken over the course of six months in 1974, artist Perci Chester's In Search of the Glass Slipper (on exhibit at Traffic Zone Gallery) is an intimate retrospective series documenting the gay party scene in San Francisco. Vivid, vibrant, and unbridled, the photographs evoke the freedom of the pre-AIDS era, revealing the seldom seen and showcasing an underground culture in a joyful and honest depiction. Each photograph not only represents the life around her during this era but also chronologically contextualizes the novelty of so many cultures living quite harmoniously in San Francisco.
As the title would suggest, the exhibit poetically embodies our universal desire to find love and acceptance. Her photographs capture ephemeral moments, exploring narratives through friendship and community while highlighting the costume and transformation of people taking part in a "cycle of hide and seek."
"This show has been incubating in my head for years," she explains. "It's personal, that the people — the subjects — trusted me. In that trust, people shared themselves in these photographs. They are very present, revealing an honesty — 'Here's who I am' — to me and to the world."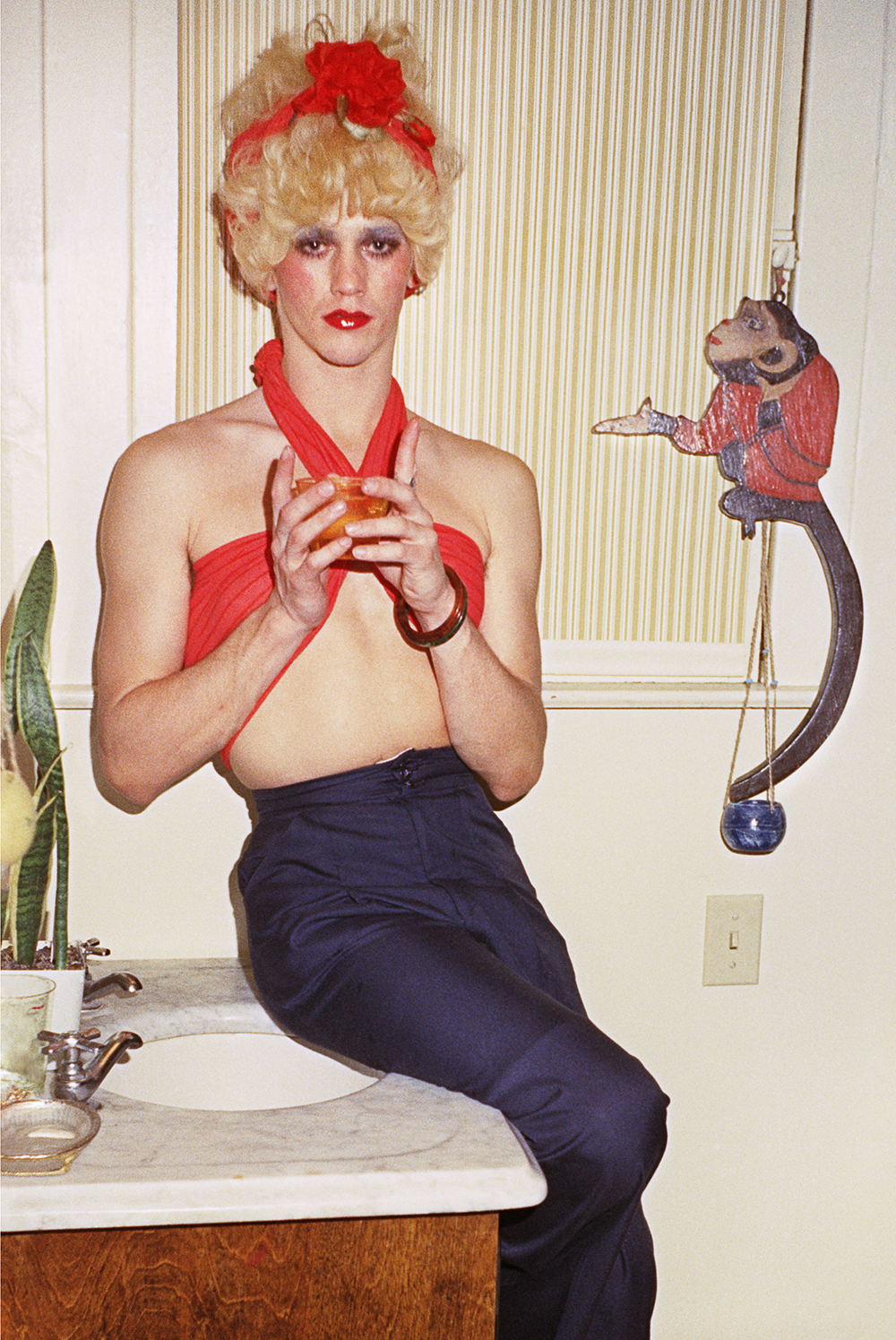 Red Rose, archival pigment print scanned from film negative
Inspired by a workshop at the San Francisco Art Institute taught by Imogen Cunningham and Lisette Model, two women who helped redefine modern photography, Perci started taking photos with her Leica M-3. Emulating the ruthlessly candid, humanistic, unconventional work of those essential portrait photographers, she began photographing everything from people on the street to people fixing sewers, Latino costume parades, and house parties.
"Living in SF at that time — opening myself to different communities with many kinds of opportunities — kept me fascinated to continue to explore SF. I also was enamored with the quality of light that happened often in the city — I called them 'San Francisco dream days.'"
Perci's "dream days" carried over into the nightlife, documenting an underground scene and community at its most rare, raw, and expressive. After taking photos at a Halloween party her college roommate took her to in 1974, Perci decided to bring her camera along to all of these lively soirees.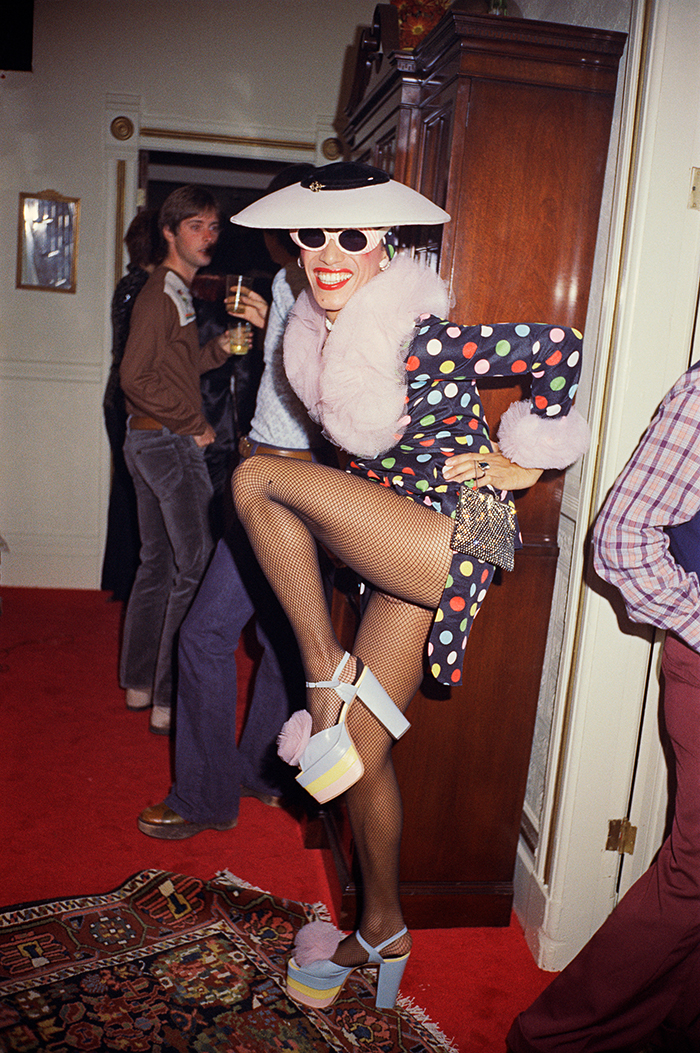 Poco Doti, archival pigment print scanned from film negative
"Several people became friends and invited me to a number of house parties that year where people in drag vogued for my camera and shared stories with me, excited to reveal themselves where they had not previously been able to for so many reasons."
Perci also photographed other drag events, including concerts by the famed disco and soul diva Sylvester, who would perform at the San Francisco nightclub Bimbo's. She wanted to showcase the energy of people enjoying themselves in the elegant setting of the nightclub.
Hesitating to show the series until she could establish connections with the appropriate venue, Perci put the collection on the back burner, focusing on her work as a painter and sculptor. Until now, she didn't feel that the public was open to see this work and understand the community it represents. For her, this series represents a freedom and laissez-faire nature specific to the pre-AIDS gay community in San Francisco.
"I always felt these were significant images that I wanted to share. This community lived in two worlds — a kind of hide-and-seek existence in which finding partners and developing romantic relationships may have interfered with their public lives, in jobs and public acceptance. I am not an authority on the activities of gay life at that time, though I heard stories from my gay friends. Anonymous sex with multiple partners at the 'bath houses' was popular with some people. All that changed dramatically with the AIDS epidemic. So these photographs were taken at private parties and events where people felt safe and comfortable in a community of like-minded friends."
Using scale to highlight the vibrancy and color of this work, the exhibit specifically calls attention to three images, blown-up and life-size, which set out to pull the viewer into the choreography of the subjects' lives and personalities.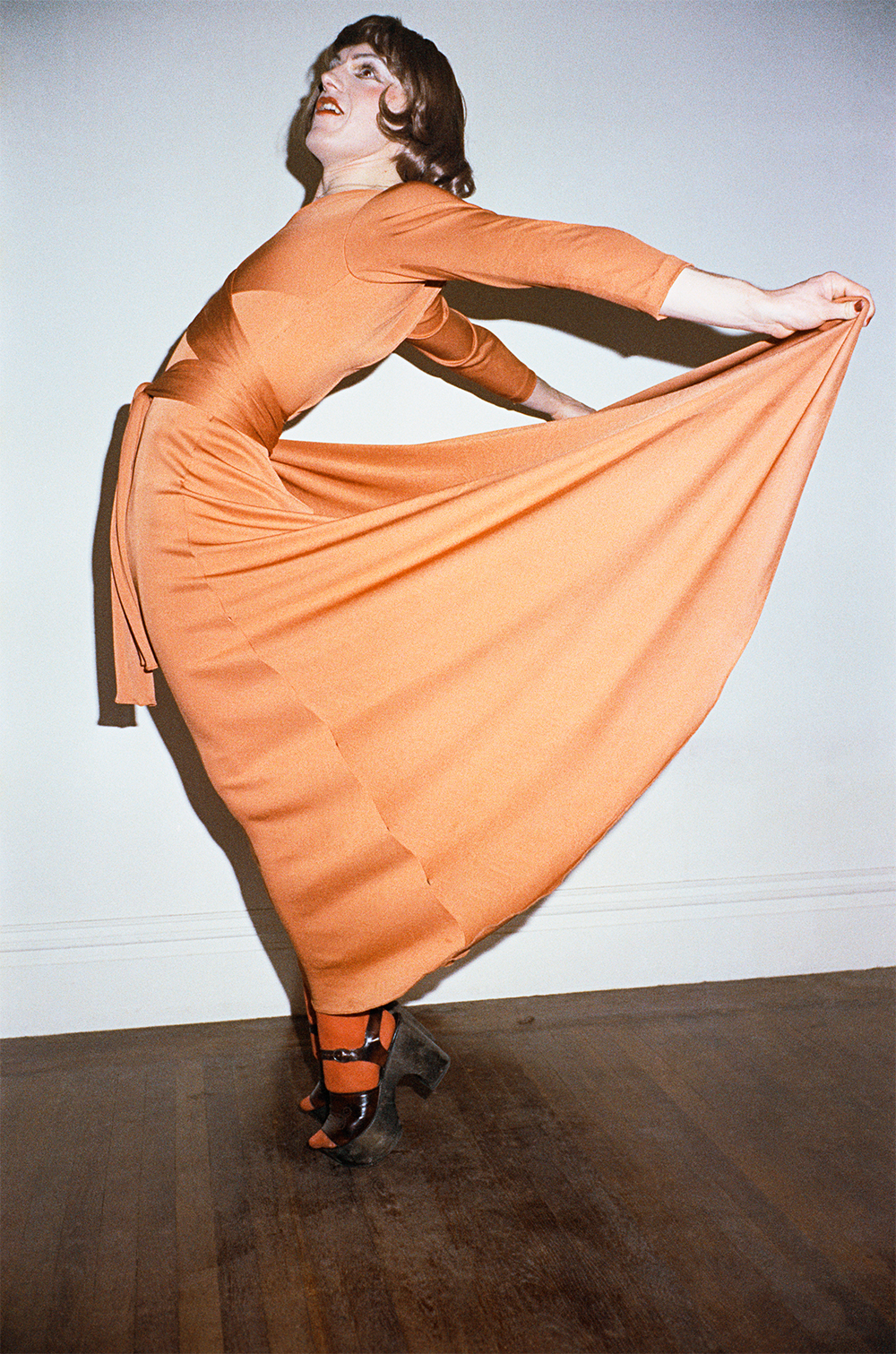 Portrait in Orange, archival pigment print scanned from film negative
"My choices were aesthetic — I felt if I blew up the photographs to an almost human scale, we would feel and understand the presence to that person. The person in the orange dress is really dancing how it feels to live on a precipice, standing on tiptoes with a Ta-da! Trying to find balance. The person with the red rose turban is looking at us — directly expressing their persona — and I love how the monkey looks and points, further engaging the direction of our gaze. The image I call Poco Doti is wearing such a great costume, with every detail carefully considered and with a choreographed pose that is joyful and energetic. In some ways, they are artists — as Cindy Sherman explores various persona using herself continually reinvented. A portrait is a presence and speaks to us as we perceive them."
When asked about the open reveal of this culture and the intimacy of the subjects, Perci explains, "I really don't know why I was trusted, other than I was introduced as a friend through friends. I was enthusiastic about being with them and loved their elegance and sense of themselves. I always asked people I didn't know if I could take their photos. I also think photographs are a means of sharing a sense of personal pride and individual humanity — as the popularity of 'selfies' exhibit today. So people were thrilled to pose whether in a playful or more serious manner."
Recalling the work of fellow portrait photographers Nan Goldin, Robert Mapplethorpe, MPLS-ex-pat Benjamin Fredrickson, and Montana Merida, Glass Slipper offers a glimpse into a moment in time that has cultural significance beyond simply snapping pics at parties. Her lens turns toward the intimate and provocative, the beauty in the mundane and everyday life, the joy of living, the honesty in identity, and a shared ephemeral intimacy.
"It is so important to be true to ourselves and stand up for our values of inclusivity. It is important to recognize that the broad spectrum of gender identification is not new — it has always been an aspect of human history. In this exhibit, I attempt to bring you the elusive image, maybe revealing the broad spectrum of gender – certainly the diversity of human experience with our universal need for self-expression and the desire to be included. When we look at a portrait we not only see that person — we also look at it to see ourselves."
Perci Chester's In Search of the Glass Slipper is on view at the Traffic Zone Gallery, 250 3rd Ave N., Minneapolis through Friday, September 29th. Gallery hours are Monday through Saturday 9 am - 5 pm or by appointment. For more info, visit trafficzoneart.com.