"I'm kind of painting my memoir, more or less," Bunny Portia explains to me regarding her recent work. Once a Playboy Bunny herself and now a visual artist at age 64, Portia definitely has a memoir to tell.
"I mean for it to be both humorous and serious. I want to be seen but not seen," she tells me. We're standing in front of one of her most recent paintings, a large-scale self-portrait of the artist in her bunny costume, painted at her current age on a melting ice floor, surrounded by polar bears. And though the image strikes a comedic chord, it's also a symbolic representation of the way society looks at aging women — cast aside and deemed unuseful. For nearly forty years, Portia kept her experience working as a Bunny a secret. She feared the unveiling would result in unwanted attention and assumptions based on narrow concepts of morality.
But an experience at Macy's a few years back changed her perspective. A sales associate helped a line of younger shoppers and then passed over her in the checkout line, claiming she "didn't even see her there." It's this concept of invisibility of aging women, death, dying, and self-reflection which inspired her series Memento Mori, Latin for "remember that you have to die."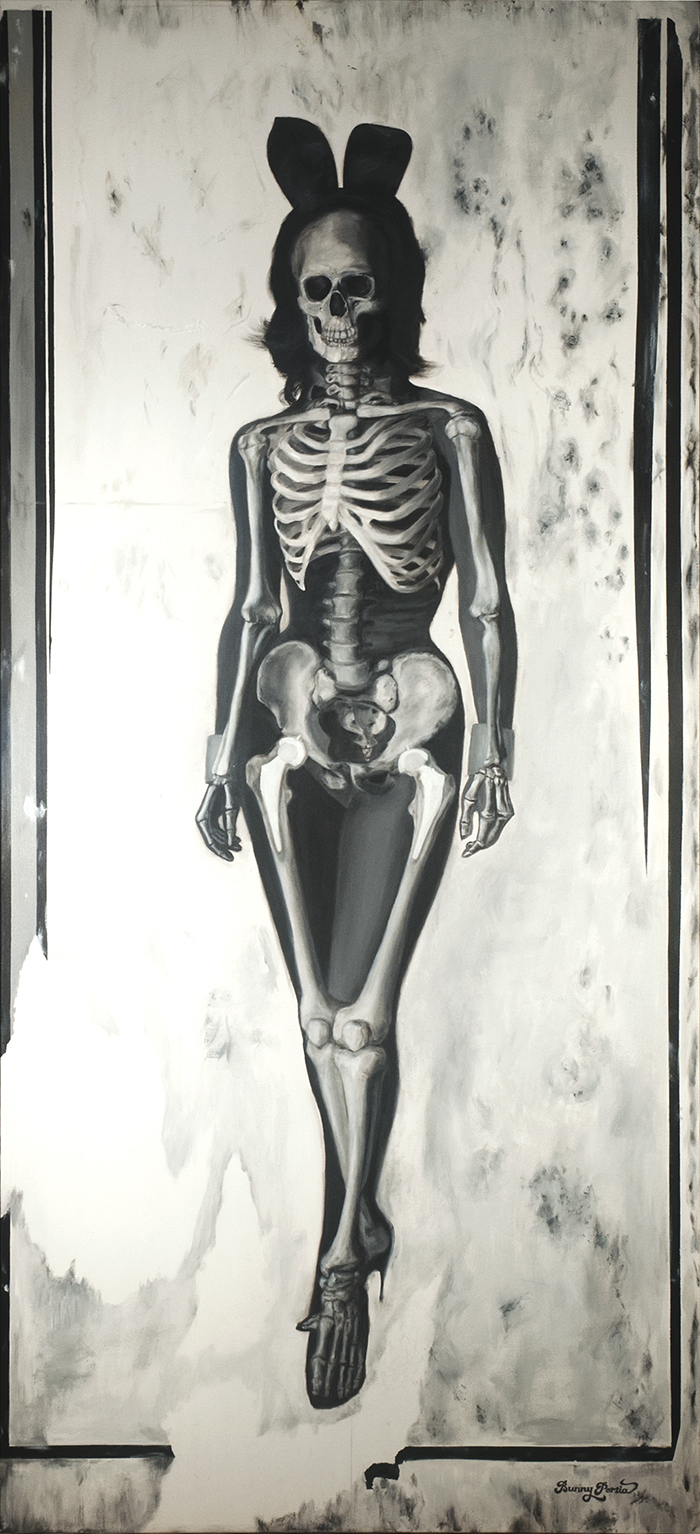 Memento Mori V (Tempus Fugit), oil & titanium sponge on canvas, 80 x 36"
"A few years ago I decided that I wasn't concerned if people disapproved of my history or my art," she explains. "Exploring the issues of aging from a woman's perspective became the focus of my art practice. It is an investigation that would have been impossible for me to undertake at a younger age. Wrapped up with the topic of age is the entire Western ideal of female attractiveness and, in many ways, identity and self worth."
For someone who uses a moniker, the concept surrounding "person" and "persona," is at the forefront of her artistry. But for Bunny, exploring this series is beyond simply personal, it's universal — a feminist exploration of age bias.
"As I reached late middle age, I became aware of another issue facing women almost universally. Age affects society's perceptions of women in both subtle and obvious ways. I don't think many are able to fully understand or recognize this pervasive issue until they have experienced it themselves. I know I didn't. In western society, the role of older women as anything but grandmothers seems to offend the sensibilities of most people."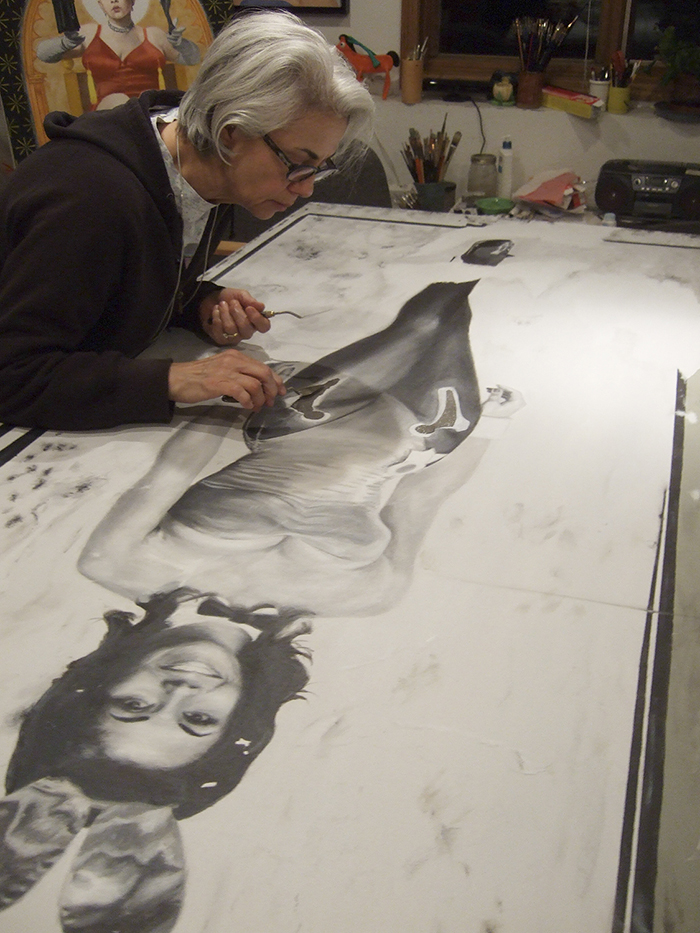 The artist in her studio applying titanium sponge to Momento Mori IV (Becoming Mortal).
Unlike some "outsider artists" who use Bunny imagery as campy, period, cultural icons, Portia references her stint as a Bunny for other reasons, countering the myth that youth is beauty.
"The image of me playing the role of the mythologized Bunny provides the reference point for my investigation as well as an opportunity to incorporate cognitively dissonant, vaguely surreal imagery into my art."
Addressing these concepts through portraiture and autobiographical works, her art neither glorifies nor condemns the image of a Playboy Bunny but instead challenges and responds to her history and the mythical icon itself.

"Did the Playboy Bunny image exploit women? Certainly. It was exploitative of men as well," she explains. "As a term, intersectionality has gained currency in the last few years. As a concept it has been a reality of women's lives for decades. Trading on one's looks, when possible, was one of the relatively few well-paying options available to young women in the early '70s. I spent a summer stuffed into an impossibly tight-fitting, padded costume, serving drinks and meals to customers who bought into the Playboy myth. Along with about a hundred other college age women, dormitory-housed and closely chaperoned, I played the role. Looking back, I see that summer of '72 as a turning point in my life."
With an advertising background, Portia uses her knowledge of software — Photoshop, Illustrator, InDesign — to create hyperrealistic, autobiographical paintings to explore this role.
One of these works was based on the famous narrative painting, Arrangement in Grey and Black No.1, often referred to as Whistler's Mother.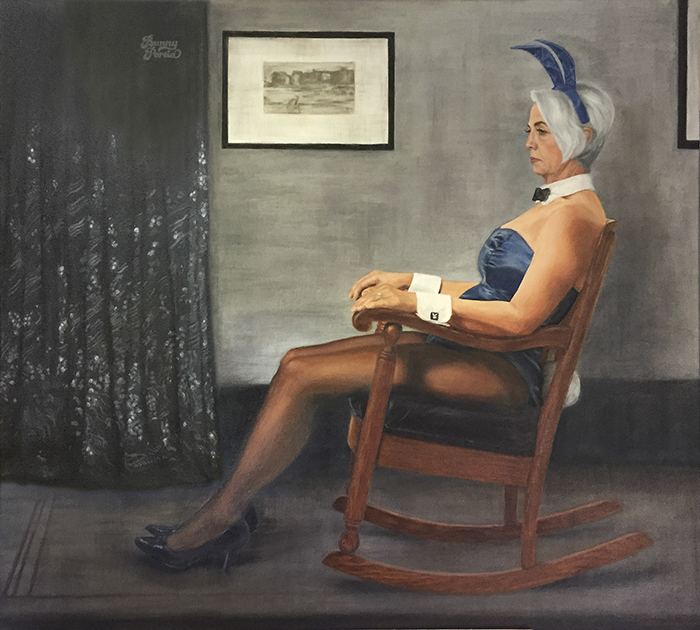 Arrangement in Grey And Black, oil on canvas
"My husband took a picture of me in a rocking chair and then I took a picture of Whistler's Mother, photoshopped her out, photoshopped me in, and then made it into a big color print and traced over it."
The same way Anna Whistler's blank forbearance speaks of capitulation, Bunny's own stare addresses the nature of surrendering, ceasing to resist the forces of nature that cause her own aging.
Inspired by two big turning points in her life — her stint as a Playboy Bunny and two hip implants (surgeries which both happened within the last decade) — Portia's skeleton paintings reveal the inevitable aging process, the failing body. Using x-rays from her doctor's visits, Portia juxtaposes the body of her Playboy self against the x-rayed images, showcasing the titanium revisions and even using a layer of titanium dust for the finishing touches.
Toeing the line between morbidly reflective and humorous, Portia's work rethinks the pejorative connotations around aging and its attraction to a devastating mindset.
"Age is considered a liability, at best, or at times a disability. Ironically, each person who now holds that view will eventually possess that 'liability.' This whole series has been about being a Venn diagram where there's ageism and sexism. I've had sexism my whole life and now I've got ageism. I'm not sure where this will ultimately lead my art but I intend to continue to explore these themes that I feel are important both to me, personally, and to society as a whole."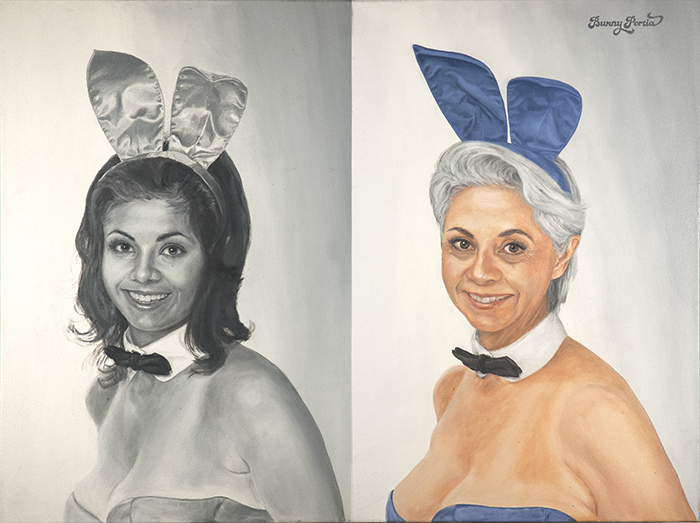 Memento Mori I (Now You See Me, Now You Don't), oil on canvas, 30 x 43"
Portia's work will be featured in the upcoming group exhibition Sq2 at Gamut Gallery, opening August 26th. She will also have work for sale at the Cream of the Crop Art Gallery in the West End Market during the State Fair, August 24 - September 4. To see more of the artist's work, visit her website at bunnyportia.com.