When it's summer in Minneapolis, you can count on two things for sure: endless road construction and tons of outdoor art fairs. While we can't do anything about the traffic, we can help you navigate the maze of white tents and food trucks so you can plan your summer weekends and expand your art collection. Boasting a combined total of well over 1000 different artists and makers, these six art fairs will help you squeeze as much fun out of your summer as possible.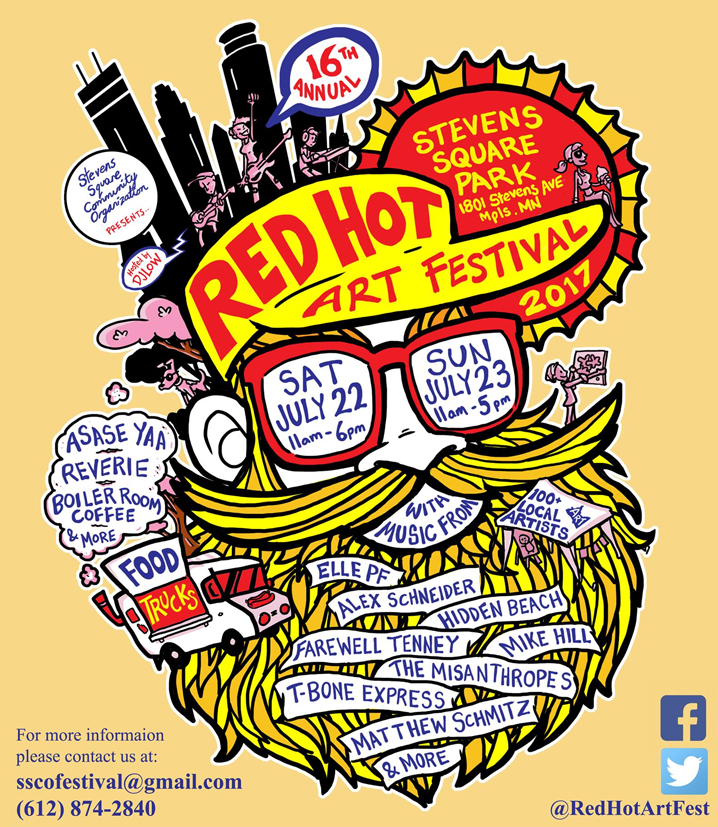 Red Hot Art Festival
Red Hot Art Festival
July 22-23, Stevens Square Park
Saturday, 11am-6pm
Sunday, 11am-5pm
"Celebrating 16 years of locally grown art, music, food, and fun!"
Just a couple blocks north of the Minneapolis Institute of Arts, Stevens Square Park is a lovely little greenspace that is about to be filled to the brim with art. Sponsored by the Stevens Square Community Organization along with several local businesses, the Red Hot Art Festival showcases over 100 local local artists and 20 local musicians.
Get some treats from Asase Yaa, Reverie, and Boiler Room Coffee while you listen to Elle PF, Alex Schneider, Hidden Beach, and many more. But of course the real stars of the show are the artists, so get out there and buy local!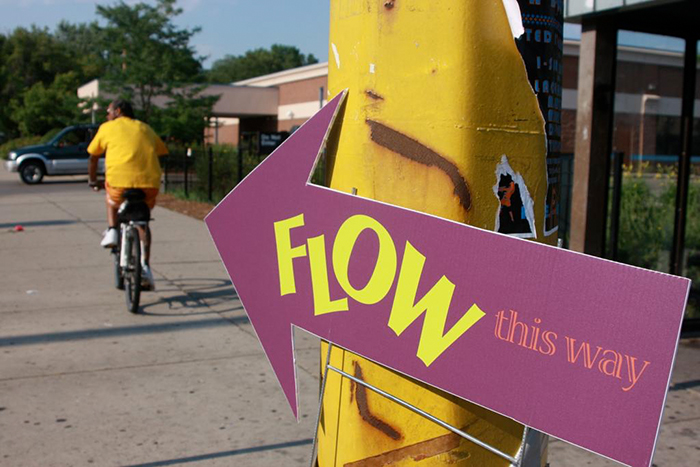 FLOW Northside Arts Crawl
FLOW Northside Arts Crawl
July 27-29, West Broadway Corridor
Thursday, 6-10pm
Friday, 3-10pm
Saturday, 11am-9pm
"From b-boys to ballet, graffiti to graphite, rap to rhapsody, fine artist to artisan, practicing to professional, FLOW showcases the great art being made every day on the Northside."
Now in its eleventh year, FLOW Northside Arts Crawl is a combination art fair/block party/farmer's market/community get-together celebrating everything Minneapolis's North Side has to offer. The festivities kick off on Thursday at 6pm with the Plymouth Ave Block Party hosted by Asian Media Access, Homewood Studios, and Plymouth Avenue Art Studios.
On Friday, expect a multitude of events, openings, and preview parties along Broadway, including the unveiling of the Eastern Gateway Public Art installation. It all comes to a head on Saturday with over 300 artists exhibiting from the mighty Mississippi all the way to Penn Ave N. There will be a multitude of indoor and outdoor activities at 35 locations, clustered at Freedom Square (by the Capri Theater) and Juxtaposition Arts (where the 89.9 KMOJ stage will be located). Not to be missed!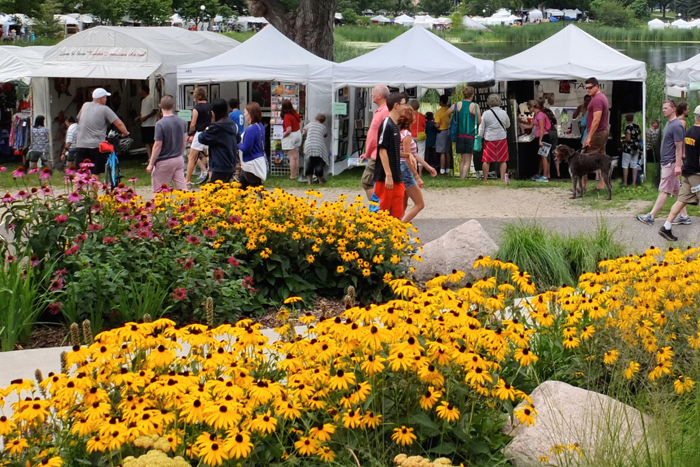 Loring Park Art Festival
Loring Park Art Festival
July 29-30, Loring Park
Saturday, 10am-6pm
Sunday, 10am-5pm
"An urban oasis of art and culture."
Located across Hennepin Ave from the Walker Art Center, Loring Park is the perfect setting for a lazy summer stroll, and if 140 artists happen to be showing their work along the way, all the better! The Loring Park Art Festival makes full use of their bucolic settings, lining up white tents all the way around Loring Pond with food vendors on the north end and live music by the main Park building.
Expect painters, jewelers, ceramicists, fiber artists, fashion designers, photographers, glass-blowers, sculptors, woodworkers, printmakers, and face-painters. After you've found your favorites and bought some art, take a moment to give back at the Bloodmobile.
Saturday will also feature the Outdoor Painters of Minnesota demonstrating plein air landscape painting, Lunalux Letterpress card-making, and a traveling foundry doing on-the-spot metalcasting. On Sunday, play with clay with artists from Mia and take in a puppet show from the Open Eye Figure Theatre Driveway Tour.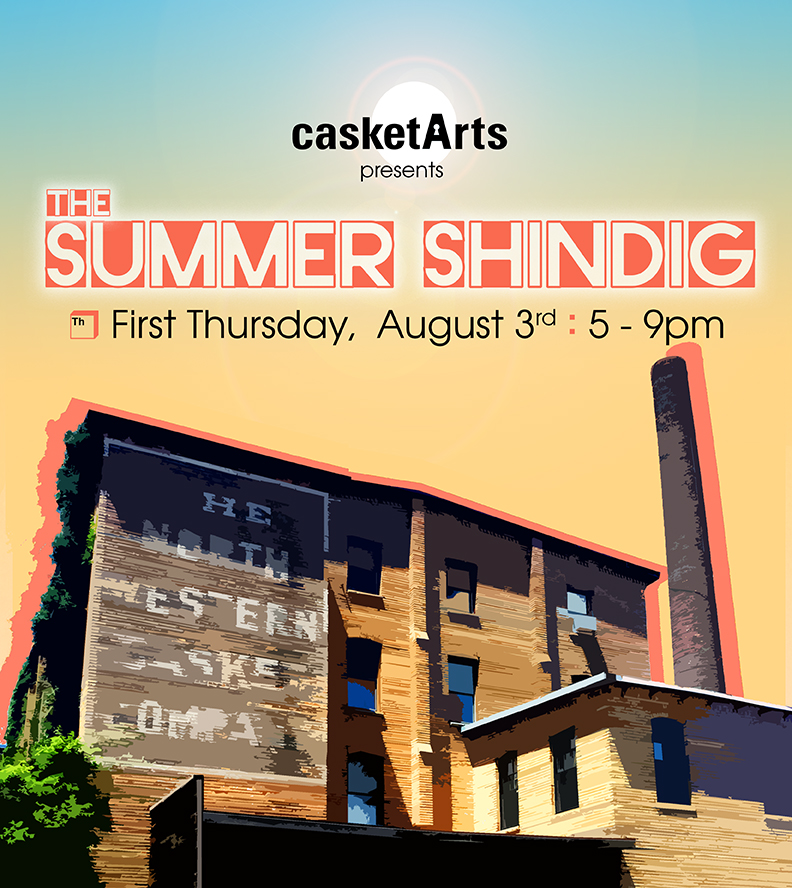 Summer Shindig
Summer Shindig
August 3, Casket Arts Building
Thursday, 5-9pm
"Casket Arts will move the party outside to our 17th Avenue parking lot where you can enjoy local art, live music, food, and more!"
Now in its second year, The Summer Shindig is a twist on the classic First Thursday open studio events in the Northeast Arts District. The tenants of Casket Arts bring the party outside to the southeast parking lot for a classic outdoor art fair vibe, complete with booth vendors, guest artists, food trucks, and live music. With over 100 artists in the building, there's a bit of every medium, from painting to woodworking, photography to fiber art, jewelry to printmaking. Live music from Elizabeth Ghandour & Doug Otto, Potluck & the Hotdishes, and Bernie King & The Guilty Pleasures. There will be an interactive art activity area for kids of all ages along with a henna artist, so bring the whole family!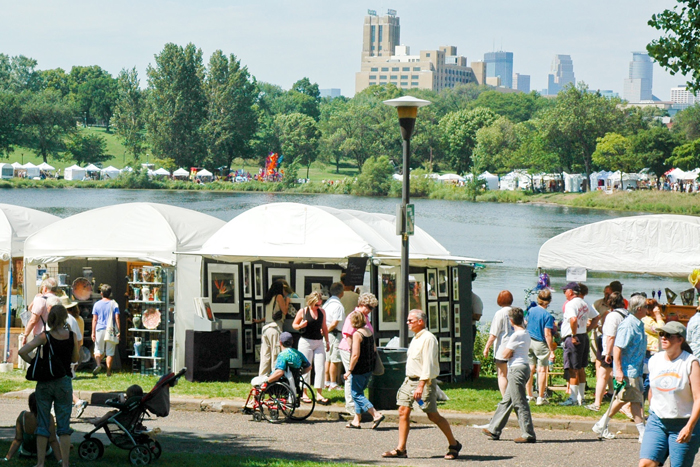 Powderhorn Art Fair
Powderhorn Art Fair
August 5-6, Powderhorn Park
Saturday, 10am-6pm
Sunday, 10am-5pm
"200+ Regional & Local Artists, 20 Food Trucks, Entertainment and More in beautiful Powderhorn Park!"
A local favorite among exhibitors and visitors alike, the Powderhorn Art Fair is the oldest of the bunch: 26 years old and still going strong. Artists and makers come from all over the midwest to set up shop around beautiful Powderhorn Lake to showcase their paintings, sculpture, pottery, jewelry, leatherwork, and more. With all the art to choose from, you won't leave empty-handed or, for that matter, empty-stomached, thanks to the 20 food trucks on site. Live music keeps things grooving on three separate stages, and there will be family-friendly activities including caricatures, henna, face painting, and massage.
Organized by the Powderhorn Park Neighborhood Association in conjunction with the Minneapolis Park & Recreation Board, The Powderhorn Art Fair is striving to be as green as its surroundings. They are shooting for a sustainable, eco-friendly event with zero waste and free water to anyone who brings their own container. A portion of the fair's proceeds will be used to fund youth programs at the park.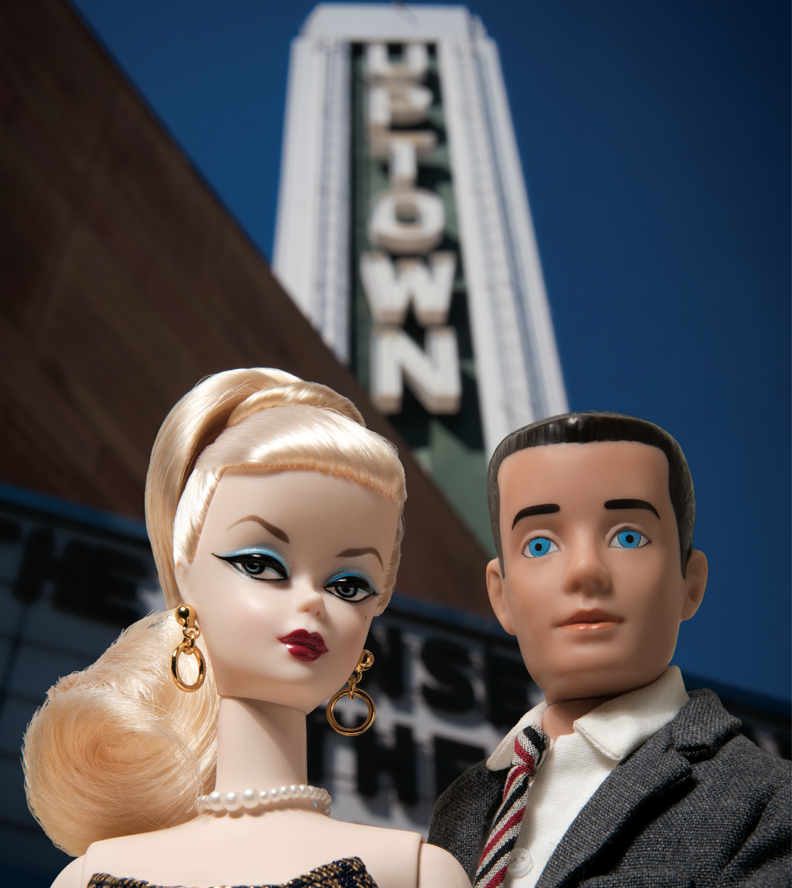 Uptown Art Fair
Uptown Art Fair
August 4-6, Lake St & Hennepin Ave
Friday, 12-8pm
Saturday, 10am-8pm
Sunday, 10am-5pm
"Over 350 talented fine artists from around the world!"
In a crowded field of summer art fairs, Uptown is the big kahuna. Sprawled across four blocks along Hennepin Avenue and stretching all the way down to Lake of the Isles, the Uptown Art Fair features hundreds of juried exhibitors and countless attractions. Expect to see everything from abstract paintings to pet portraits to metalworking to lawn ornaments to fairy houses to landscape photography to graphite drawings to handmade bags to glass robots… the list goes on and on. You can visit some of your favorite local makers and see traveling artists from all over the world; you never know what you will find from booth to booth.
And that's just the art. Uptown also boasts over 25 different food vendors, multiple beer gardens, a Youth Art Fair inside Calhoun Square, live performances from a wide range of musicians all weekend, interactive art activities, and the Kitchen Window Culinary Arts Competition. No wonder this award-winning festival boasts the second-highest attendance in Minnesota, second only to the State Fair. So put on your comfiest shoes, grab some cheese curds, and go hunting for that perfect piece of art to bring home.

Did we miss something? Shoot us an email: calendar@mplsart.com