There is a recurring motif in Brad Thomas's work that has begun to make its departure. It is an image of a sorrowful clown called HE, a grainy, black & white no-name. HE came from a still-shot from the 1924 silent film He Who Gets Slapped, about a clown in a circus who becomes the sacrificial focal point of laughter by getting repeatedly slapped by the other clowns in the show, suffering through his own humiliation.
HE has lived many lives in Thomas's work, through mixed media, collage, paintings, and handmade artist books, appearing on small pages and large canvases alike. A group of nine panels hangs on a wall in his St. Paul studio, from an original series of around 80, in which alternate versions of the clown have been recreated in different forms: direct image transfer, silhouetted, abstracted, concealed, turned upside down, or partially represented where only a limb or a shadow of the figure remains. One of the pieces displays an image of the clown with the phrase from an old 8-bit video game death screen: TRY AGAIN ?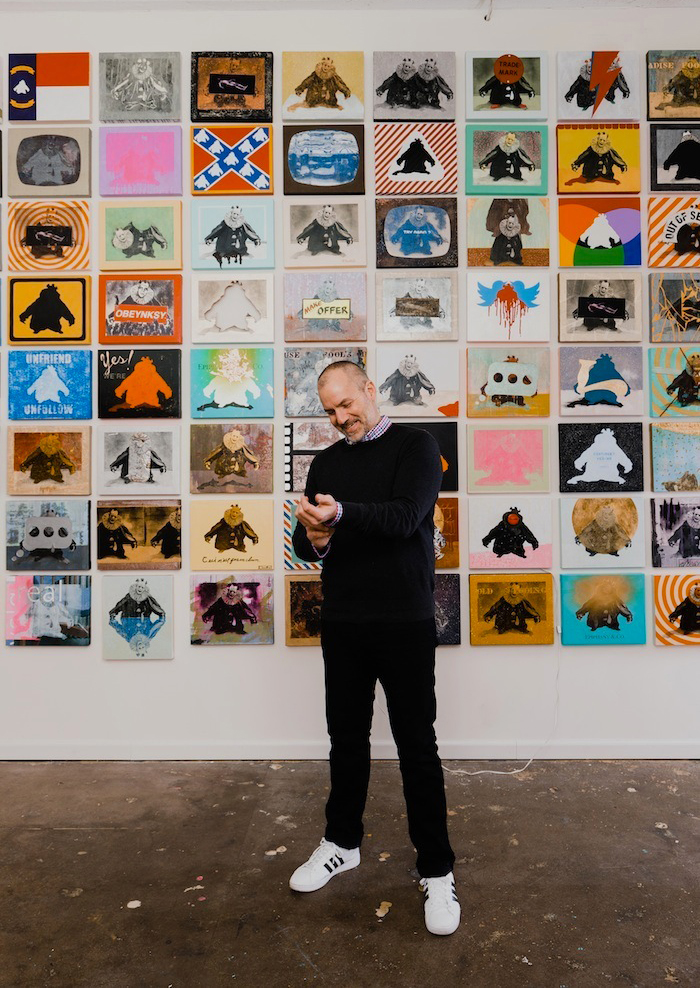 The artist in his studio with the HE series. Photography by Caylon Hackwith.
When Brad Thomas first came across the image of the clown in a book over 20 years ago, he did not want to know anything about its origin; he was solely interested in the image itself. The clown seemed familiar to him and yet very much a mystery. He was drawn to it. This clown that sat in a defeated pose with a woeful grimace and long outstretched arms reminded him of Sisyphus, a king from Greek mythology who was condemned by the gods in the underworld to serve his punishment by rolling a boulder up a hill, only to have it roll back down again. The king would try again, repeating this hopeless, laborious act every day for eternity.
Thomas has used this trope for a very specific purpose: to appropriate a single image and re-contextualize it again and again until it is overdone, and then see if he can take it even further and overdo it even more. He is intrigued by working in a series, much like Jasper Johns, who would rework a single motif to catalyze a wider range of ideas in his work process, to challenge viewers to look more inquisitively at a single image, or to achieve stronger art through the process of developing so many variations on a singular idea. Thomas says we always need to "challenge ourselves to work ourselves out of our comfort zone, to lead to something new."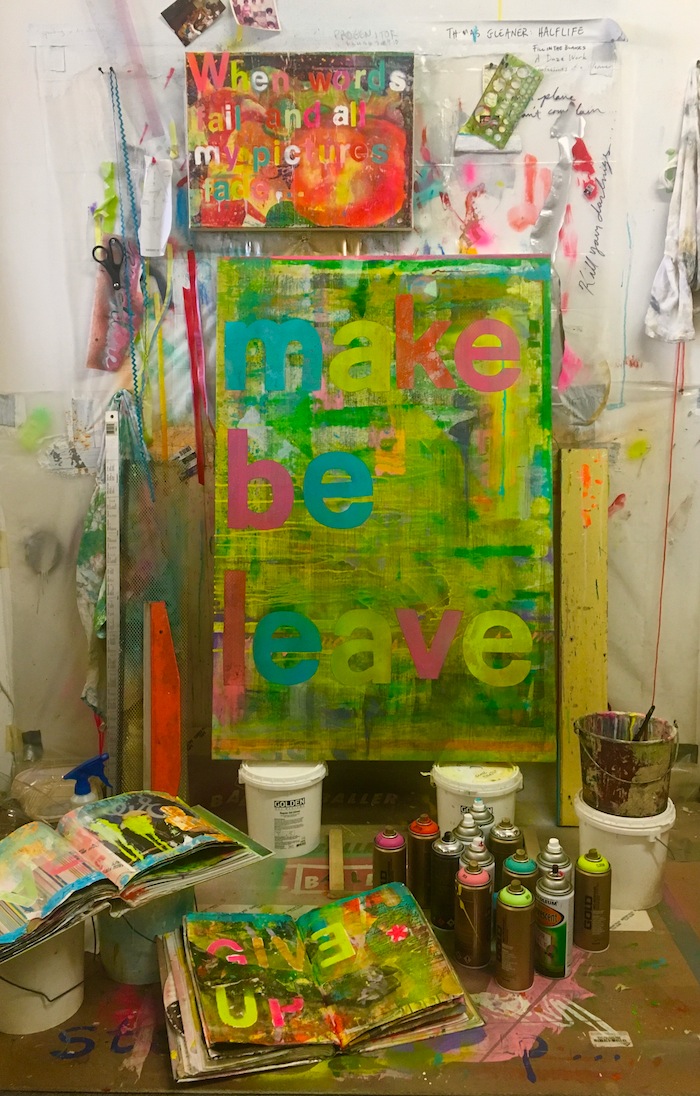 Studio view with works in progress, 2017
When I ask him whether there was a defining moment in his life where he knew he wanted to study art, he smiles and shrugs. He says he knows it sounds cliché, but it was art that found him. He grew up in Mount Airy, North Carolina, and worked for his father's construction business, where he first learned how to handle paint and mix colors. An old hand-painted metal sign that reads "Thomas Home Improvements" with a phone number listed underneath hangs in his studio today. Thomas attended the University of North Carolina in Charlotte to study architecture, which he claims lasted "all of about five minutes." He began taking art courses at the suggestion of his professors, and it pulled him in.
He was always a hard worker who got good grades, earning the trust of his family who morally supported his aspiration to become an artist even though they didn't understand what he was studying or why he was pursuing it. He recalls his uncle's baffled reaction, telling Brad, "I thought you would have picked something more challenging..." to which Brad responds, "What can be more challenging than convincing someone that this object, this image, this expression, is worth their attention or money?" Art can be created simply for personal expression, joy, or leisure, but to pursue it as a conveyer of ideas to a public audience is a challenging endeavor. He is compelled by how irrational it is to pursue a career in the arts. He loves it and says, "I wouldn't want to do anything else."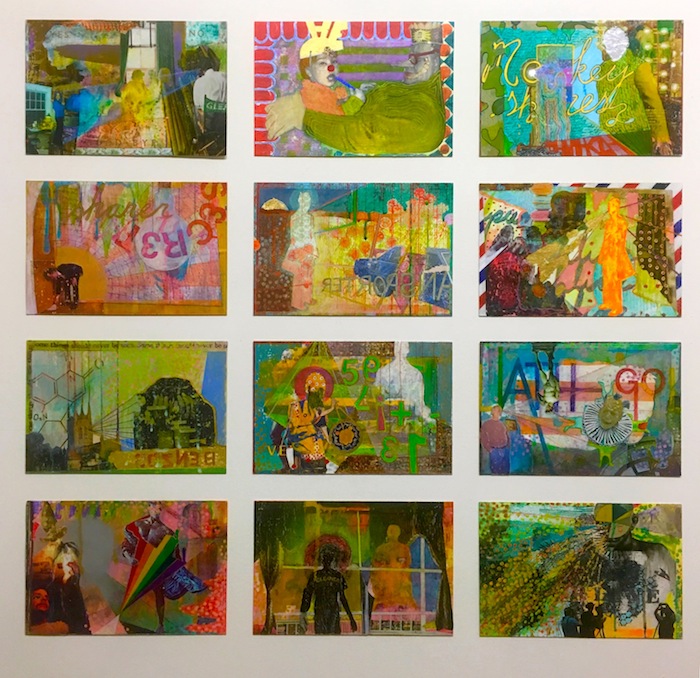 Mixed media works on paper, each 10 x 15", 2017
In 1999 Thomas was offered a Gallery Director position at Davidson College, just north of Charlotte, leading to a career in arts administration that spanned the next 16 years, including stints as Curator at The Mint Museum and Director of Residencies and Exhibitions at the McColl Center for Art and Innovation. Working with students and witnessing new creations every day for so many years was inspiring to Thomas, and he realized that he needed to get back in the studio and focus on his own art.
After ten years of visiting family and getting to know the art scene up here, Thomas and his family moved to the Twin Cities in 2015, where he found a studio in Vandalia Tower. The following year he had his first solo museum exhibition in over a decade, at the Turchin Center for the Visual Arts in Boone, NC. Entitled Show me the way to go home…, the show prominently featured the familiar motif of HE. The exhibition statement reads: "Through the continued – if not exhaustive – exploration of this core motif, HE is showing me the way back home; the way back to my most emboldened, yet vulnerable, creative self." If home is emblematic of our deepest affection and most significant place in life, no matter the geographical location, then Brad Thomas has found home at his studio in Vandalia Tower, a place where he is dedicated to creating art again. "I've had studios in all kinds of places, in sheds and in spare bedrooms. This is the best studio I've had." And he describes the surrounding artists and the feel of a neighborhood. "It's a place to power through ideas with enough room to do it."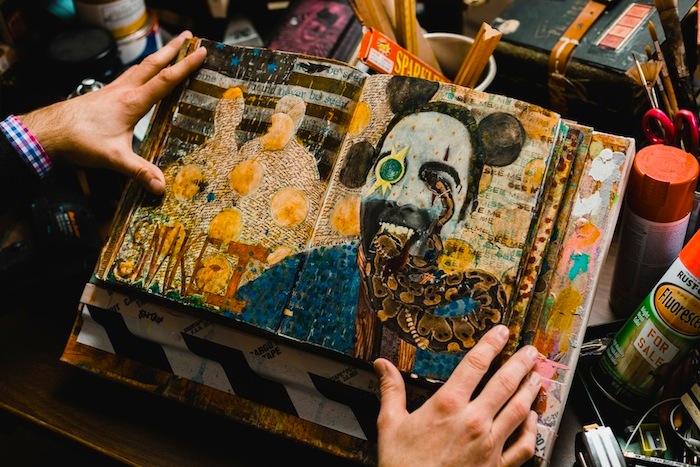 One of the artists' handmade books, which he has regularly made since 1990. Photography by Caylon Hackwith.
Thomas maintains a series of handmade artist books containing thought after thought, continuously recorded through writing, collage, and drawing; hundreds of pages of ideas. For him there is an intimate and private quality about working within the books' pages. One book features identical renderings of Thomas's HE motif, which Thomas had made into a rubber stamp so he could make the process automatic as to not over-think it, or perhaps as a way to get the idea out of his system. He would ink and stamp the image again and again over newspaper articles or magazine advertisements collaged into the book. Serial repetition, just like the joke in the circus in He Who Gets Slapped that gets played over and over, bludgeoning an idea to death until it sets him free.
One of Thomas's recent paintings created earlier this year is titled Chrysalis, which implies a transitional state, and Thomas says it is precisely how he feels right now at this time in his life. In his past work, there was always a reference to a discernible image. His early work contained imagery that came from the idea of dreams, juxtaposing images next to one another to create an alternate narrative, a new meaning. It is an idea that he is trying to get back to, but on a larger scale. In his new work he is allowing the images to fade into abstraction, which he sees as freeing. There is a phrase that he created that speaks to this: "When words fail and all my pictures fade." Thomas's familiar clown is not present in his new work. The absence of HE signifies a transition, a new direction.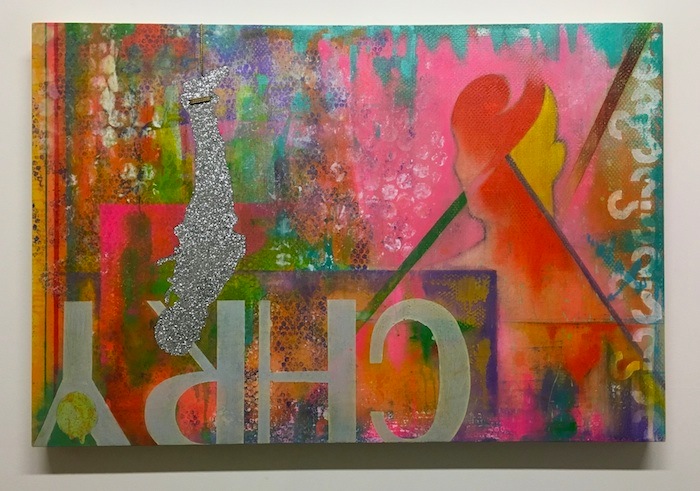 Chrysalis, mixed media on canvas, 30 x 45", 2017
It's an exciting time in Brad Thomas's career. He feels the freedom of being in a new place, "where no one is checking up on me, looking over my shoulder. I can just create." He maintains ties to the art community in North Carolina and has an exhibit scheduled in January, 2018, at SOCO Gallery in Charlotte. Thomas's long experience in arts administration has helped his artistic pursuits, especially because he has learned that there are enough opportunities out there to go around. "In my twenties I was running on ambition and naïveté." It was easy to become quickly discouraged by rejection. Knowing that there will be opportunities down the road, he can have some ease and focus on his work, which is exactly what he is meant to do right now.
Brad Thomas will have a one-person exhibition at SOCO Gallery in Charlotte, NC, in January, 2018. The working title is The Study of Thomas Gleaner –– which will be an intimate, immersive installation that will examine the 25-year history of his alter-ego, Thomas Gleaner, as told through artist's books, related mixed-media works, writings, and ephemera. (the HE series will not factor into this particular project.) Also on view at SOCO will be new works by Anne Lemanski.
In the summer of 2018, Thomas will lead a mixed-media artist's book class at The Penland School of Crafts in North Carolina.
For more info and to see more work, visit thomascontemporaryart.com