This year for Art-A-Whirl, artist Kate Iverson unveils Semblance of Disorder, a selection of works that she created from 2016-2017. Ranging from pieces on canvas and panel with vibrant color palettes to black and white works on paper focusing on soft abstraction, Kate explores the intersection of the unplanned and the organic.

I caught up with Kate to chat about her distinctive art style – which mixes a variety of media – and got some tips on how to survive Art-A-Whirl while absorbing art to the fullest.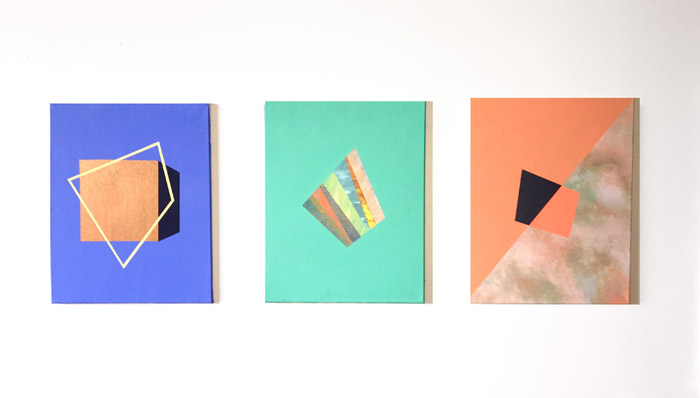 Semblance of Disorder, mixed media
Juleana Enright: This exhibit features works that you've created over the course of a year, varying in styles, media, and color. It's quite the contrast visually, yet there's also a design-minded aesthetic that pulls it into a cohesive collection. What's it like to see them exist all together?
Kate Iverson: It's fun to see it all together and looking somewhat cohesive, even though it was pretty unintentional. I've always been an unapologetic medium and style jumper – it's often made me question myself as a visual artist, versus being a crafter or designer. So, despite still being pretty liberal with my contrasting color choices per series, my imposter syndrome has reduced significantly! I still feel the constant need to change, however, so while I seem to have found a foundational style, the implementation of it is still up for major interpretation.
JE: Your work often tends to cross mediums, incorporating elements of tempera, ink, watercolor, and Japanese washi tape. What inspires you to explore such a wide variety?
KI: I'm not very deliberate in my art making – I am not a planner. I usually put a base color down, then make some sort of random shape and just go from there, I never have a clear vision of what it will look like until it's done. I think the crossing of mediums definitely factors into that lack of planning. I am also extremely impatient and appreciate life hacks, so often times I am considering how a certain medium, tool, or random item can be used for something I'm doing. When I got obsessed with Japanese washi tape a couple years ago, it really stuck (no pun intended!) and has informed a lot of the geometric, structured elements in my work. I love washi tape, but not in a scrapbooking aunt type of way.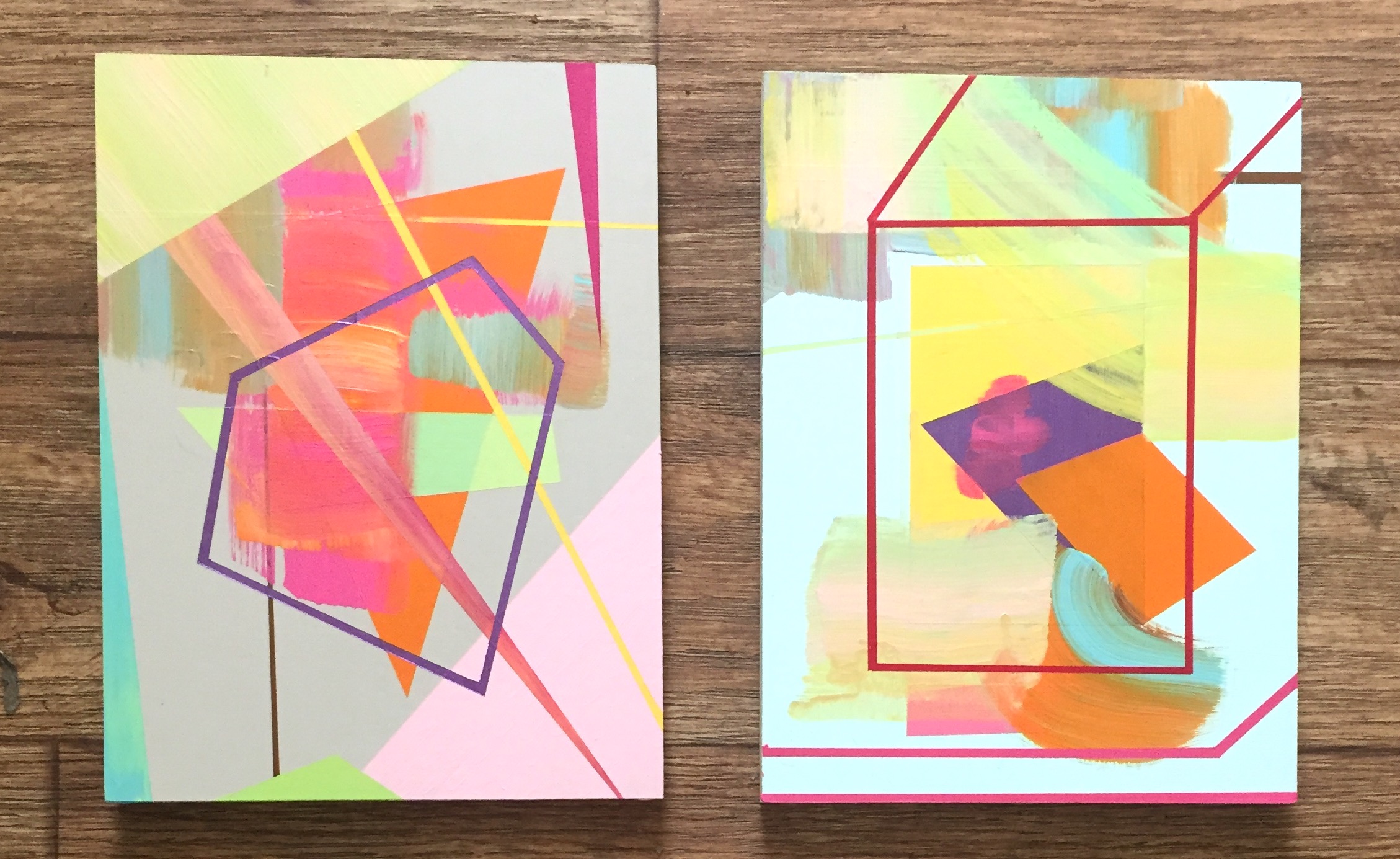 Semblance of Disorder, mixed media
JE: You received a stipend from NEMAA to produce a free art activity where you'll be on hand to share some of your fun signature design and painting techniques. What can you tell us about that?
KI: Oh, the art activity is going to be so fun, and I'm very grateful to NEMAA for the stipend! I personally think everyone is an artist at heart, but it can be hard to pull out of yourself when you consider art as being something unapproachable. I am going to have hundreds of mini canvases, plus paint, washi, and painters tape – basically I am going to show people how easy it is to create simple, cool art either by using tape and paint to color block or using colorful washi tape to create a design or a combination of the two. I think it's something really anyone can do, both kids and adults, so it will be fun to see the results. Everyone gets to take home their finished piece for free. We'll also be sampling Humm Kombucha while supplies last and offering complimentary Japanese sweets from my boyfriend/studiomate's ultra-adorable store, Tomodachi!
JE: The title of this exhibit: Semblance of Disorder. It could almost double as a punk band name (which seems very much you) but is also a bit contradictory by definition – suggesting structure within chaos. How do you think it speaks to the conceptual and technical parts of your work?
KI: It could totally be a punk band! Or maybe Swedish black metal. And yes, it's definitely contradictory, but I think pretty accurate when it comes to describing a lot of my work. While I love the look of structure, clean lines, minimalism, and geometric elements, I have a messy heart. I feel more personally connected to wildness and chaos. Sometimes that comes across in gestural brush strokes or a gritty look or feel, other times it shows up in cleaner ways, such as off-kilter shapes mixed together like crazy confetti. No matter what, there's always some sense of chaos to my order. I guess the title is another way of saying that.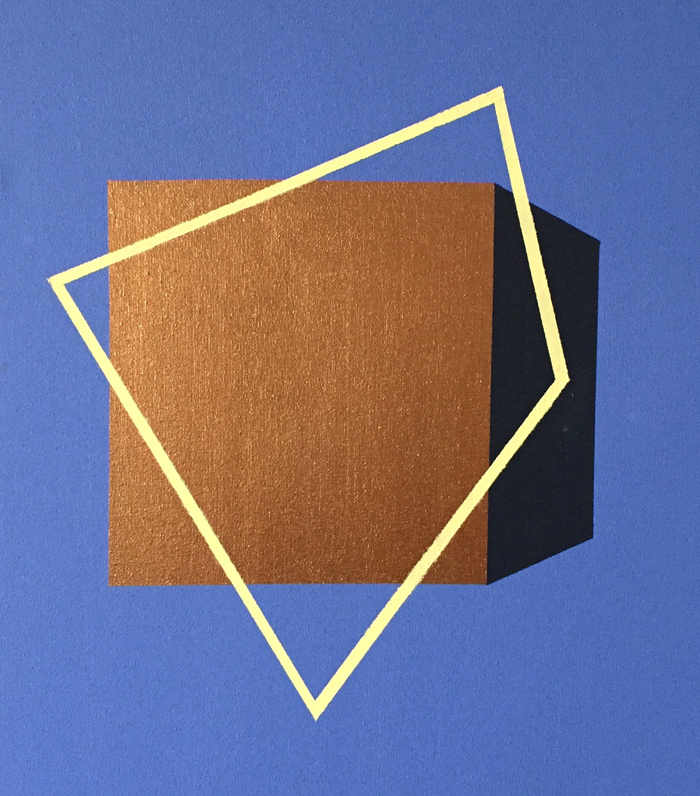 Semblance of Disorder, mixed media
JE: You wear a lot of creative hats – brand strategist, creative director, copywriter – just to name a few. How does the way you approach working on creative projects for clients differ from the way you execute your personal art?
KI: Not to sound like a hippy, but painting to me is very therapeutic and practically zen. It's really the only thing I've ever done that allows me to really flip a switch in my brain and just relax and be purely intuitive. Like I mentioned before, my process is very unplanned and organic -- when I paint I kind of zone out and allow my brain to become abstract and open. Alternately, I love my client work too; it's usually very strategic and intense, but there's also an element of abstraction there too – being able to open your mind to really see the big picture of a brand, project, or message and connect that to a mood or feel. I like the balance of the two skill sets, and luckily, both sides have great crossover potential – I can bring an artist's perspective to client work and brand marketing know-how to my art career!
JE: Let's talk Art-A-Whirl logistics. It can be a confusing AF cluster. Any tips to make the art journey less daunting?
KI: 1. First and foremost, wear comfortable shoes, have a backpack or crossbody bag for carrying water and essentials (with room to safely stash small art purchases, of course!). I'd also recommend riding your bike if you can, as parking can be a bit of a beast in the busier areas.
2. Also be sure to pick up an official Art-A-Whirl catalog at one of the NEMAA info booths, studio buildings, and many other places around the district – it's got easy-to-read maps and a comprehensive directory of artists, galleries, businesses, and even restaurants. You can also download the official NEMAA app that includes an interactive map and special event listings – very helpful. Try to hit some of the off-the-beaten-path spots – the vibe will be more chill and I guarantee you'll find some hidden gems.
3. Lastly, be sure to check out City Pages, Secrets of the City, and other print and online publications for their must-see picks – they usually do a great job of curating lists of the most interesting events, spaces, exhibits, and performances during Art-A-Whirl, making it a bit easier to plan an itinerary.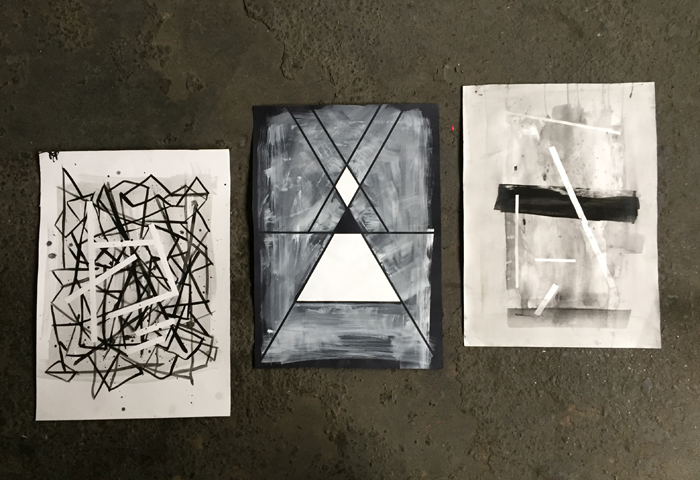 Semblance of Disorder, mixed media
JE: What's one Art-A-Whirl event that goers shouldn't skip this year?
KI: That's a tough one – there's always so much going on! The street where my actual home is, 22nd Avenue (between 6th and University) is usually pretty interesting. Not only is Grumpy's right there (Art! Food! Bands! Booze!) but my friends Aaron Neumann and Susannah Dodge have been working on fixing up an old storefront on 22nd & 5th that will be a small gallery! Art-A-Whirl will be the gallery's debut, with a photography exhibit about old Northeast Minneapolis. Also on 22nd, photographer Keith Holmes mentioned that he'll be putting some large-scale photo prints up on the exterior of his house.
My late night action recommendation would, of course, be Public Functionary on Saturday night. The event, Aphotic, will feature live music, DJsm and projection art.

Semblance of Disorder runs Friday, May 19th - Sunday, May 21st at Kate Iverson's new studio located in the 1101 Building, 1101 Stinson Blvd. The pop-up exhibit includes live painting, select work from special guest artists Michael Cina and Christina Da Cruz, complimentary snacks from Tomodachi, and free take-home art activities for both kids and adults.