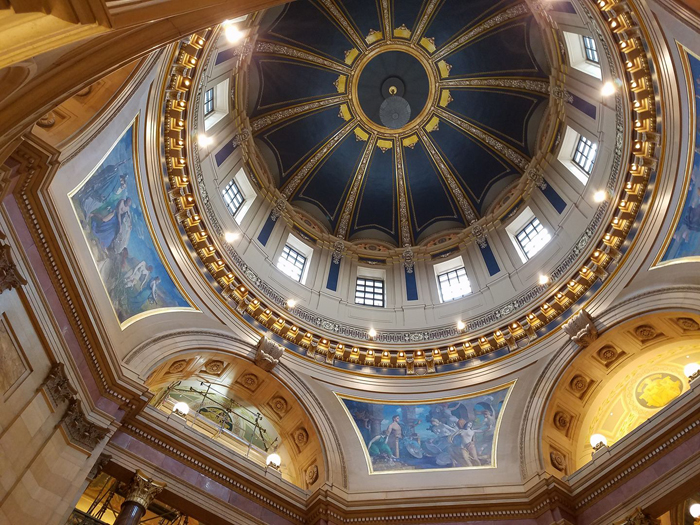 Photo by Dameun Strange
When I was young, I had young boy dreams:
I wanted to be a doctor.
I wanted to be an architect.
I wanted to be an astronaut.
I wanted to be a baseball player.
I wanted to be a composer.
Each of these journeys would have come with its challenges and its benefits. Some of the challenges became barriers to me achieving those dreams, and some of the benefits are things I still find quite enticing. For example, baseball players: it seems like at every level, at least these days, baseball players get their own walk-up music. Walk-up music has to be one of the coolest perks; when you are walking up to face a challenge or when you enter the room, there is a theme that plays you in to get you pumped up, to drown out those doubting thoughts. For me, I play my own walk-up music in my head when I am approaching most situations. For many years, it was Bjork's Venus As A Boy, and lately it's been Michael Kiwanuka's Black Man in a White World.
On the morning of February 28, 2017, as I walked up to the tall glass doors of the Minnesota History Center, I imagined my walk-up song was Lovely Day by Bill Withers. No, As by Stevie Wonder. Or perhaps a mash-up of the two, because sometimes the walk-up music is defined by the atmosphere, by the experience.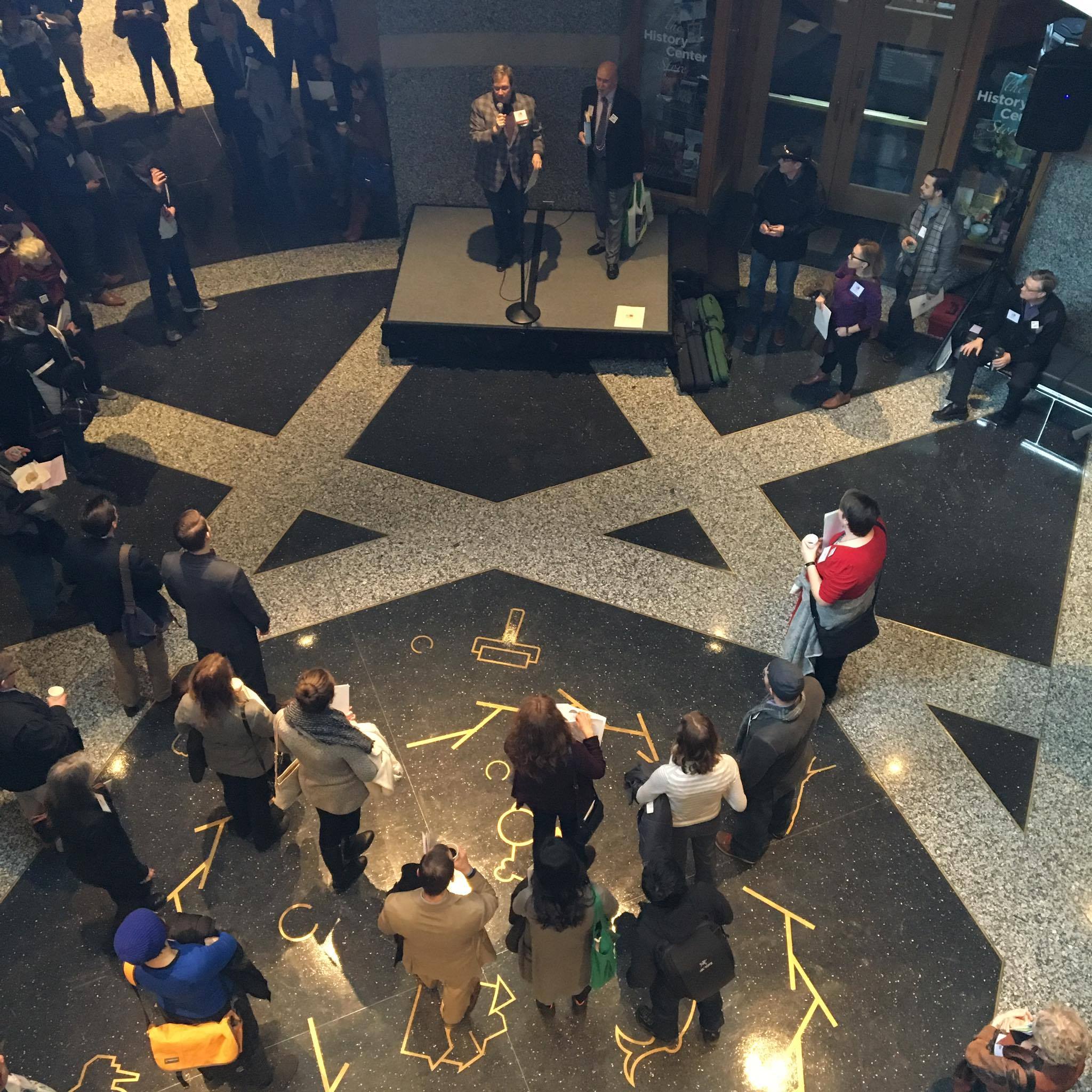 Photo courtesy Noah Keesecker
And Arts Advocacy Day...
...it felt like a homecoming, a family reunion. I entered through a hall of hellos, hugs, and handshakes. Friendly faces smiled wide. For me, Arts Advocacy Day has always come down to that feeling. It is that other "Great Minnesota Get-Together" specifically for the arts. I have to admit it had been a couple of years since I had attended the Arts Advocacy Day, due to my work schedule at The Bush Foundation, but for me, as I walked through the front doors and down that long hallway of the Minnesota History Center, something felt so familiar.
The explicit goal of the day is to make a connection with our state representatives, to thank them for (hopefully) supporting the arts in their roles as representatives of the people, and to ask them to continue that support. And every year there is a specific ask. This year we asked our legislators to:
Please Protect the 47% of the Arts Legacy Fund & Maintain the General Fund.
Now... this is very important considering what we, as an arts community and as a larger society, face in this unfriendly federal administration. Luckily for Minnesotans, we have dedicated funding for Arts and Culture. The danger would be having the percentage of the allocation that goes to the arts cut. We have historically benefited from bipartisan support for the arts; Arts Advocacy Day is about making sure that support is maintained.
A more implicit goal of the day may be to build community. My team from District 65 (Frogtown/Summit U) walked through the halls of the newly remodeled State Capitol, many of us for the first time. We were a crew of around 20. And around every turn there were folks, other crews wearing Minnesota Citizens for the Arts "Artist Advocate" buttons (I think I have about 10-12 of these floating around my house) and buttons that read:
ART FOR ALL. ALL FOR ART.
In fact, this "call" was everywhere. It was on posters for the events and in all of the emails.

Photo courtesy Minnesota Citizens for the Arts by Scott Streble
More smiles, more hellos, more hugs.
As I said, Arts Advocacy Day feels very familiar to me because, throughout the year, we do have a community. We, the artists; we, the arts administrators and board members. We meet, we collaborate, we build in small ways all year long. We build between the Twin Cities; we build between rural, urban, and suburban. We build between disciplines. We don't often get to build on a scale this big. Yet it still feels so familiar.
There was something that happened this year that I wish felt more familiar, at least at Arts Advocacy Day. It happened as our District 65 crew was visiting our State Senator Sandy Pappas. We sat around the conference table and made our introductions: most of us were artists or arts administrators or somehow directly connected to the arts until two thirds of the way around the table when a woman with straw-straight blond hair announced that she was there, not because she is in any way connected to the arts. "I am not an artist. I don't work for an arts organization. I am a scientist. I am here because I believe that arts are important; it's been very important in my life. The arts matter very much to me." Powerful. I walked up to her after our meeting with Senator Pappas and thanked her for being there. She smiled and replied, "No need to thank me, it's where I had to be."
I had to fight the urge to return to the Transportation Building cafeteria to mingle, network, and build. As I said earlier, we don't often get a chance, especially the small organizations, the individual artists, to gather, to celebrate, to commiserate, to share as a community on this scale and I wanted more of it. But as the executive director of a small arts organization with a staff of only 2, one morning was almost too much to spare. I am quite thankful to Sheila Smith and her staff at Minnesota Citizens for the Arts. They are constantly putting together an outstanding outing and this year was the biggest group ever. I look forward to the next time we can all get together, united for one cause. I look forward to next year's Arts Advocacy Day. Art for all. All for art.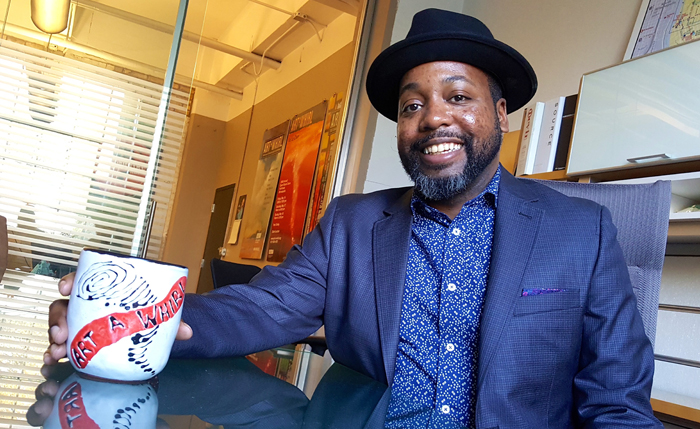 Dameun Strange, photo courtesy of NEMAA
To learn more about Arts Advocacy Day and other advocacy efforts by the Minnesota Citizens for the Arts, visit artsmn.org.

-- Dameun Strange