Local artist, Russ White, doesn't shy away from the controversial. Though in conversation, he may throw out the disclaimer, "don't even get me started," he's a born debater, and his artwork, the perfect cohort.
On view at Elliot Park's Gamut Gallery, White's latest solo exhibition, titled Macro Machines, is a clever play inspired by the tiny toy cars of White's childhood. Melding hard-edge satire with optimistic cynicism, White chooses to look directly at the problems of the world through the lens of humor. Through colored pencil drawings, sculptural installations and photographs, the cohesive pieces that compile Macro Machines are a dialog-inducing reflection on the fundamentals that form us as individuals and as a society.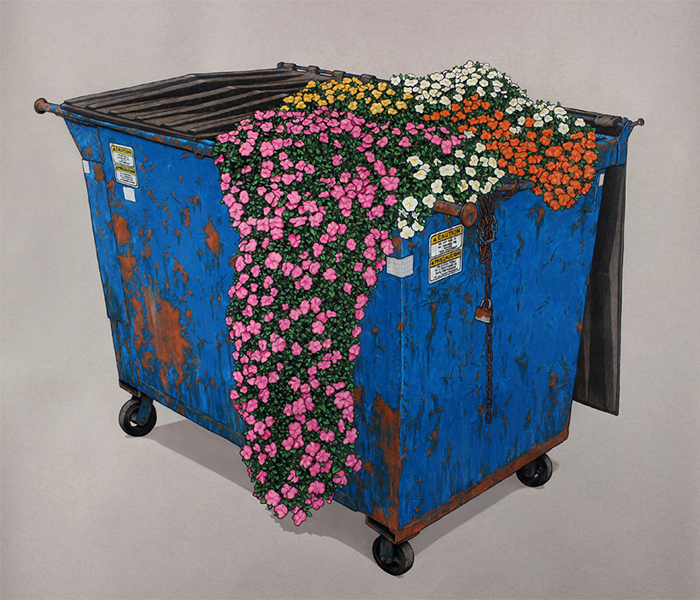 Another Man's Trash, colored pencil on paper, 40 x 32", Russ White
Juxtaposing childhood relics—a trusty wood-paneled family station wagon, or the model airplanes made by his father back in the 50's—with ubiquitous objects depicting military combat and social institutions, White examines how childhood stresses and assumptions are heavily influenced by a seemingly innocent, early introduction to military loyalty and a dissociation to the natural world.
Though White's pieces pack powerful, unapologetic political punch, his richly detailed, lushly hued colored pencil drawings allow for moments of clever play and levity. Self-effacing, funny yet emotionally impacting, Macro Machines provides the impetus to challenge viewers to go beyond their comfort zones zones and confront their own belief systems.
I caught up with Russ White to chat about how the craft of drawing and the inspiration behind the pieces in Macro Machines.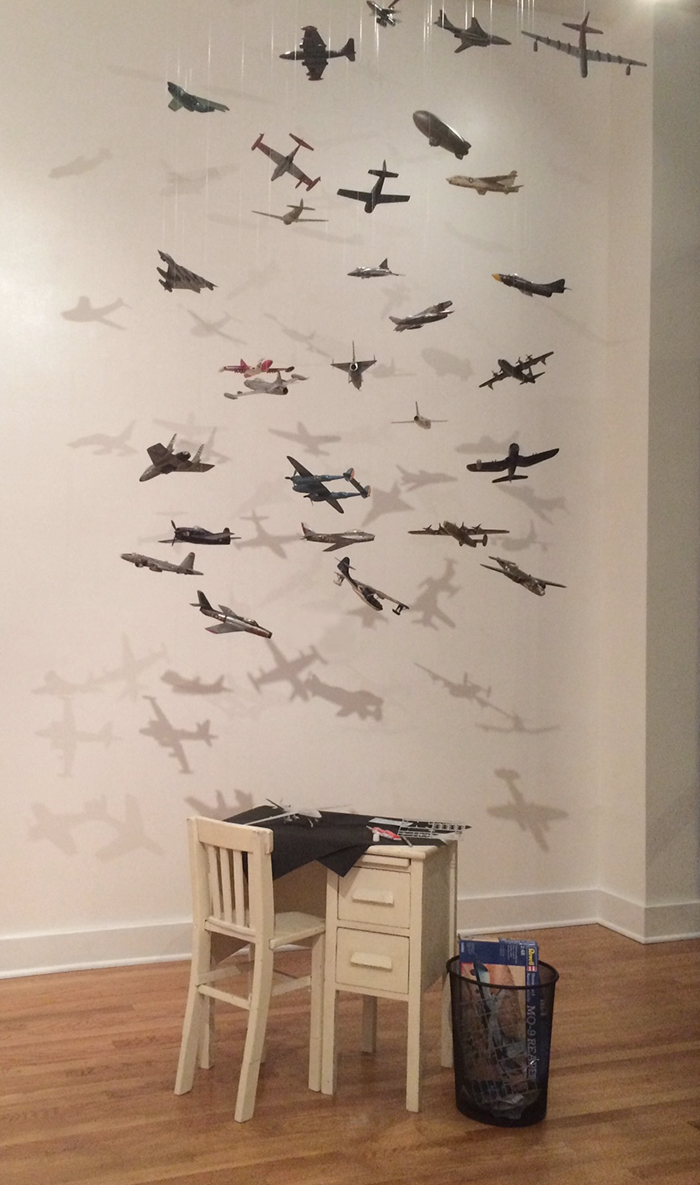 PC: Jay Danz
JE: Tell us a little about your art background and what led you to create art.
RW: I've enjoyed drawing as long as I can remember, always bringing markers and pads with me on family vacations and the like. I studied Studio Art at Davidson College in North Carolina where my focus was primarily sculpture. After graduating, I spent several years making found object, wall-mounted assemblages out of ratty old wood from packing pallets. A few years into working as a cabinet-maker in Chicago, I got tired of spending my nights and weekends in a woodshop as well and decided to focus my energy back on drawing. About two years ago, my wife and I moved to Minneapolis (she grew up here), and I decided to work full time as an artist, illustrator, and graphic designer.
What are the seminal influences for the pieces included in Macro Machines?
I've always enjoyed hard-edged satirists, specifically Monty Python, Jello Biafra, and cartoonists like Barry Blitt and John Cuneo to name a few. These are people that look directly at the problems in the world through the lens of humor. In the fine art world, I think my obsession with this kind of cartoonish realism comes most directly from Ron Mueck and Maurizio Cattelan, both of whom are truly amazing, hyperrealistic sculptors and cultural commentators. In terms of emotional sophistication, I aspire to the brutal clarity of Kara Walker, the wit and dignity of Kehinde Wiley, and the incredible mystery of Lee Bontecou.
Tell us about the show's title.
It's a play on Micro Machines, the tiny toy cars I played with as a kid. The quick joke is that most of the work here is large, hence Macro. As I will discuss below, a lot of the inspiration for this show came from thinking about childhood, and it seemed a fitting metaphor for growing up and bringing all of our toys with us.
I also like how the title plays on the large male and female parts sheets drawings. The implicit question, to my mind at least, is whether we are but the sum of our physical parts, whether we are ourselves fundamentally mechanical beings. Perhaps there's more to us, spiritually speaking, or perhaps that kind of magic really is a manifestation of the chemicals that physically make us up. I'm not entirely sure.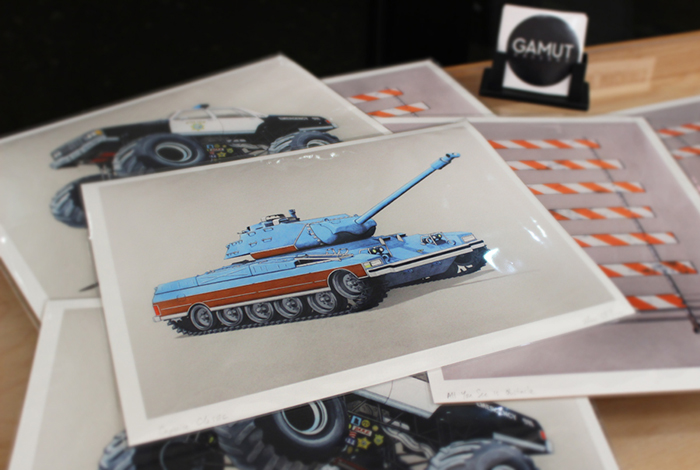 PC: Russ White
How do you see these pieces as a reflection of how we define who we are and what forms us as individuals and as a society?
I try to use vehicles as stand-ins for larger social institutions, be it the police, the school system, or the military, for example. We tend to define ourselves as simply as possible by what we believe (whether we are conservative or liberal, for example, or maybe whether the cops are the good guys or the bad guys), and these pieces attempt to comment on those loyalties. The Honeymoon's Over, for instance, is a military humvee riddled with bullet holes, overgrown with weeds, and still trailing celebratory tin cans behind it. The phrase "Just Married" has been reduced to "Just." I remember the glee with which we sent American soldiers to Iraq and Afghanistan, just as I see the way those conflicts faded almost completely from view once we collectively lost interest.
You source childhood stresses and assumptions as a few of the inspirations for this exhibit. Can you expound on that?
It seems to me that so many of our problems, on an individual human level, stem from deep-seated insecurities and patterns of thought that have their root in both our genetics and our upbringing. Tracing these traumas and proclivities back to their sources is imperative to developing not only personal self-awareness but also empathy for how other people process reality. The stresses are referenced specifically in one of the sculptural installations, with a giant heap of burlap sandbags buckling the wheels on a Radio Flyer wagon. Perhaps we put too much pressure on children and on ourselves. As another example, Caprice Classic is an attempt to connect the assumption of both America's military might and the righteousness with which we wield that power to my childhood in the '80s. Riding around facing backwards in my family's wood-paneled station wagon, I had no clue how good I had it and no clue that this privilege had come at a steep price to others. Next Generation, the child's desk installation, hits a similar note, using model airplanes my dad made as a kid in the '50s as a counterpoint to the Predator Drones our military uses today. The perceived heroism of that era runs counter to the cold efficiency we have achieved, but really are they all that different?
Pick a few pieces and explain the artistic technique and inspiration behind them. Maybe tie in a mindset while working on the piece or an emotional connection to it.
Well, all of my pieces generally begin as a quick idea: simply a clever juxtaposition or visual turn of phrase that pops into my head. This is followed by a long time in sketchbook purgatory, being added to lists of ideas and occasionally thumb-nailed out from time to time, percolating while I work on other things. Sometimes the ideas sit unrealized for years, as with Next Generation, which I think I first visualized some time around 2012.
The next step is usually finding reference photos, most of which I try to take myself. The humvee, for instance, is from a military junkyard north of Chicago that I visited. I Photoshop digital collages for each piece, print them out to scale and trace the basic shapes onto toned drawing paper. After that, it's generally about 70 or 80 hours of listening to music and podcasts while I fill in the drawing with colored pencils. This part is the best; time melts away even as the process drags on.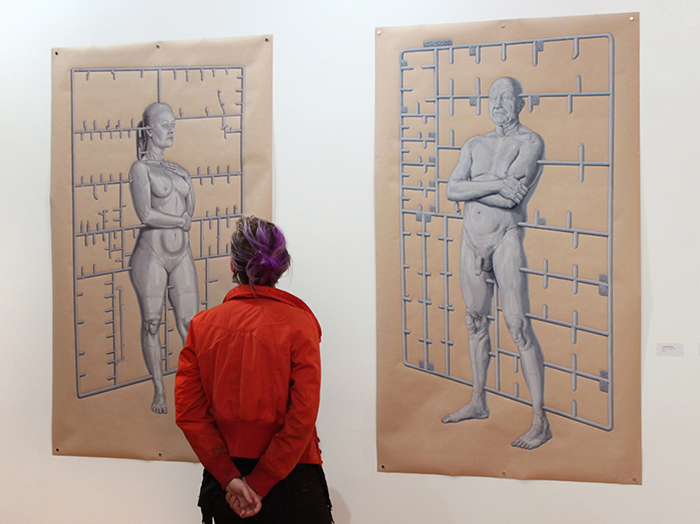 PC: Russ White
Tell us about your dual roles as artist and writer. How do you balance them? How do you decide what medium is best to tell the story and express the ideas you want to portray and emote?
I've always enjoyed writing as well. My dad was a Presbyterian minister, and I think his writing a new sermon every week somehow rubbed off on me. Since college, my writing has all been non-fiction, most recently art criticism and interviews that I do for MPLSART.COM. I love going into art shows and trying to figure out why artists do what they do, whose work they might be referencing, and what I personally get from the work. One time I went wine tasting with my brother in California, and, in fumbling to detect the subtle notes and flavors the server suggested were there, I felt firsthand the embarrassment and anxiety that I think some people feel towards art. In the little bit of criticism I have done, I try to focus on helping readers find ways into understanding each exhibit, whether I personally like the work or not, rather than simply giving it a thumbs up or down. Writing for MPLSART is also an excuse for me to explore the art scene here and meet new people, since I still consider myself a newcomer to the city.
As for choosing a medium, that always goes back to integrity: what is the clearest, simplest, most elegant, and most emotionally impactful way of presenting a concept. Sometimes it needs to be a colorful drawing, sometimes it needs to be a photograph, sometimes it needs to be a physical object in the room with you, and sometimes you should just write the damn thing down and be done with it.
What sets the work in this solo exhibition apart from past exhibitions?
In the past I have tended to bounce around from idea to idea, making stand-alone pieces in vastly different media. This show represents a step forward in terms of uniting it all thematically as a single body of work.
Tell us about the influence that the national climate and the American military power plays in this exhibit.
I think since probably the 1988 presidential campaign (which brought us the Willie Horton ad and Dukakis in a tank) we've allowed political journalism to turn into a shallow indulgence of the lowest common denominators. The tabloid garbage we take in daily has ultimately kept us distracted from actual problems and their potential solutions, encouraged us to become more and more isolated from people of different political persuasions, and discouraged nuanced, empathetic thinking about how we are viewed by other people, be they Americans of a different ethnicity or people on the other side of the planet.
You talk a bit about society's natural ease with ignorance and indignation, especially in regards to the political climate. How would you say your pieces challenge the viewer to explore beyond this ignorance?
That's probably the hardest question to answer because I'm not sure that my brand of humor will always make sense to everyone. But basically I tend to take one simple image and twist it just enough that I can hopefully try to think about the subject with fresh eyes, whether it's a bomb, a toy, or the human body itself. It's like looking at a loved one in a mirror: to you, this familiar person's face looks backwards, off-kilter just enough to be wrong. Funny thing is, that's how that person thinks their face actually looks after a lifetime spent looking in the mirror.
I also think it wise to focus on asking questions instead of giving answers. I'm not always successful at that quite yet.
What do you consider a "difficult relationship with the natural world" and how is your personal struggle with this concept displayed in the pieces in Macro Machines?
I am thinking specifically of two things here: 1) our species' negative impact on Earth's biosphere, and 2) the fact that we are trapped in these tiny, fragile, animal bodies even as we grasp at understanding great cosmological and theological mysteries. I was lucky to grow up with several biologists in my family, and they have always impressed upon me a sense of wonder and responsibility about the natural world. The Open Source photo series uses the mass-produced plastic parts-sheet sprue as a metaphor for the unseen physical structures and the unseeable cosmological mysteries all around us. They also act as a reminder of how much goddamn plastic garbage we are covering the planet with. Don't even get me started.

Macro Machines is on view now with an Artist Talk on April 17th, 3-5 pm and a closing reception on Saturday, April 23rd. The exhibit finale will feature a live musical performance from Ghost Army and will be the first of five CD release parties by Gus Watkins' project Genrebeast to coincide with closing receptions for Gamut's 2016 programming. For more information, visit Gamut Gallery's website.
Gamut Gallery open hours are Thursdays & Fridays 3-7 pm and Saturdays 1-7 pm or by appointment.