Fresh spray paint. That unmistakable scent was an appropriate welcome to the Gamut space for a street art show opening. The aroma was coming from the large wall adornments of a police officer on one side and a familiar Wundr character on the other. Middle Class Aspirations is a collaborative show between Biafra, Wundr, and Urban Camper - all well-known locally, but also nationally acclaimed street artists. Given the difficulty in acquiring their work due to their preferred mediums and scale, it was no surprise to find the Gamut space full.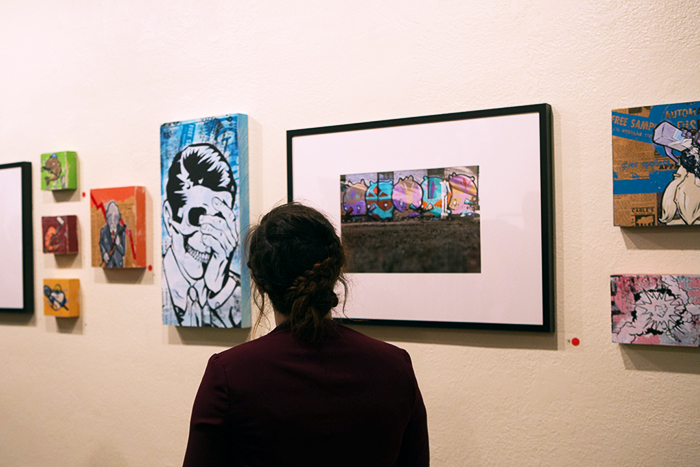 Photography by Urban Camper
It can be difficult to do street art justice on small scale, that is in comparison to the typical mediums of large walls and train cars. Biafra, Wundr, and Urban Camper nailed it, period. From the old news print backgrounds to Urban Camper's photographs of street art, it all tied out, all was reconciled.
There were obvious and acute references to pop art, namely Lichtenstein, but also less obvious and much more profound links. Pop art, originally, was about revolution. Revolution for and by the people. Revolution of art, but also revolution of society and government.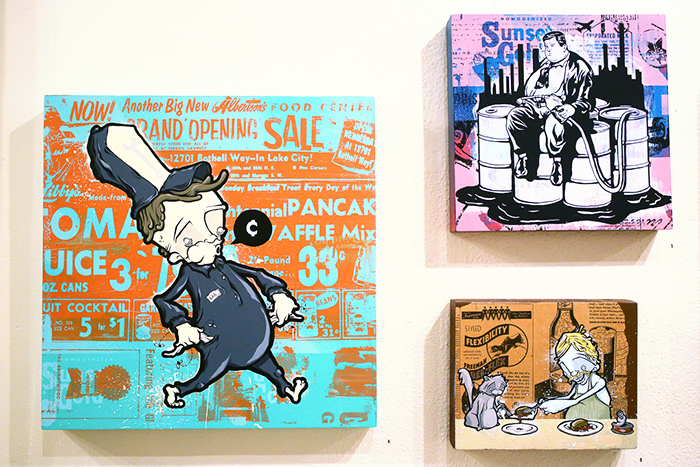 Paintings by Wundr
Making street art, by definition is not always made on welcome surfaces, but appreciated by those that understand the beauty and significance none the less. Middle Class Aspirations portrays images of the struggle for the American Dream. The dream of making a mark, of being remembered; not unlike the origins of street art in-so-far-as tagging is concerned. In the course of our struggle we fail, we triumph, but when we triumph, at what cost do we do so? The artists masterfully captured these dimensions of existentialism we deal with on a daily basis.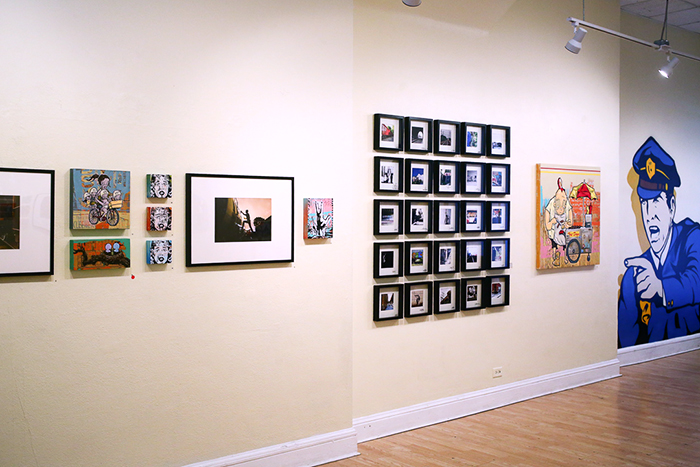 Middle Class Aspirations
Sometime between the show's announcement and opening, Gamut found out they would be losing their space. A very sad development and one that makes this show that much more important. I don't think there could have been a more appropriate send off than a show of art for and by the people. Gamut always had a knack for showing art that is tangible and accessible, both in terms of price and relevance. This was evidenced at the opening by how many people were buying art. By closing time, there were more pieces with red dots next to them than not. Consumers speak in a most telling form with their wallets, and tonight the Minneapolis art consumer has spoken- they love street art!
Thank you to the Gamut crew for everything you have done for local art and thank you to Biafra, Wundr, and Urban Camper for the stylish and appropriate sendoff.

-- Josh Arbit
Exhibit Details
Middle Class Aspirations
June 6 – July 25, 2015
Closing reception June 25th, 6-10pm
Gamut Gallery, 1006 Marquette Ave

All images in this article are courtesy of Gamut Gallery
Special Minneapolis Gallery Crawl Hours:
Thursday June 18th 5 - 9 PM including Groveland, Instinct, SooVAC, Circa, Burnet and Gamut galleries.
Find out more information