A Moment Stays opened at the Burnet Gallery last Friday the 13th to a packed reception that was anything but unlucky for Drew Peterson. The gallery was literally elbow to elbow with a young crowd of Drew Peterson's well earned following. Without a doubt, it will end up being one of Minneapolis' most exciting visual art events of 2012.

[caption id="attachment_1029" align="aligncenter" width="334" caption="Grappa"]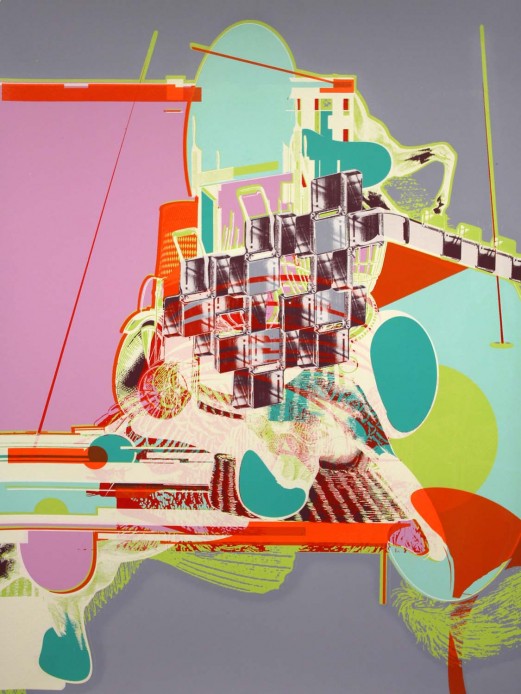 [/caption]

The work in this show represents the culmination of what Drew Peterson has learned over the past 5 years of his career. This work, made up of all new prints, both silkscreens and lithographs, is the result of a long road of labor and curiosity. The show takes the subject matter Peterson has been exploring since 2007 and brings it to its most refined and final form. He pokes his claw into every dark corner and pulls and squeezes out the most from his subject matter.
All of the prints in the show use appropriated images of antiquated machinery taken from the late nineteenth and early twentieth centuries. The source material Peterson selects, often commercial etchings, come from an almost mythical time before the use of photography in advertising was cost effective. Peterson manipulates these images, which were never intended to be art (but have become an important part of printmaking history), and gives them new life and meaning. He layers, consolidates and restructures these illustrations of  lo-tech contraptions, giving them a completely new context. In his hands, they begin to feel like generation upon generation of outdated machinery which are constantly being replaced by something new and "better". Through color and structure, these works have a positive but weary feel to them.
[caption id="attachment_1030" align="aligncenter" width="469" caption="Diptop"]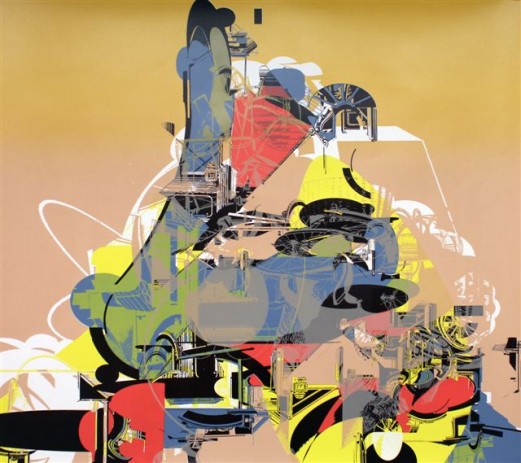 [/caption]
While consistent in style, color and imagery, the work in this show falls into three distinct categories.
The first
is the severely abstract. This work is created through heavily layering these historic images to the point where the outcome is almost nonrepresentational. Here the work reads as texture and movement with the original objects almost completely lost in the richness of lines. The images dissipate into an orderly mesh work of lines.
[caption id="attachment_1031" align="aligncenter" width="334" caption="Lineage"]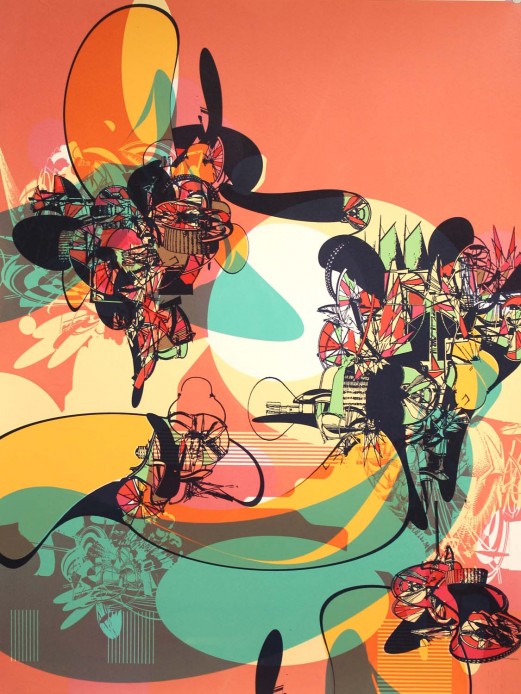 [/caption]


The second are the prints that represent newly invented vintage-hybrid machines. Peterson fits bits and pieces together creating monstrous and confusing contraptions that never existed. These works collage and highlight the source imagery, making new objects that are placed in semi-tangible space which have ground, gravity and a light source. This is apparent in the piece "Uprights", where the objects exist in what almost feels like natural space.


The last are the "floral" or organic works. In these pieces the original imagery is repeated and positioned to create the illusion of vegetal growth. There is a real beauty and balance to these pieces. The backgrounds here are simple and mostly undefined, with graceful compositions.
All of the works in
A Moment Stays
highlight Drew Peterson's mastery of color. At first glance it may seem like he uses every color but that of the kitchen sink, but at closer examination, the consistency in the tones Peterson uses is impressive. For using such a wide range of colors, Peterson is able to make a color scheme that puts all of the work in the same chromatic "universe".  Nothing here seems out of place.
According to Drew Peterson, this show marks the end of old machinery for him. From this point on, he is moving on to new, uncharted territory which I'm sure will be exciting and freeing. ...and I can't wait to see what he comes up with.
BUT in the mean time,  go down to Burnet Gallery and pick up one of these pieces while you still have a chance.
-
John Megas
Editorial Note: mplsart has been a strong supporter of Drew Peterson over the past 5 years, having presented 2 solo shows of his work and included him in 3 group shows. The views and opinions expressed herein are those of the author and do not necessarily reflect the views of mplsart, although we agree - you should grab these pieces while you can.
A Moment Stays
January 13 through February 26, 2012
Burnet Gallery @ Le Meridien Chambers
901 Hennepin Avenue Minneapolis, · MN 55403
612.767.6900
Gallery hours are 11am to 9pm