Exposed: Voyeurism, Surveillance, and the Camera Since 1870, opened May 21 and on view until September 18 at the Walker Art Center, delivers the kind of kick to the gut usually reserved for the most chilling of horror movies. Dozens of photographers across nations and generations share their forays into experimental work with the camera using subjects who did not agree to work with them or weren't even, in some cases, aware that they were being photographed at all. With its jarring honesty and naked statements, Exposed not only leaves the viewer questioning the meaning cloaked behind the frightening veneer of all its pieces, but the ethical validity of such attempts to speak out about uncomfortable, at times ugly, realities. The show's description explains that there are a few themes contained within the overarching idea of photography as "an invasive act." Each section embodies something different: work of the unseen photographer; voyeurism and sexual desire; celebrity and confusion of public and private life; and witnessing of violence and suffering.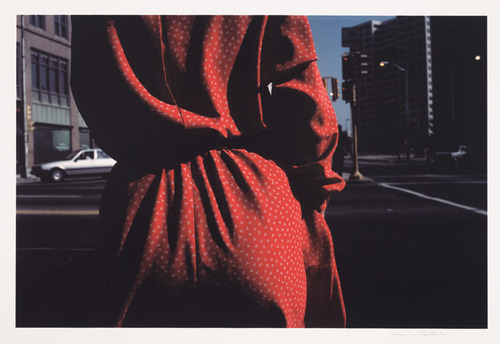 Harry Callahan, Atlanta

Speaking the loudest among this group is the confusion of public and private life, as much of the exhibit's message relies heavily on the artists' decisions to violate almost universal norms honoring individual privacy. Pop culture icons Andy Warhol and Yoko Ono, in their respective works entitled "Blow Job" (1964) and "Rape" (1968-1969); defy social conventions by documenting their subjects in clearly private moments. Warhol's video, made using film and later transferred to video, is exactly what it sounds like—footage of a young man presumably receiving a blow job. While watching the video it is unclear whether it was staged or natural, but a moment at the end of the video seems to hint that it was only simulated: the man takes a puff from his cigarette, looks the camera in the eye, and exhales—blows—smoke at it. It is possible that this moment gives the film its title, and the rest of it was only meant to twist the audience. Although the work is somewhat suggestive, it also leaves an open-ended question that reappears in later works as well—a question of the voyeur's purpose and how accurate an impression they get when trying to peer into the personal life of a stranger. Ono's piece is edgier because of the means she used to create it—"Rape" follows a Hungarian model for an hour as she wanders through a graveyard and back to her home. During a telephone conversation at her house, she reveals that she is an illegal immigrant, and her expectations for her privacy become clear when she pleads with the cameramen to stop taping—a request that is met with silence. The piece description explains that her sister gave the cameramen access inside the home they shared together, without the model's knowledge. An appropriate reaction to this piece is a questioning of Ono's motives, rather than a focus on the model. She appears as a victim; begging to be left alone and turning her face from the camera, the whole scene is chillingly animalistic. How was Ono's plan even legal?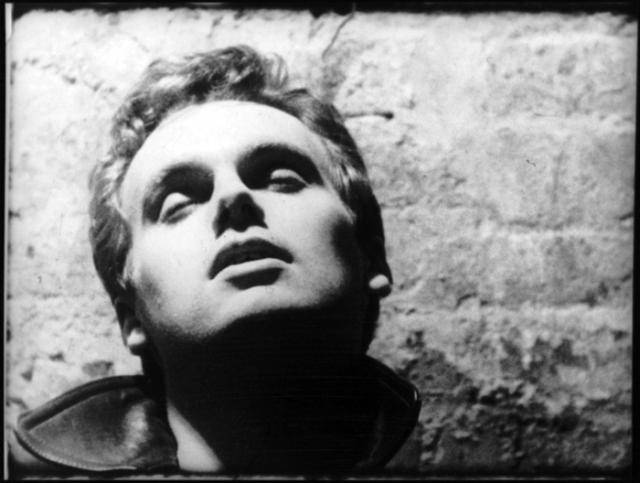 Andy Warhol, Blow Job, Film Still

The topic of the celebrity figure serves to illuminate some puzzling issues underlying the relationship between any photographer and their average, non-famous subject. Ono claimed that her video was symbolic of her own place in the media as a foreigner and paparazzi victim, but whether fame is a component or not, confusion of public and private life is a question that insists on repeating itself time and again.
For instance, the first room upon entrance to the gallery features the work of photographers whose cameras were hidden in order that their subjects were captured unknowingly, and therefore appeared in their natural state. The works offer a fascination about photographic techniques that seem to always have been part of the practice—a display case in the center of the room contains the first editions of many cameras, some fashioned by their users for surreptitious uses. A camera concealed in a walking cane and another in the heel of a shoe (1920 s-30s) are examples of early efforts to capture honest images of one's surroundings. These, along with a modern Motorola Razr camera phone (American, established 1928), show that voyeurism is a timeless phenomenon.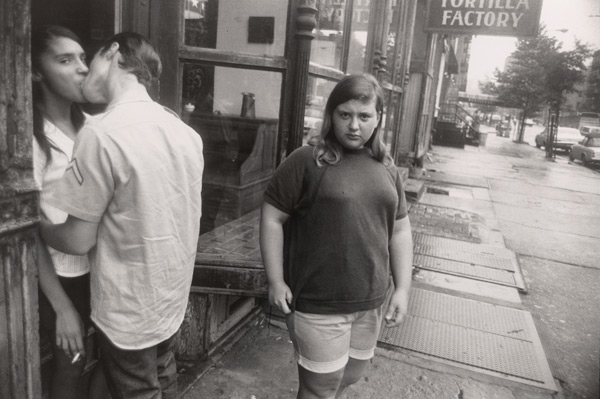 Garry Winogrand, New York

After all, one should not be hard pressed to find examples of such behavior in modern society. Just because voyeurism is documented within the confines of this exhibit shouldn't lead visitors to believe it is something of merely historic significance. Exposed simply picks up the pieces of past self-reflexive fascinations that abound as well in the world today. Most individuals peering into their own intricate emotions and experiences hold themselves at a distance still—how else does one explain the rampant "selfie," a picture taken by oneself, of oneself, crafted to create a desired self-image and then shared through social media? In Exposed, each artist and their curiosity about the inner life of their subject(s) is an area equally as fascinating as the subject they have tried to lay bare.
In some pieces the photographer is twice removed from the subject: It is this group of photos that is the least troubling. Where the photographer is the voyeur in some pieces, in others the voyeur is the subject. This partial resolve of an ethical dilemma does not coincide by any means with the resolve of confusing feelings over the work's essence. For instance, where there are feelings of disturbance regarding the role of photographer in a gelatin silver print photo of Marilyn Monroe taken in the 1950s by Weegee (Arthur H. Fellig), American b. Poland 1899-1968, there are none of the same in a much more explicitly disturbing photo later on. Fellig photographed Monroe in a public setting where other photographers were present as well, however his own photo captures Marilyn in a moment in which she was turned away from the camera. Obscured by the shadowy background is an onlooker observing as the wind billows Marilyn's dress around her; here, perhaps, is the primary subject of the photo. Another piece, an untitled chromogenic print photograph from the 1996 series "Camera Club" by Chris Verene (American b. 1969), relieves the viewer of confused feelings about the artist's involvement in his own project. Verene captures a man photographing a nude model for a Camera Club, an experimental club among many in the US in which amateur men photographers falsely told their models that they would be compensated for their participation. "Camera Club" exposes the pretend photographer, and the desire that led them to deceive their models—sexual desire at its scariest.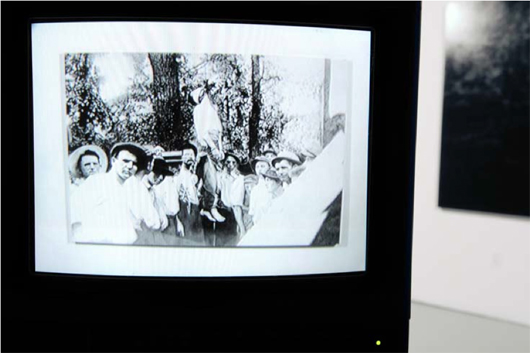 Oliver Lutz, The Lynching of Leo Frank

The gallery also includes works that document the overwhelming consequences of war. Oliver Lutz, in his piece "The Lynching of Leo Frank" (2009) places the viewer inside the scene of the 1915 lynching of a Leo Frank, a man who was convicted of rape and murder of a 13-year-old girl working in his factory. Lutz used acrylic on canvas to disguise a painting of the lynching only made visible through live infrared video. As the viewer approaches and sees only the blank canvas with a TV opposite, curiosity turns to horror as they step in front of the painting and turn to look at the TV, only to see themselves stared at by all those who witnessed the lynching. This focus on violence and suffering leaves the viewer with a strange sense of guilt and displacement. Uneasy questions emerge about the purpose and role of war in our lives—Do we ever understand it as the frightening reality it really is? Why do we insist on war as a part of life in the first place? This part of the gallery catches the viewer unaware, exposing them in a way that many of the other photographers are exposed through their own voyeuristic works.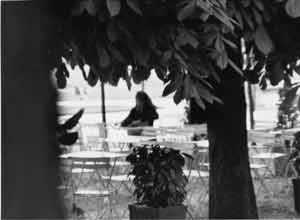 Sophie Calle, An image for the body of work titled The Shadow

A perfect piece to end the show is that of Sophie Calle (French b. 1953), who, in 1981, got her mother to hire a private detective to follow her for a day and report back what he'd witnessed in writing and photos. This experiment, which Calle called "The Shadow," compared the observations of the onlooker and a subject's own record of her day. Resulting is a sharp contrast between the stale, two-dimensional description offered by the detective and the more intimate personal details given by Calle. This gap in perspective proves the inability of the voyeur to gather an inside portrait of their subject. To realize this failure puts the exhibit in an entirely new perspective; it is possible that the invasion of privacy reveals nothing of substance about the subject, but much about the audience, their imagination, and subconscious desires/fears. The only question remaining is whether Exposed had a message important enough to justify its measures. Important, of course, does not always mean pretty.

- Maddy Hughes

//////////////////////////////
Exposed: Voyeurism, Surveillance, and the Camera Since 1870
On View: Saturday, May  21, 2011 through Sunday, September 18, 2011
Where: The Walker Art Center
Address: 1750 Hennepin Avenue, Minneapolis 55403