If an anthropologist from the future was doing research on 20th century generations and wished to define them as a group in intimate detail, they should look no further than the current exhibit at the Walker Art Center, "The Spectacular of Vernacular," which opened Jan. 29 and will remain on display until May 8. This show not only provides insights into the habits, relationships, and collective idiosyncrasies of a nation and beyond, but it does so with a depth that comes through the artists' self-reflective styles. One can sense, walking through the exhibit, the personal connections between the 26 artists and their subject matters. Their spirits are present.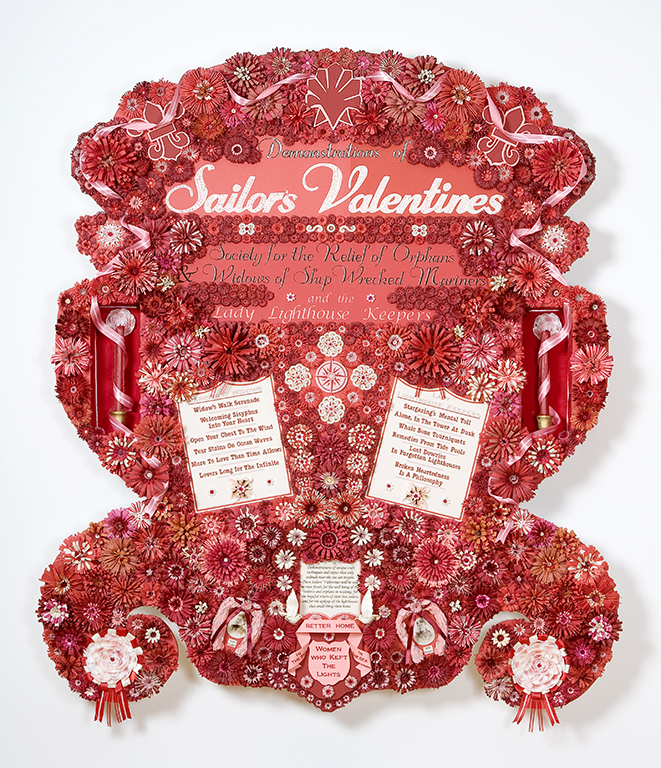 A Sailor's Valentine by Dario Robleto

What might bring many to the show is the catchy name; it rhymes and makes us want to go review the dictionary definition of the word "vernacular." When we discover that it is commonly defined in terms of architecture and language, both definitions based on an idea of things close to home as opposed to the refined, we may wonder what is so spectacular about that. But considered from the right angle, the most basic backgrounds of our day-to-day lives become something of a fascination, and tell us all kinds of stories about ourselves we never imagined. This exhibit slips the viewer into a reverie; it is a microscopic view of culture and history, at times willingly sentimental, and at others reluctantly so.

Upon entrance to gallery, to one's immediate left is a yellow circle painted on the wall, the show's title written strategically at the top with the "specta-" and "verna-" aligned parallel and making diagonals atop the "-cular" ending of each word. Underneath this, the circle encloses a basic synopsis of the show's topic, the vernacular in America, which it describes as a "brand of culture" that consists of "mass-produced goods." Well, we can't argue with that. The writing also lists landscapes, structures, and weather as factors that define our lives. The vernacular "represents who we are." To get a feel for how this happens, one should take in all the pieces around them with a keen and unassuming eye.

Some of the pieces are obvious in their depictions of commonly recognized historical figures, prominent entertainers, and other such focuses of decades or periods in their lives. Rachel Harrison, born 1966, outlines a few staples of the public sphere in her work From Voyage of the Beagle, 3 (2010), made using inkjet prints. Positioned along the first wall to the right of the entrance are 27 portraits including a bronze statue of Einstein's head, a spooky jackolantern carved with Michael Jackson's facial features, and Darwin. Besides these few familiar faces, Harrison used commonplace figurines and weird cartoon characters as subjects. For instance, we have a funny looking alien figurine that is sporting a baseball cap (even weirder), the Styrofoam head of a mannequin with a doll-like face, a blowup Frankenstein with a (part toothless) grin surrounded by his many stitches, and more. Most of these choices fit in with a select group of themes: childhood, religion, holidays, and a life full of art. The childhood theme is reflected in all the toys and fictional characters that often stand out when considering one's youth, and the holiday theme is shown in the Frankenstein and creepy glowing Michael Jackson pumpkin to illustrate a distinct memory of Halloweens. Sacred images of a nun and then a concrete Hindi God draped in ropes of regal jewelry, along with a young acolyte boy standing inside a high-ceilinged church, evoke a sense of divinity.

Somehow Harrison's recollection of the things she saw and knew growing up expresses a kind of purity not as easily detectable in most of the show's other works. The photos are simply a display of the world as it presented itself to her, and one would be hard pressed to detect any judgement on her part. It is a serene invitation to the rest of the show, parts of which we will later see showing resentment, commonly as a result of their subject matter.

Lari Pittman's artwork is a different story. Situated on the wall perpendicular to Harrison's work, A Decorated Chronology of Insistence and Resignation #30 (1994)—hands down the most elaborate piece title of the show—encapsulates a historical phenomenon as best any reproduction of time past could. Any patron who was alive during the time this piece portrays would give the two wood panels covered in glitter and gaudy acrylics one look and remark, "Yep, that was it." Even for patrons who were not alive for the 1950s, this brazen multimedia piece is certain to engage much more than would the pages of a U.S. history textbook explaining the mass consumer trend that emerged from this era. Indeed, the trend is not only depictive of the 50s but embodies U.S. culture for the entire last half of the 20th century. The name suggests that some powerful force was pushing a way of life on the U.S. population (insistence) and that they eventually bought into the hype (resignation). The booming economy depended on selling the phony appeal of purchases that would impress their communities, and provide the fleeting amusement for which such cheap tricks are created.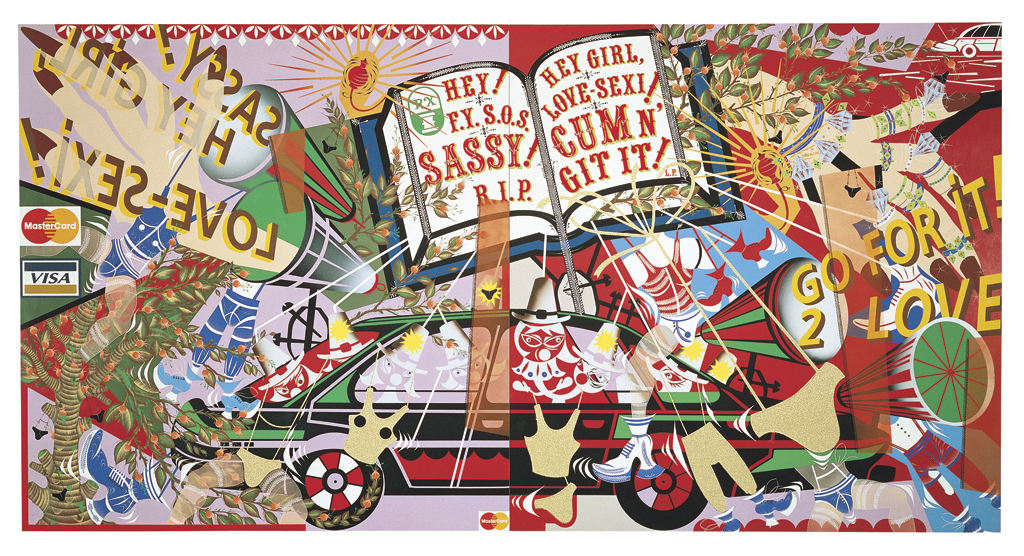 A Decorated Chronology of Insistence and Resignation #30 by Lari Pittman

How did Mr. Pittman pull this off so well? His own language quoted in the piece's wall description shows that he has his own deep understanding of his work's topic. He captures the development of cultural patterns perfectly when he refers to consumerism and image concern as "junky secularism" and to pieces of his own work as "dumpster paintings." Using antiquated typeface letters, the piece is marked with such loud phrases as, "HEY GIRL! LOVE SEXI! CUM'N GIT IT!" and crowded throughout with a jumble of colorful images that bring life to trashy over-consumption. A group of people traveling in a car is being bombarded by all the vices of a generation, including credit card obsessions (shown through the placement of MasterCard and Visa logos on the perimeter of the panels), unidentified figures lacking heads wearing corsets and underwear, potion bottles, diamonds, prescription pills, and billboards. It takes some squinting of the eyes to notice the two large hands reaching across the canvas to the edges of the mural, their long painted fingernails grabbing at whatever goods their contrived landscape will offer. Another description for this piece might be "circus collage." Similar places that jump to mind are Times Square, with its nearly frightening amount of flashing advertisements clouding one's view of the sky, or a walk through Minnesota's very own Mall of America, which tends to make one feel like a lab rat. This type of vernacular that underlies the painting's images differs from the original definition that was created for homemade products charming in their simplicity. Pittman's interpretation of these times rubs off on the viewer; he has done a spectacular job of placing us in the quicksand environment of the booming 50s.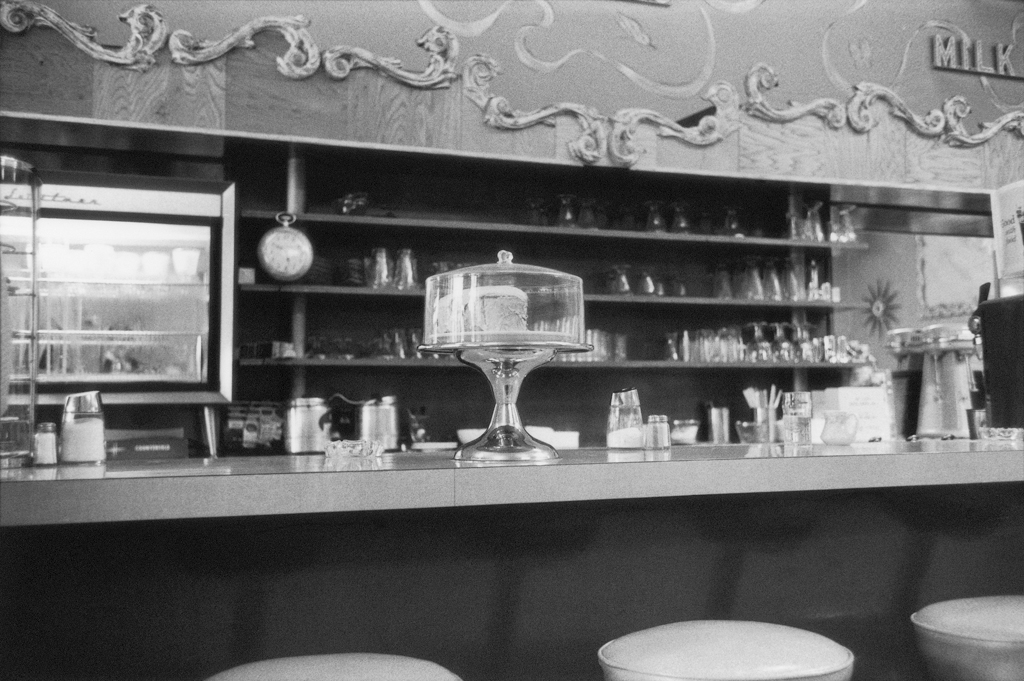 Counter by William Eggleston

This first room is only a small sample of what's to come in the rest of the gallery, but still renders a story of the nation's past in largely different manners through each work, and with different perspectives. William Eggleston, born 1939, uses black and white portraits to give voice to the same time period as that of Pittman's work, but varies largely in its form of illustration. The three pictures, made with gelatin silver print, are all untitled and just fine that way, as they speak for themselves. Each is a shot in a white frame of simple places that do quickly seize the spirit of the times, 1960-65 and 1966-68. Billboards, cars, telephone poles, light posts, and a restaurant are the only points of reference in an otherwise blank scene of a suburban area street. The billboard draws the most attention with its advertisement of a nearby shopping center, "THE EVERYTHING PLACE." How could a person driving by in their car pass up the opportunity to go shop at a place that carries everything? The name speaks loudly because it's easy to see that it's the only attraction in the area, or if there are other superstores, the only type of attraction: consumption. Another of the photographs investigates a place standing out in the previous photo: a restaurant. It's a typical diner with swivel chairs and glass cases displaying cakes, near a fridge with a glass door and a sign above the drink preparation area that says "MILK." Salt and pepper shakers on the counter are the only things left to notice, lending the picture authenticity. It's plain and simple, just a place for people to gather and drink their coca cola and milkshakes after the workday.

And the walk through the first room wraps up nicely with three other pieces that speak to the themes of childhood (again), the Civil War, and advertising values in late 20th century America. The other rooms offer huge amounts of interpretive work that jump across the border from within the U.S. to the vernacular associations of other countries. One piece made by Jeffrey Vallance, American born 1955, is a collection of memorabilia from a unique experience he had involving a personal trade agreement with the Kremlin and the Communist Party Headquarters in Russia. Mr. Vallance gave them kitsch American collectibles in exchange for similar items from the USSR. The piece, Relics of the USSR, uses a steel red box with glass doors mounted on the wall to enclose a statue of Lenin's head and torso in front of pins and medallions stuck in the back of the box with pictures of mostly of himself, besides the communist emblem of the crisscrossed hammer and sickle. This piece is self-explanatory as it tells of an interesting experience in the individual life of the artist rather than commenting on a national community.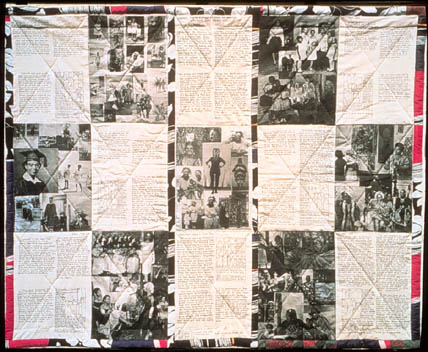 Change 1: Weight Loss Performance Story Quilt by Faith Ringgold
More representations of the artists' personal experiences show up here and there. Faith Ringgold, American born 1930, chronicles her relationship with food in great detail, using a quilt, acrylic on canvas, and photolithography on silk and cotton-pieced fabric. Her piece is entitled
Change 1: Weight Loss Performance Story.
It's as if we've discovered her diary, or perhaps an account of important events in her life, that she prepared for grandchildren to read once she was gone. Her self-effacing sense of humor makes it seem almost as though she is present in the room with us, and the piece digs deeper than just into her own experiences as she draws on political events to define her habits—at one point attributing her overeating to her feminist identity. But beyond this, the work's description explains that Ringgold liked to experiment with the idea of gender associated-materials and their effect on the subject matter.
Oh, the pieces never end. To list them all in their complexities would not produce the affection they yield in their viewing. There are many others of different media, including a flash film that develops a growing black hole in its center as the frames flash quicker and quicker before our eyes. This is compelling, and the next work is compelling, and the next. "The Spectacular of Vernacular" truly succeeds in untangling our relationship to the surroundings we are often placed in without choice. It makes us continue to contemplate to what degree our environments are determining factors in our identities. Exhibits seeking to circle around an idea to which everyone can relate should use this as a paradigm of such a mission's fulfillment. Bravo.
-Maddy Hughes
//////////////////////////////////
The Spectacular of Vernacular
On View:
Saturday, January 29, 2011 through Sunday, May 8, 2011
Where:
The Walker Art Center
Address:
1750 Hennepin Avenue, Minneapolis 55403