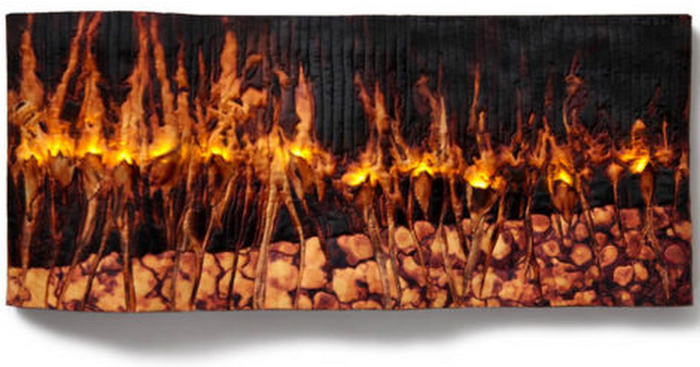 Wildfires: Regina V. Benson
Regina Benson's experiential textile installation is inspired by fires of the Colorado Rocky Mountains.
Event Website
Reception

Thu Jul 6th, 2017 6PM - 8PM CST

On View

Jul 7th - Aug 26th, 2017

Artist Talk

Fri Jul 7th, 2017 12PM - 12:45PM CST
Textile Center
3000 University Ave SE
Minneapolis
( map )
Textile Center presents a new exhibition by Lithuanian-born artist Regina V. Benson: Wildfires. Raging hillside blazes have become an all-too common sight in Regina Benson's adopted Colorado Rocky Mountains. Informed by this environment around her, both in subject and process, Benson takes from her experience of nature to create textile art–on display in this arresting exhibition.
Regina Benson's work emanates from the manipulation of and intentional mark-making on fabric, from silk and cotton to horse-hair and industrial polyesters. Her work frequently starts with a solid piece of black fabric, which she "discharges" (removes the base black dye) with paste or soy wax resists and Shibori techniques; then she overdyes or rusts the fabric surface many more times with natural, disperse and acid dyes to elicit additional images and textures. These initial markings are then oversewn with other textile fragments; she further free-motion stitches the work to its finish with hand-dyed threads and incorporates encaustic processes and burning to complete her vision.
#mplsart
If you are making art or looking at art in the Twin Cities, use the hashtag to show it off.