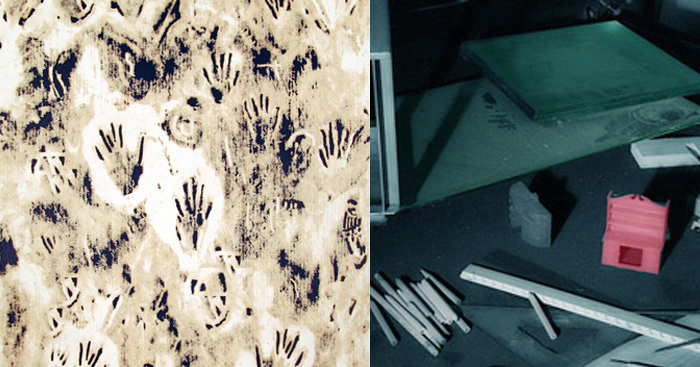 What I Think About
Group exhibition and related events that celebrate the artistic and teaching careers of Diane Katsiaficas and Thomas Rose.Event Website
Showing

Jan 17th - Mar 25th, 2017

Showing

Thu Jan 19th, 2017 6PM - 9PM CST
Regis Center for Art West Gallery
405 21st Ave S
Minneapolis
( map )
The exhibition and events include Katsiaficas, Rose and some of their many former students in the Department of Art at the University of Minnesota who are now active professional artists.
Diane Katsiaficas
Diane Katsiaficas is a Greek-American artist and professor emerita of Art, University of Minnesota, Twin Cities where she taught from 1985-2016. Her BA is from Smith College (Chemistry), and an MAT (Master of Arts in Teaching Art) and MFA (Painting) from the University of Washington, Seattle. Her visual narratives, exhibited throughout the United States and Europe, involve a variety of technologies—from small drawings to digital syntheses to large installations. Among the collections in which her work is included are the Macedonian Museum of Contemporary Art, Thessaloniki; Minneapolis Institute of Art; Seattle Art Museum; USA TODAY; Weisman Art Museum, and Walker Art Center. Among her awards are two McKnight Artist Fellowships, and a Fulbright Artist/Scholar award to Greece.
"I am drawn to stories and places, traditions and rituals across cultures, environmental and societal problems. I enjoy stretching the boundaries of thought and process. The artists I have invited to exhibit together practice these approaches and share this passionate journey." -- Diane Katsiaficas
​
Thomas Rose
Thomas Rose is a visual artist whose multi-media works have been included in exhibitions in China, France, Iran, Italy, Korea, Poland, and Sweden as well as the United States, including the Hirshhorn Museum and Sculpture Garden in Washington D.C., The Whitney Museum, Downtown Branch, The Clocktower, P.S. 1, and Socrates Sculpture Park in New York, The Walker Art Center, The Minneapolis Institute of Art, the Frederick R. Weisman Museum in Minneapolis, the Beijing Film Academy, and the Beijing Central Academy of Fine Art. Rose has developed a cross cultural collaboration with the Beijing Film Academy and has been the principal director on the project generating exchange exhibitions and research collaborations between artists, scholars, and students. Rose and his colleague Joseph Allen, Chair of the Asian languages and Literatures Department, have established an endowed fellowship for travel and research in Asia. Rose was the recipient of a 1992 residency fellowship from the Rockefeller Foundation study center in Bellagio Italy. He has also received two artist fellowships from The National Endowment for the Arts, as well as fellowships from the Minnesota State Arts Board, The Bush Foundation, three McKnight Foundation awards, The Jerome Foundation and most recently project grants from the Henry Luce Foundation and the Terra Foundation as well as internal grants from the Graduate school and numerous Imagine Fund awards.
Artists in the Exhibition
Felice Amato, Kelsey Bosch, Kate Casanova, John Fleischer, Diane Katsiaficas, Steven Lang, Fred Larson, Niko Lembesis, Yianni Lembesis, Meena Mangalvedhekar, Kevin Obsatz, Erica Spitzer Rasmussen, Jeff Rathermel, Ali Raza, Thomas Rose, Krista Kelley Walsh, Karen Wirth, Cate Whittemore

See https://art.umn.edu/nash for more events and artist talks associated with this exhibtion.