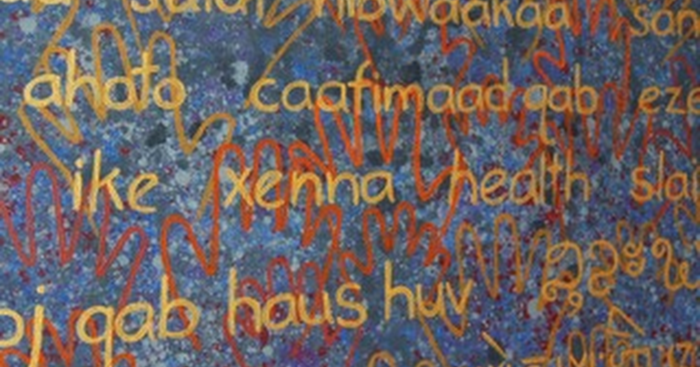 We The People: Loretta Bebeau
A community-generated exhibit created with a nod to national events.
Event Website
Showing

Mar 6th - Mar 31st, 2017

Reception

Fri Mar 10th, 2017 7PM - 10PM CST
2001 A Space
2001 5th St NE
Minneapolis
( map )
The artist Loretta Bebeau gathered hand tracings from the community and paired them with languages also gathered from the community.


There are 50 languages, including nine African languages, two Native American languages; several Asian, and European languages. The shared word is health. Painted in vibrant colors onto large canvases, the project shows the energy of voices working together. Drawings will be interspersed between the canvases.


The paintings will be shown at 2001 a space the month of March. (Located one block East of University Ave. at 2001 5 th St NE, Minneapolis, MN) Reception: Friday, March 10 th from 7 - 10 p.m. Dates: March 6 - March 31 Gallery hours: Friday, Saturday, and Sunday from 1 to 4 pm throughout the exhibit, or by appointment.
The work is important because it documents our immigrant culture. Bebeau gathered hand tracings during Open Streets NE for three summers. She interviewed people to include their language of origin with the hand tracings. The project started by documenting friends of the artist, but expanded to include people who see the works and want their language to be included. The paintings bring good wishes to our community.

Loretta Bebeau lives and works in NE Minneapolis. She has exhibited regionally and nationally, and had four works included in Revealing Culture, an exhibit at the Smithsonian Institution in 2010. She is a member and past board president of the Northeast Minneapolis Arts Association. Bebeau taught at several locations in the Twin Cities, including the University of Minnesota's Department of Art.

RSVP on Facebook
#mplsart
If you are making art or looking at art in the Twin Cities, use the hashtag to show it off.