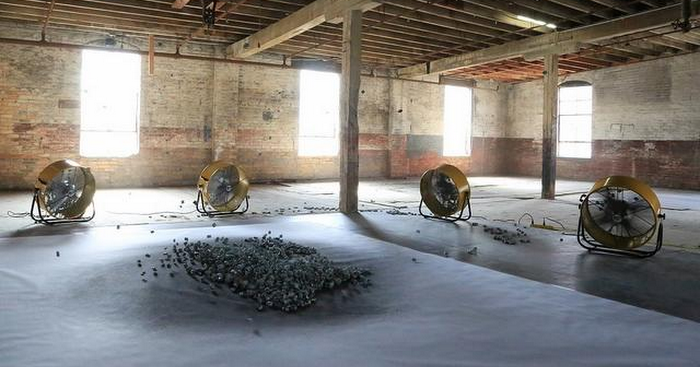 Vortex Drawings
Highpoint Center for Printmaking presents Alexa Horochowski's series of large scale drawings created through the power of wind.Event Website
Showing

Feb 3rd - Mar 25th, 2017

Opening

Fri Feb 3rd, 2017 6:30PM - 9PM CST
Highpoint Center for Printmaking
912 West Lake Street
Minneapolis
( map )
Highpoint is honored to present Vortex Drawings, an exhibition of monumental works from Highpoint Editions' first collaboration with Minneapolis-based visiting artist Alexa Horochowski. She is known for her sculpture and installation art that addresses the interrelatedness of natural forces, globalization, culture, and matter. Horochowski's Highpoint Editions work explores the impartiality of natural forces that bring together matter of various sorts without differentiating trash from mineral or toxic from organic.
In order to create this series, Horochowski set up barrel fans to imitate a natural wind vortex on the third floor of The Soap Factory, a gallery and nonprofit organization dedicated to supporting artistic experimentation and innovation. She was inspired by the natural vortices such as dust devils that occur in the desert and prairie, wind eddies that form between skyscrapers in city centers, and the Pacific trash vortex. The drawings were formed by the wind interacting with anthropogenic, industrial waste — man-made pollutants such as Styrofoam cups, polystyrene packing peanuts, and aluminum cans. These materials were coated in substances such as graphite, ink, and oils to create a series of enormous works on paper, some as large as 12 x 12 feet. A combination of mechanical drawing and experimental printmaking, these works further blend artistic media and advance the art of printmaking into a new realm.

Alexa Horochowski: Vortex Drawings will be presented in Highpoint's main galleries, and will be on view February 3-March 25, 2017, with an opening reception on February 3 from 6:30-9pm. The exhibition will feature a selection of vortex drawings and a video.