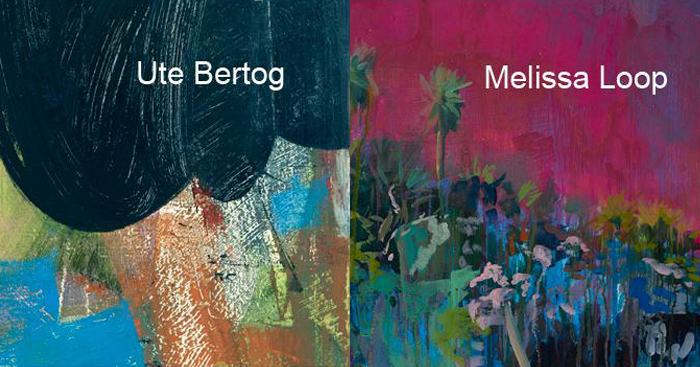 Voiceatscript / Follow the Moon (Family Happy Hour)
New paintings by Ute Bertog and Melissa Loop
Showing

Nov 4th - Nov 26th, 2017

Reception

Sat Nov 11th, 2017 6PM - 10PM CST

Family Happy Hour

Sat Nov 18th, 2017 4PM - 6PM CST
Rosalux Gallery
1400 Van Buren Street NE
#195
Minneapolis
( map )
Voiceatscript / Ute Bertog
In Voiceatscript, Ute Bertog continues to explore the tenuous relationship between abstraction and language in her paintings to address themes of communication and its failure. For Voiceatscript she focuses on a deeply felt sense of speechlessness. Being speechless and without words to articulate ones thoughts and opinions is seen either as a defiant gesture or - more often - as a sign of powerlessness. In order to regain a sense of power Bertog then reaches for readymade texts, quotes and clichés as a starting point for her paintings, only to loose them again in the painting process. The goal is to introduce the necessary space for questions, imagination and play to take hold to freely renegotiate original content.

Follow the Moon / Melissa Loop
Melissa Loop uses her travels to explore notions of authenticity, place and spirituality through our experiences of other cultures. Follow the Moon is inspired by her trips to Central America in 2012 and 2015, when she visited ancient Mayan sites. While her paintings are based on reality, the compositions are purposefully invented in an attempt to recreate rare moments of spiritual transcendence one encounters when taking a pilgrimage to a sacred place.
With this particular group of paintings, Loop focused on exploring the space between imagination, reality, spiritual transcendence, and dreams. By doings this, she is weaving a tale of a pilgrim coming out of a deep sorrow and finding the origin of life.
Rosalux is free and open to the public.
Exhibition Dates
November 4 through November 26, 2017
Gallery Hours: Saturdays & Sundays 12 - 4pm

Join us to celebrate
Public Reception: Saturday November 11, 6-10pm
Family Happy Hour: Saturday November 18, 4-6pm
RSVP on Facebook
#mplsart
If you are making art or looking at art in the Twin Cities, use the hashtag to show it off.