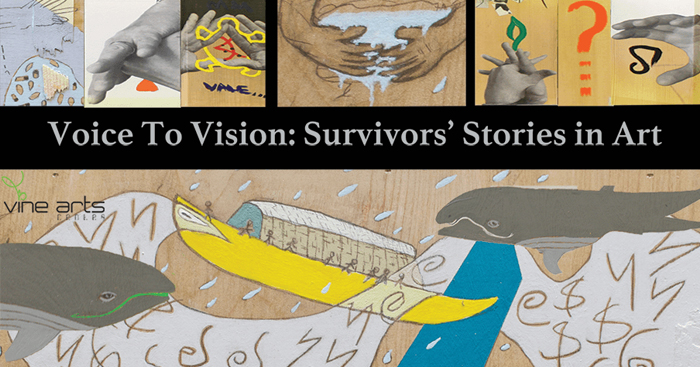 Voice To Vision: Resilience and Resistance
Two exhibitions at Vine Arts Center collecting amazing journeys from the Voice To Vision projectEvent Website
Reception

Sat Apr 15th, 2017 6PM - 9PM CST
Vine Arts Center
2637 27th Ave S
Minneapolis
( map )
In the main gallery:
The Boat People of Vietnam: The Voice to Vision team interviewed nine Vietnamese Boat People and working over several months created a work of art on each individual's experience. This is the first time these works have been exhibited. The stories range from being boarded by pirates and caught in whirlpools, to being rescued by whales—all are unique.
Latin American Activists: Voice to Vision has formed an alliance with Latin American human rights activists who work as theater directors, actors, playwrights, and academics. They use these platforms to address human rights issues and violations in Spain, Argentina, Peru, Columbia, and Mexico. This is a preview of an exhibit that will be traveling to Bogota, Columbia. The works in this exhibit reflect the experiences of these activists.
Documentary on Esther Winthrop, Greek Holocaust Survivor: Esther Winthrop, a Greek Holocaust survivor, collaborated with the Voice to Vision team to make a work of art concerning her experiences. A documentary film was made concerning this process. This film will premiere at the Vine gallery along with the collaborative artwork.

In the members gallery:
​Kimchi Hoang: Journey to Nowhere: Journey to Nowhere is series of 12 paintings about Kimchi's life before, during, and after the Vietnamese War, 1973-1996. Kimchi who is also a musician and composer, is writing an original score for each artwork. At the opening reception, April 15, she will play some of the music written for the artworks with other musicians as accompaniment.
RSVP on Facebook
Learn more about the Voice to Vision Project's Holocaust Project (youtube.com)