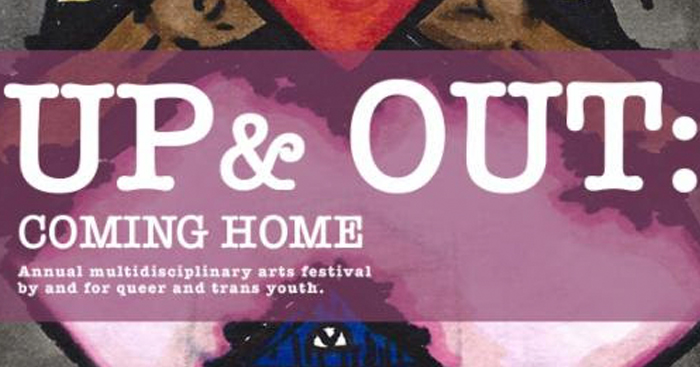 Up and Out: Coming Home
Intermedia Arts' Youth Leadership Council presents their annual multidisciplinary arts festival by and for queer and trans youth.Event Website
Event

Apr 28th - Apr 29th, 2017
Intermedia Arts
2822 Lyndale Ave S
Minneapolis
( map )
Up and Out: Coming Home is a free, multidisciplinary, two-day festival at Intermedia Arts celebrating the artwork and identities of LGBTQIA+ youth from around the country. Coming Home, created and curated by members of Intermedia Arts' Youth Leadership Council, aims to create a space where LGBTQIA+ youth are encouraged to celebrate and showcase their own capabilities through art that speaks to the power they hold individually and the power held by the communities they identify with. Queer and trans youth are encouraged to reflect on the legacy and impact they have had on society and take up the space they've earned.
This is the third Up & Out festival focusing on youth and LGBTQIA+ artists. Intermedia Arts' Youth Leadership Council, made up of youth from around the metro area, saw a need for a festival focusing and celebrating LGBTQIA+ youth artists by creating a safer space for LGBTQIA+ youth to showcase their work.
Up & Out: Coming Home will be held at Intermedia Arts (2822 Lyndale Avenue, Minneapolis, MN 55408) on April 28, 2017 from 5-9PM and on April 29 from 12-6PM.
On Friday, April 28, the festival will feature a free community dinner, a fashion show, and a dance party. On Saturday, April 29, Up & Out will feature art-making workshops and a panel of LGBTQIA+ youth artists.
All events are free and open to all ages.