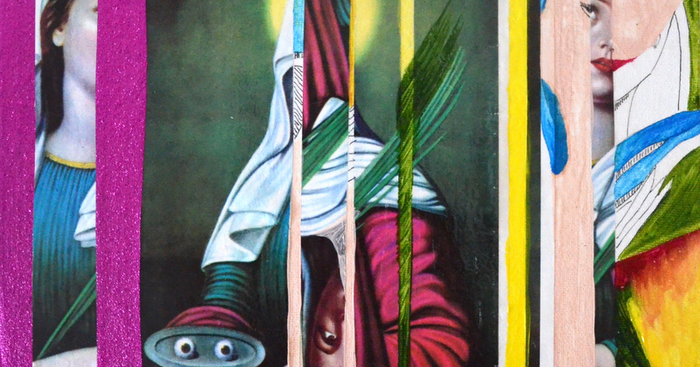 Unflinching facades
New Work by Carolina Borja and Jesse Matthew Petersen
Event Website
Showing

Apr 8th - May 20th, 2017

Reception

Sat Apr 8th, 2017 6PM - 9PM CST
Soo Visual Arts Center
2909 Bryant Ave S
Suite 101
Minneapolis
( map )
Unflinching facades explores the intersections of Carolina Borja and Jesse Matthew Petersen's art. Both artists use layering and obfuscation in their process to convey larger concepts of manipulation and control. Collage, and multiple layers of alterations lend to a narrative of power structures and hidden agendas in both bodies of work.

Carolina Borja's work focuses on traditional Mexican printing techniques, and collage with layers of oil and acrylic interventions on top. Borja is interested in exploring what lies beneath cultural traditions, particularly Mexican traditions tied to Catholicism. She is "attracted to the contrast of cultures, to the collision between customs and traditions." Carolina was born in San Diego and as a child lived in the border city of Tijuana, she now resides in Mexico City. She studied industrial design with a minor in Mexican Folk Art at Universidad Iberoamericana in Mexico City and women's studies at St. Catherine University. She has exhibited in numerous group shows and has an upcoming solo exhibition at Museo de Arte Popular in Mexico City.
Jesse Matthew Petersen's series for the exhibition "Ambiguants" sources from a personal archive of cuttings from fashion magazines; he scans and photographs the imagery, digitally alters the material and then prints out the images on vinyl paper and mounts them on shaped PVC board. His pieces take on a sculptural quality equal parts amorphous object and abstracted portraiture. Petersen questions what lies beneath the attraction to fashion, is it the erotic ideal of the human form? Or is it the evocative materials and the veneer of luxury used to sell a product? Jesse Petersen lives and works in Minneapolis. He received his BA in drawing from Moorhead State University. Petersen has exhibited in numerous group shows, received a Jerome Emerging Artist Fellowship in visual arts and recently had a solo exhibition at TuckUnder Projects.

Gallery hours are: Wed 11-5pm, Thurs thru Fri 11-7pm, Sat & Sun 11-4pm.

Image Credit: Behind the light by Carolina Borja, Monograph, oil and acrylic, 2017
#mplsart
If you are making art or looking at art in the Twin Cities, use the hashtag to show it off.