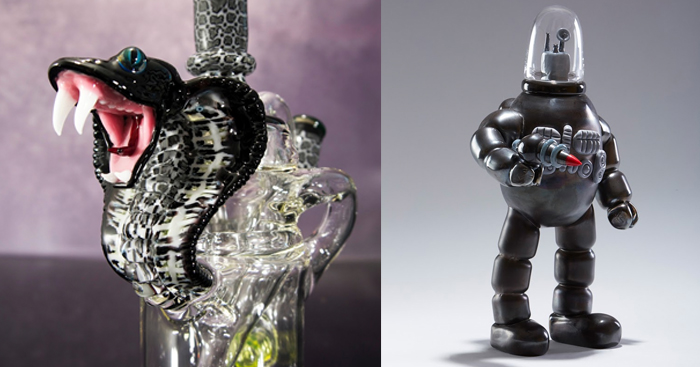 Torched : Functional Glass in a Dysfunctional Society
Fine art and functional glass works curated by RepoMn, running April 20th - May 12th, 2017.Event Website

Showing

Apr 20th - May 12th, 2017

Opening

Fri Apr 21st, 2017 7PM - 11PM CST

Finale

Fri May 12th, 2017 7PM - 11PM CST
Gamut Gallery
717 S 10th St
Minneapolis
( map )
FEATURED ARTISTS: Cha Glass, Kayla Om, Devin Somerville, Ghost, Brandon Martin, Crux, Todd Cameron, Eric Ross, RepoMn


Torched brings functional glass into the space of the art gallery, crossing the boundaries set by the worlds of traditional studio glass and fine art. Created by nine functional glass artists living and working in the upper Midwest, the objects included in Torched combine innovation and artisanship, form and function; the works bring the aesthetics of an underground movement into the light of day. The exhibit will officially open on Saturday, April 22nd with performances by Loom in Essence and Nicky Boy Floyd, but will first be revealed at a special 420 VIP Party on Thursday, April 20th featuring a live performance by soulstress Sarah White. Fancy refreshments, fire spinning performances, live glassblowing demonstrations, along with opening and closing sets by electronic dub producer Maksha will make this a very memorable evening - while giving collectors first dibs on these new works. The 420 VIP Party is thrown in collaboration with Legacy Glassworks, who will be hosting a free pre-party earlier that day at their new Uptown location. More event details listed below.
Functional glass is the name now used to refer to the practice of imagining and creating smoking pipes. Though the history of such objects is as old as the medium of glass itself, this practice and these artists have been pushed into the shadows by the conventional glass world for too long. Up until recently, a reputable glassblower would never admit to creating such "functional" illicit objects; but as changing mores and state laws begin to shift attitudes towards marijuana consumption, the field has begun to adapt. Even the straight-laced world of traditional studio glass has taken notice of the material advancements and aesthetic energies of functional glass artists, who continue to push the envelope with their wild and imaginative creations.
Though the name ascribed to their work—functional glass—implies a type of utilitarianism, these artists are doing so much more than creating objects of use. They are reflecting, outfitting, and shaping a culture that is quickly moving mainstream; they are refining an artform that has been largely overlooked by historians of art and culture; they are inventing objects of beauty and imaginary worlds of amazement and wonder.
Torched is curated by RepoMn, a glass artist, street artist, and artist-artist. RepoMn was an early adopter of functional glass, trained in Seattle in the early 1990s and brought his knowledge back to the Twin Cities, his native land.