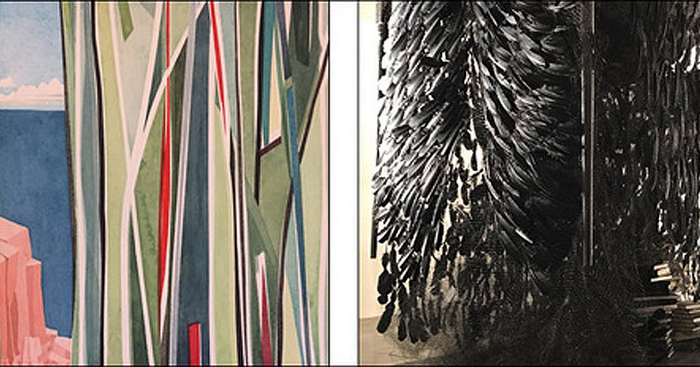 Time/Keep - David Malcolm Scott & Rebecca Krinke
An exhibition of new work at Rosalux featuring a large-scale sculptural work by Krinke and a suite of paintings and drawings by Scott.
Event Website
Showing

Apr 1st - Apr 30th, 2017

Reception

Sat Apr 8th, 2017 7PM - 10PM CST
Rosalux Gallery
1400 Van Buren Street NE
#195
Minneapolis
( map )
Rosalux Gallery is pleased to announce Time/Keep featuring work by David Malcolm Scott and Rebecca Krinke. The exhibition brings together the artists' shared interest in time and memory, with a particular interest in what can be remembered or recorded and what can only be sensed or imagined.
Time and place are highlighted in different ways in Scott's two other series on view: in Weekly Commute, vivid slices of the sky are seen framed by dramatic building silhouettes, and in the stylized landscapes, the deep time of geological formations are juxtaposed with the more fleeting forms of forests, grasses, cities, and skies.

"Keep" as a noun originated in the Middle Ages, and was a place used as a refuge of last resort should the castle fall to an adversary. Krinke's installation evokes questions about what we keep, where we keep, and the costs of keeping: memories, secrets, notebooks, relationships, possessions, houses…This work and her larger practice is both highly personal and collective – in its explorations of private, public, and liminal space.

Gallery Hours: Saturdays + Sundays: 12 – 4pm; Gallery closed Easter Sunday, April 16

RSVP on Facebook
#mplsart
If you are making art or looking at art in the Twin Cities, use the hashtag to show it off.