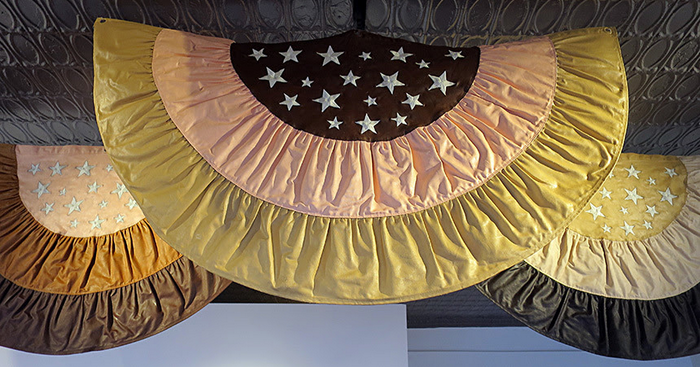 The Emperor Is Naked
Curated by Iben Bach Elmstrøm, showing works by Annesofie Sandal (Copenhagen, DK), Spencer Stucky and Lucas Briffa (Chicago, IL), artists duo Hesselholdt and Mejlvang (Copenhagen, DK), Ana Hansa-Ogren (Milwaukee, WI) and Tia-Simone Gardner (Minneapolis, MN).Event Website
Showing

Mar 3rd - Mar 25th, 2017

Opening

Fri Mar 3rd, 2017 7PM - 10PM CST
Waiting Room/Workroom
2205 California St NE
#605
Minneapolis
( map )
The Emperor is Naked borrows its title from a fairytale by poet Hans Christian Andersen. In the story, sight becomes insight, which in turn challenges our perception and prompts action. The tale is about the courage to test authorities and speak truth publicly, but its plot and essence also activate concerns of pretentiousness, social hypocrisy, and how entrenched norms can flavor publics.

Curated by Iben Bach Elstrøm, the exhibition aims to artistically and aesthetically reflect upon the forms and perceptions surrounding contemporary cultural subjectivities and their dysfunctions. The contradictions and complexities of current identity politics are often concealed and ambiguous at the core of a Western notion of politics, freedom, and identity. The fear of a loss of cultural meaning, or belonging, is amplified when populations become perceived as masses, which stimulates new levels of protection and preservation of cultural identity and legacy.

The exhibition is imagined as a conversation between two continents divided by the Atlantic Ocean - Europe and the United States - and between Danish artists and Midwestern American artists. National and social discourse differs between continents and cultures, but the recognition of the subjectivity of ethnic origins correlates across identities, geopolitical constructions and – time and space.

Image Credit: Hesselholdt & Mejlvang, The Emperor has No Clothes, 2016, The Ski Club, Milwaukee.